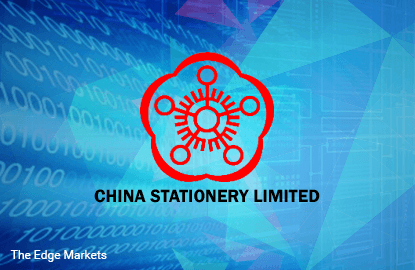 This article first appeared in The Edge Financial Daily, on November 30, 2015.
China Stationery Ltd (-ve)
Following the upliftment of its PN17 status, China Stationery Limited (CSL) (Fundamental: 1.5/3, Valuation: 0.9/3) surged 10.7% to close at 15.5 sen on Friday. The stock was also one of the most actively traded counters on the exchange, with 139 million shares changing hands. 
According to CSL, its PN17 status was uplifted by Bursa after it recorded three consecutive quarters of net profit. Recall that CSL slipped into the PN17 status in July 2014 after its auditors expressed a disclaimer opinion in the company's FY2013 financial statements. This was due to the inability to quantify the extent of CSL's financial losses after a factory fire in April 2014.
Production at the affected factory resumed in May 2015 (2Q2015) and CSL's business appears to have recovered. For 3Q2015, revenue jumped 32.6% q-q to CNY84.7 million while net profit surged 206.3% to CNY31.6 million.
Notably, it has a high level of trade and other receivables of CNY335.7 million, equivalent to 1.2 times its annualised sales for 9M2015.
<p><img alt="china-stationary_swm_fd_301113" src="http://edgemarkets.s3-ap-southeast-1.amazonaws.com/pictures/china-statio..."/></p>