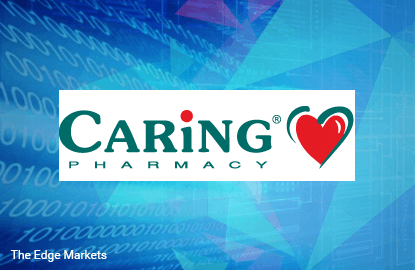 Caring Pharmacy Group Bhd (-ve)
Caring (Fundamental: N/A, Valuation: N/A) first triggered our momentum alert yesterday. The stock has risen by a cumulative 9.0% since it announced 4QFYMay2015 earnings results on Tuesday.
For 4QFY2015, net profit more than doubled to RM2.6 million on the back of a 7.6% increase in revenue to RM95.4 million. For the full year FY2015, revenue grew 8.4% to RM366.7 million, boosted by nine new outlets opened during the financial year. Net profit, however, declined 14.7% to RM12.9 million, due mainly to higher selling and distribution expenses.
Concurrently, the company proposed a final dividend of 2 sen for FY2015, giving a net yield of 1.7%.
Listed in November 2013, Caring is primarily involved in the retail of pharmaceutical, healthcare and personal care products. As at end-May, it has 104 community pharmacies located in Peninsular Malaysia.
 N/A = insufficient data to calculate the required scores