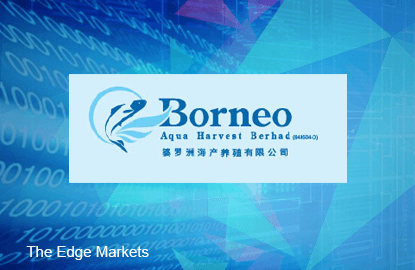 Borneo Aqua Harvest (-ve)
SHARES of Borneo Aqua Harvest (BAHVEST) (Fundamental: 0.8/3, Valuation: 0/3) have risen by 12.6% over the past week to end at 98.5 sen yesterday, on rising volume.
The company is involved in marine fish breeding and hatchery. It sells both adult fish and fish fry domestically and abroad to Hong Kong, with one major customer making up 96.5% of its total revenue.
In June 2013, BAHVEST diversified into prospecting and extracting various minerals in Tawau, Sabah after entering into a co-operative agreement with Southsea Gold Sdn Bhd. The latter has been granted a 4-year prospecting license, and has up to June 21, 2016 to determine whether its mining site contains commercially justifiable mineral resources.
BAHVEST has been in the red since FYMarch2013. Pre-tax loss was RM4.6 million in FY2015, up from RM3.3 million in FY2014.
The stock currently trades at 2.96 times book. The company has not paid dividends since FY2007.