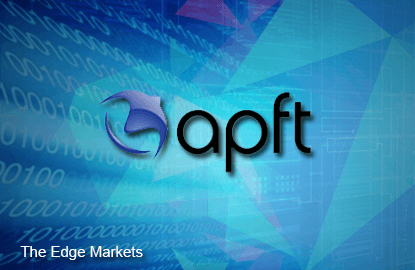 APFT Bhd (+ve)
We last featured APFT (Fundamental: 0.2/3, Valuation: 0/3) in "Stocks with Momentum" on June 17 at 21 sen. The stock rose to an intraday high of 24 sen yesterday before closing unchanged at 23.5 sen. It was one of the most traded stocks on local bourse, with more than 23.9 million shares changing hands.
Investors should exercise extra caution while trading shares of APFT as it has been 'Red Flagged' by our system, due to its low fundamental score.
APFT owns and operates a flight education and training academy — Asia Pacific Flight Training Academy — at Sultan Ismail Petra Airport in Kelantan. It also provides mechanical engineering works and services.
The company, which is undergoing a private placement to raise up to RM23.6 million, initially allocated 40.6% of the proceeds to purchase oil and gas equipment with intention to bid for the Refinery and Petrochemical Integrated Development (RAPID) project by Petronas.
However, due to weak oil prices and the delay in RAPID project, APFT decided to revise its utilization plans. Accordingly, 60.0% of the proceeds will be used for working capital, 25.4% for aircraft purchase, 13.6% for loan repayment and the balance 1% for proposal expenses.
Last Friday, the company announced that it has submitted an application to Bursa Malaysia Securities to extend the deadline of the said private placement to February 2016.
The delay in the RAPID project has widened APFT's net loss from RM19.7 million in FYMarch2014 to RM22.5 million in FY2015. This was mainly due to impairment of goodwill on consolidation of RM10 million from the acquisition of PT Technic (M) Sdn Bhd (PTTSB), an oil and gas company.
The stock currently trades at a high price-to-book of 3.16 times. The company has not historically paid any dividends.
This article first appeared in digitaledge Daily, on August 20, 2015.