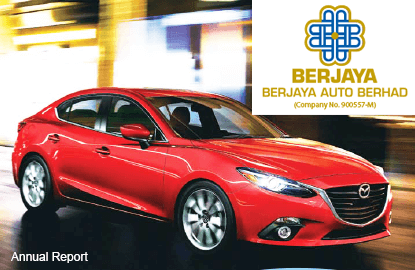 KUALA LUMPUR (June 13): Pressured profit margin in its Malaysian subsidiaries due to intense competition, coupled with foreign exchange losses and higher vehicle costs here as the local currency depreciated against the Japanese yen, caused Berjaya Auto Bhd's (BAuto) earnings in the fourth quarter ended April 30, 2016 (4QFY16) to slip by 6.6% to RM51.6 million.
In comparison, the group posted a net profit of RM55.3 million in the corresponding quarter a year ago.
The crimp in its earnings was, however, mitigated by improved results from its Philippines operation, which saw a 128% jump in pre-tax profit to RM15.3 million from RM6.7 million, and lower group employee stock option scheme (ESOS) expense incurred (halved from RM1.6 million to RM800,000).
Meanwhile, the group's revenue for the quarter under review grew by 26% to RM534.7 million from RM424.3 million in 4QFY15 due to higher number of vehicles sold, both domestically and in the Philippines.
It told Bursa Malaysia in a filing that "the sales volume growth in Malaysia was mainly attributed to the all-new CX-3 model that was launched in December last year". In the Philippines, the sales volume growth was largely driven by Mazda2 and the CX-5 models.
It also announced a special dividend of 7.5 sen a share, and a fourth interim dividend of 2.5 sen a share — both payable on July 26.
This means its total payout for the period is 10 sen, compared to 6 sen in 4QFY15, making its full FY16 payout at 16.9 sen, compared to 14.6 sen in FY15.
In a press release, BAuto said although revenue from the local operating subsidiaries grew by RM72.2 million or 20.1%, there was a drop of RM10.5 million or 15.6% in their pre-tax profit due to the margin compression, forex losses and higher vehicle cost mentioned.
For the cumulative 12 months (FY16), the group's net profit declined by 6.8% to RM198 million from RM212.4 million in FY15 on the same reasons that caused the slide in its latest quarterly earnings.
Revenue, meanwhile, grew 15.4% to RM2.11 billion from RM1.83 billion a year ago, largely due to the increasing acceptance and recognition of the Mazda brand, as evidenced by the double-digit growth in sales volume recorded in Malaysia and the Philippines.
On prospects, BAuto said it expects the local automotive sector to be challenging as total industry volume (TIV) from January to April 2016 declined 19% year-on-year.
"Uncertainties in the local and global economies, coupled with the rising cost of living, will continue to affect local consumer sentiment, which may cause further slowdown in the demand for passenger cars.
"Competition in the domestic market is expected to get more intense in FY17. The strong Japanese Yen is also expected to affect profit margins," it added.
As for its operations in the Philippines, BAuto expects the group to be in a better position there to grow further as the country has a healthy economy and a strong Mazda dealership network.
It also expects the introduction of new models there in the next few months will enable its operations there to achieve a reasonable growth rate for FY17.
BAuto shares slipped by 2 sen or 0.9% to close at RM2.28 today, valuing it at RM2.61 billion.