This article first appeared in Forum, The Edge Malaysia Weekly, on January 18, 2021 - January 24, 2021.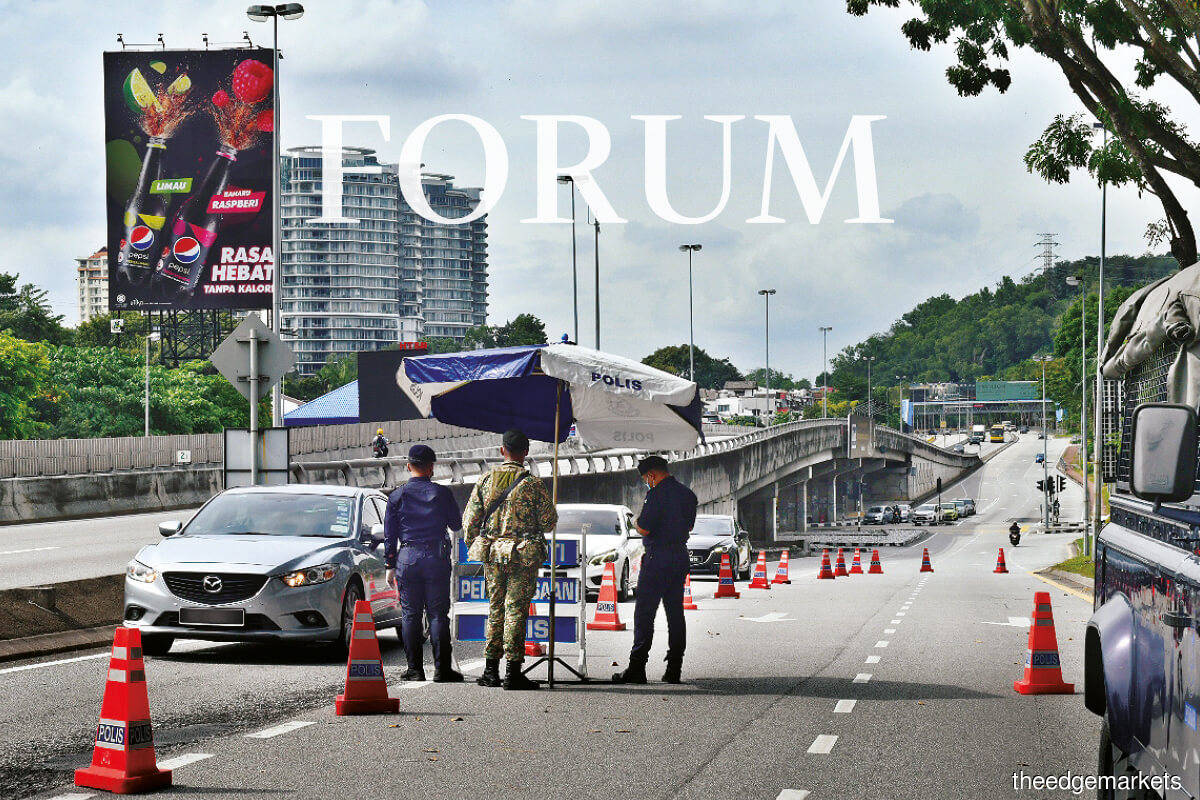 An unprecedented pandemic is getting more unprecedented in Malaysia, and this requires deeper and careful analysis. This article explores three themes from the Emergency/Movement Control Order 2.0 combo, given its profound implications on pandemic responses and democracy. 
First, we look at whether the combo is sustainable, practical and proportional. Then, we establish some key performance indicators (KPIs) to assess the government's success in fighting Covid-19. 
Finally, we propose some specific ways to implement the whole-of-society rhetoric that is often quoted by government leaders.
Pandemic responses must be sustainable for a multi-year pandemic
Covid-19 is a multi-year pandemic. This requires leaders to plan with ultra-long-term horizons, and to be judicious when deploying different solutions at different time points. The range of solutions for Covid-19 is broad, and their use must be sustainable in the ultra long term, practical in their effectiveness and proportional to the size of the problem at hand.
An MCO can be considered a nuclear weapon, which was correctly deployed in March last year. At that time, we were trying to understand the science and develop a range of policy responses. MCO 1.0 was supposed to buy time to prepare our health services and build up capacity for education, testing, tracing, isolating, standard operating procedures (SOPs), inter-agency collaboration, tiered movement restrictions, digital health, surge capacity planning and other public health interventions. An MCO is not supposed to be the first, the main or the only tool for the pandemic; it's supposed to buy time.
MCO 1.0 worked, and case numbers dropped. However, it came at very high cost of RM2.4 billion a day in economic losses, higher rates of domestic violence and mental health issues, and irreplaceable loss of schooling days for young Malaysians. MCO 2.0 will require an even larger support and stimulus package to protect the welfare of Malaysians in non-health and non-medical terms. There are many lessons from MCO 1.0, and the government must heed them.
The Emergency/MCO 2.0 combo is a tool with heavy costs, and cannot be endlessly deployed in a multi-year pandemic. The reasons are simple: the administrative and enforcement costs are high to the government, the mental health and economic costs are high to the rakyat, and the effectiveness of coercion-based policymaking reduces over time. Therefore, the government must make sustainable decisions for public health, political and economic reasons. 
These solutions have been described elsewhere, most recently in the Jan 7 open letter to the prime minister signed by 46 senior doctors, and in this author's other pieces.
Pandemic responses must be practical and proportional
The Emergency (Essential Powers) Ordinance 2021 was gazetted on Jan 14. It provides power for temporary possession of assets, use of resources, additional powers to the armed forces and exempting health professionals from their usual place of practice, which could be relevant to the pandemic effort. At the moment, it is unclear how the government will use these broad descriptions to manage the pandemic in practical and specific ways. This information should be released as quickly as possible, to allow time for public preparation and scrutiny.
The ordinance adds significantly to the Prevention and Control of Infectious Diseases Act 1988 and the National Security Council Act 2016 and their regulations. It is worth commenting on two areas specific to the pandemic effort. One, there may be increasing concerns about possibly nationalising private healthcare facilities (hospitals, clinics or labs). Any move towards nationalisation is a significant change in overall government policy, not just in pandemic management. This could be unnecessary because private hospitals, GPs and labs have been open to partner the government and may not need to be forced. Nationalisation could even be counter-productive if it reduces investor confidence.
Two, while the armed forces have been granted the powers of the police force, the exact powers are not yet described. Any role for the armed forces in the pandemic effort must be carefully approached and will require additional training, skills upgrading and tools. The armed forces will need to be fair and non-militaristic in its approach, as a pandemic should not be over-securitised. I have great admiration and respect for our disciplined and loyal professional soldiers, sailors as well as airmen and airwomen. I am certain that they will leave the domestic civilian public space at the earliest opportunity, carrying the gratitude of a nation.
At its most fundamental level, this Emergency/MCO 2.0 combo could send a strong signal about the importance of the pandemic, triggering long-term behavioural change in Malaysians. But the combo also raises the issue of proportionality — an important guiding principle in law and public health. In simple terms, the law (or public health intervention) has to be proportional to the problem.
Proportionality is always subjective. We must accept that fact, because this pandemic has no manual or textbook that prescribes precisely-calibrated policy responses. We trust the wisdom of the Yang di-Pertuan Agong who consented to the Emergency and limited its duration. Setting aside the constitutional requirements and the political situation in Malaysia, the prime minister now shoulders the great duty of using these additional powers responsibly and accountably.
The time-limited Emergency will eventually end. To judge the best time to end the Emergency and to measure its effectiveness and our pandemic progress, Malaysia needs specific, measurable, holistic and transparent metrics that we can all agree on.
We need specific metrics to measure success
The Emergency will last until Aug 1, 2021, unless the pandemic is brought under control. Lifting the emergency earlier will be decided by a bipartisan Independent Special Committee that includes health experts. To make that decision, the committee and ordinary Malaysians will need to agree on a set of KPIs to measure success.
Until today, we have been mostly using "daily new cases" or R-nought (R0) to measure our pandemic severity. They are inadequate to capture the complexity of a pandemic, because they are too narrow and too dependent on multiple variables. Therefore, one of the tasks of the Independent Special Committee's health experts will be to determine the KPIs to measure success. These KPIs will be objective ways to determine if the Emergency has been successful and can be lifted.
As a preliminary suggestion, the following numbers should be used in a composite metric: daily new cases, daily tests, percentage of positive tests over total tests, case fatality rate, overall Covid-19 bed utilisation rate (combining ICU, general wards and low-risk quarantine centres) and R0. Daily numbers must be stratified by state and district and released every two weeks, for example, by the Health Ministry, so that the committee and the public can analyse the data for themselves.
Last November, the Health Minister said in a written reply in Parliament that the Health Ministry does not share raw data with other parties, including state governments, due to "past incidents" when "variable interpretations by various agencies" could possibly lead to "public panic". Given the Emergency, this data should be released so the committee and the rakyat can assess for themselves. More data will build trust in the government, and trust is important in a multi-year pandemic.
Using a single metric of "daily new cases" is inadequate from an epidemiological and public health perspective. In the worst case, it can be misleading or even weaponised. With a set of holistic KPIs that are transparent and show the entire range of our health system, the government can be held accountable to their extraordinary Emergency powers and build trust.
Time to walk the talk
The government has been given extraordinary powers to manage the pandemic, our society and our economy. We expect the government to use these powers effectively and responsibly. To that end, we provide the following suggestions for the next steps. 
One, the government must provide enough transparency in their decisions. This will enable adequate scrutiny while acting as a confidence-building measure with the rakyat. The pandemic strategy and progress, vaccine procurement and deployment, and general administration of government cannot be under a veil of secrecy. 
Although we are under an Emergency, robust checks and balances have to be conducted in real time (not six months after the fact) through appropriate and rigorous means. Not only is this the government's duty, it is also in its rational self-interest to conduct its affairs completely above board to enhance its legitimacy and future electability. 
Two, the government must consult relevant experts. In recent days, at least three committees have been announced: an Independent Special Committee (bipartisan and containing health experts), a High-level Committee for Community Empowerment (co-chaired by the chief secretary to the government and the special functions minister), and a Pandemic Management Strategic Committee (chaired by the senior minister for security). This is on top of the Vaccine Supply Access Guarantee Committee (co-chaired by the minister of health and science, technology and innovation). The rakyat welcomes these committees and expect that the relevant experts will be consulted. This will demonstrate inclusivity and prove the government's "whole-of-society" rhetoric.
Finally, the government must build and deploy an ultra-long-term pandemic strategy, using these experts. Suggestions for this strategy have been extensively described previously and elsewhere. Malaysia cannot lurch from MCO to MCO without proper plans to balance lives and livelihoods in the ultra long term. An effective pandemic strategy will reduce the risk of the securitisation of health or the politicisation of the health service. A securitised and politicised approach carries heavy short-term costs to our constitutional rights, mental health and the economy, and is untenable in the long term.
This is Malaysia's first Emergency proclamation during a health crisis. The sustainability, practicability and proportionality of the Emergency/MCO 2.0 combo are important considerations. Determining the end of the Emergency will require a set of holistic and transparent KPIs, not just a single metric of "daily new cases". The government must now prove that it can wield its extraordinary powers effectively and justly, through transparency, consulting experts and deploying an ultra-long-term pandemic strategy.
The health of ordinary Malaysians, and the health of our democracy, depends on the government using its powers responsibly, and citizens holding the government's powers accountable.
---
Dr Khor Swee Kheng is a physician specialising in health systems, health policies and global health