This article first appeared in Forum, The Edge Malaysia Weekly, on December 7, 2020 - December 13, 2020.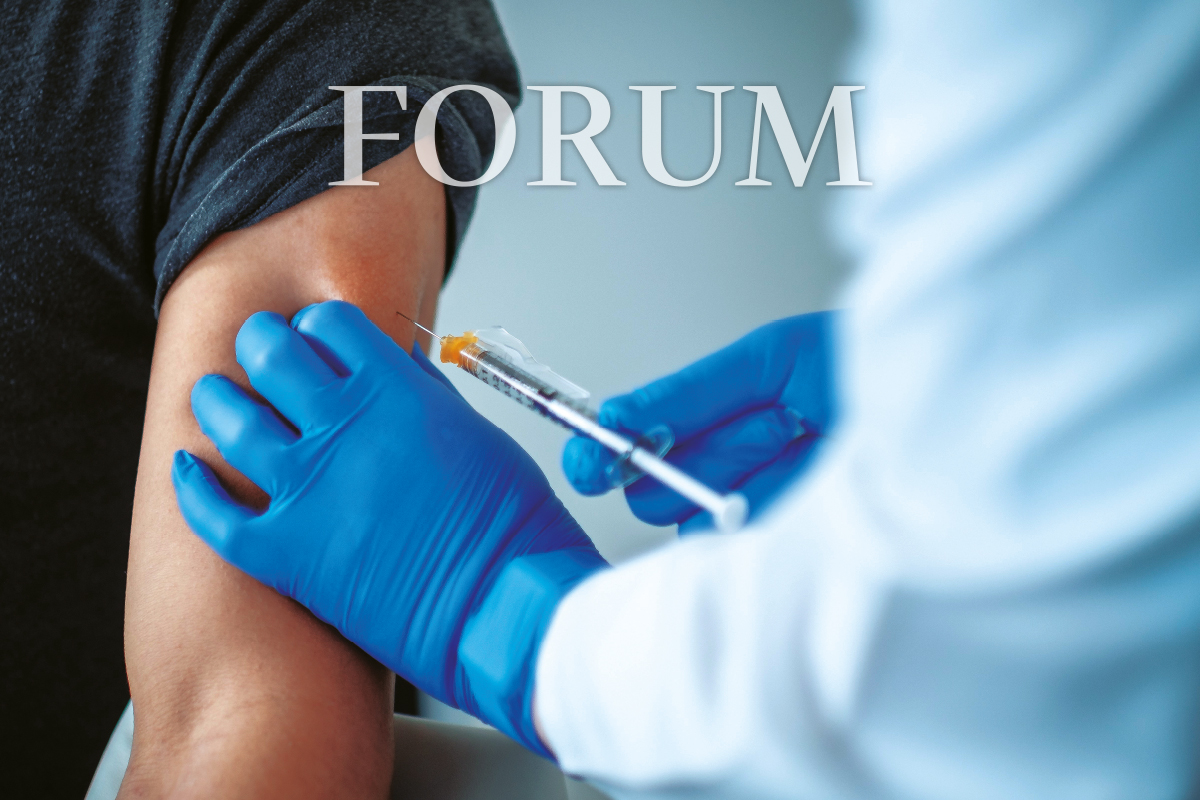 The Covid-19 genome was ­sequenced and published in ­January 2020, mere days after it was first discovered. A mere 11 months later, the world has at least three vaccines with the Pfizer/BioNTech vaccine already approved by the UK regulator on Dec 2.
This is a triumph for humanity and proof that clever scientists can achieve nearly anything if backed by enough money and political will. This is also a triumph for the rapid and generous sharing of vital information through established global platforms such as the Global Influenza Surveillance & Response System (GISRS).
The scientists are now handing over their triumph to policymakers, regulators, health professionals and citizens worldwide. The Covid-19 vaccination programme for Malaysia will be the most important vaccination programme in our history. Signing agreements with various manufacturers is a welcome step, but much remains to be done to get it absolutely right. Therefore, we propose the following considerations.
Non-pharmaceutical interventions remain crucial
First, we call for caution as the pandemic is not over. The vaccine has good science behind it and the safety data is robust, comprising tens of thousands of courageous volunteers. Pending regulatory approval and a final data check, it can be deployed in stages starting reasonably soon. However, this does not mean the fight against Covid-19 is over.
One, we may not achieve 70% coverage for perhaps 12 to 24 months after the first Malaysian is vaccinated. This assumes that 70% is the minimum threshold for herd immunity; the actual threshold may be higher, and epidemiologists are still calculating it. This slowness is due to vaccine production limits, high global demand and staggered delivery of doses, even if we can mitigate this by purchasing from multiple producers.
The slowness to achieve 70% coverage is also due to sheer logistics: delivering two doses to 70% of Malaysia's 32 million people in two years means 22.4 million jabs a year. For comparison, we are delivering only approximately 8.5 million jabs for childhood vaccinations per year. Assuming the vaccine is 90% effective, we actually have to vaccinate 78% of the population to achieve 70% coverage.
Two, the long-term effectiveness of the vaccine may reduce over time, requiring booster doses or re-vaccinations. Three, repeated or annual doses of the vaccine may be necessary, especially if Covid-19 becomes endemic (meaning that it becomes a permanent part of the landscape, similar to the annual flu). In combination, these factors mean that non-pharmaceutical interventions (such as testing and quarantines, physical distancing, face masks and targeted movement restrictions) will remain part of our lives for longer than we want.
Strengthen and insulate NPRA
Multiple steps are necessary to bring the vaccine from the scientist's laboratory to a nurse in a primary care clinic in Kota Kinabalu or Arau. The first step remains regulatory approval by the National Pharmaceutical Regulatory Agency (NPRA), a competent body staffed by highly trained professionals. Their work is challenging in two structural ways.
One, these Covid-19 vaccines often use the new technology of messenger RNA (mRNA) as the delivery vehicle. This technology could be unfamiliar to NPRA and her sister regulatory agencies globally. This may require new training to understand the science, with new standards, criteria and pathways for approvals.
Two, the Priority Review pathway for NPRA will likely be used to review the Covid-19 vaccines. In the best of times, the balance between speed and rigour is challenging. During an unprecedented pandemic, this is exponentially more challenging as there is heightened public scrutiny of regulatory agencies globally, with an attendant risk of pressure by politicians who want popularity boosts.
Therefore, regulatory agencies must start building their capacity to understand and appraise the science. Accelerated approval pathways must be reviewed and strengthened where necessary. Partnerships with health technology assessment (HTA) agencies must begin, as more vaccine candidates come onto the market and purchasing decisions become more difficult.
In this respect, we welcome the reassurances of the prime minister, the minister of science, technology and innovation (Mosti), and the director-general of health that the vaccines will only be deployed after NPRA approval, free from any influence or pressure. We believe that this will increase vaccine confidence among the rakyat.
Build new partnerships
Three types of partnerships are needed in the plan to vaccinate Malaysia. The first is manufacturing. One way to overcome delays in bringing approved vaccines to Malaysia is to manufacture the vaccines domestically, for our own use or for sharing with Southeast Asian countries. This process is often referred to as "localisation", and can be done through transfers of intellectual property, in-licensing agreements or joint ventures with the patent holder.
Existing manufacturing capacity can be scaled up in anticipation of future production, with machine retooling and building up a stockpile of raw material. Indeed, as part of long-term capacity building, it may not be too late for Malaysia to research our own vaccine, at least for the conventional inactivated or live attenuated virus vaccine.
The second partnership is with private sector healthcare providers. The reach, capacity, networks, human resources and capital of private sector clinics and hospitals must be appropriately utilised to support the national vaccination programme. Such a public-private partnership can be a prelude to universal health coverage (UHC) through a single payer model, especially stronger primary care. Logistics and transport firms will provide significant cold chain capacity and expertise, over and above the existing capacity of ultra-cold freezers in university labs and major hospitals.
The third partnership is to increase vaccine confidence among the rakyat. Here, a coalition of the willing, able and relevant must be assembled, including educational institutions for all age groups, community leaders, religious leaders, tech platforms and public health professionals. Risk communication for vaccine confidence must begin today and encompass all steps of the vaccine process, starting with NPRA approval and release of all safety data. Vaccine confidence cannot wait until the day before the first dose is administered to the first Malaysian.
Monitor legal, economic and trade implications 
As an upper-middle-income country, Malaysia has a uniquely challenging "sandwich problem". We are not poor enough to qualify for exemptions from patents, and not (yet) rich enough to afford full price for innovative medicines and vaccines. While Malaysia had previously employed compulsory licensing (a mechanism to allow a country to "break a patent" and produce generic copies of a medicine owing to public health threats), such a move also carried international law, trade and diplomatic cost.
There are several options for Malaysia to purchase these Covid-19 vaccines. Our long-standing discussions with organisations such as the Medicines Patent Pool set the stage for fairer and more equitable access for us and countries in a similar position to us.
In recent years, pharmaceutical companies have begun risk-sharing agreements and innovative financing mechanisms with governments and single payers. The COVAX Facility and our hedging strategy to negotiate with multiple vaccine manufacturers also provide a back-up safety net. We must also consider the Chinese government's position of vaccines being a global public good and its offers of inexpensive vaccines in large quantities.
We understand that the details of the negotiations with various vaccine manufacturers are confidential. This is a problem of the global political economy and the commercial strategies of private sector manufacturers, not a Malaysian government problem. We are reassured with statements from Mosti and the DG of health that the contractual clauses are favourable for Malaysia and allow independent decision-making by the NPRA.
Further strengthen universal health coverage
Delivering a population-wide vaccination programme for Covid-19 will cost significant sums. Therefore, Malaysia must find synergies and effect multipliers in our health spending to stretch our finances. One realistic approach is to further strengthen UHC as an overarching government strategy.
In simple terms, UHC is when a population receives the healthcare that they need whenever they need it, without financial catastrophe. This does not mean that all healthcare is free. It means that healthcare financing must be sustainable, diversified and equitable, with adequate physical access to healthcare facilities staffed by well-trained professionals.
If Covid-19 becomes endemic, ­annual vaccinations may become necessary. This requires a network of ­physical facilities, a large and well-compensated workforce and sustainable sources of financing. Therefore, any short-term plan to only deliver the Covid-19 vaccine as a one-time-only exercise is short-sighted.
A long-term strategy to achieve UHC will be both cheaper in the long run and more effective against future pandemics, for several reasons. UHC promotes healthier populations, which are more immune to infections. More healthcare access increases trust in public services, which is crucial during pandemics. Familiarity with their doctors and nurses improves vaccine confidence and thus vaccination rates. We must use the _Covid-19 vaccination programme as a catapult towards a more comprehensive UHC for all residents of Malaysia.
Other challenges remain
Other challenges remain daunting. The Pfizer vaccine candidate is fragile and must be stored at temperatures of -70° Celsius, requiring a new cold chain infrastructure. Fraud, fake products and black markets must be addressed. ­Anti-vaxxers and pseudoscience advocates must be addressed, assisted by religious leaders and lawyers.
At some point, Malaysia must answer the question: Should we make the Covid-19 vaccination mandatory? Second- and third-generation vaccines will be potentially safer and more effective and must feature in the vaccination strategy using first-generation vaccines. Finally, Covid-19 vaccines must be financed without affecting delivery of other vaccination or healthcare services.
Until Malaysia is adequately vaccinated, non-pharmaceutical interventions remain crucial policy instruments. This will likely be the situation until at least end-2021. The agreement with Pfizer, entry into COVAX, starting a clinical trial with a Chinese vaccine and the hedging strategy of negotiations with multiple companies are welcome steps. Science has got us here at an unprecedented speed. Now, it is up to policymakers, regulators and health professionals to bring it home.
---
Dr Khor Swee Kheng is a physician specialising in health systems, health policies and global health. Prof Datuk Dr Lokman Hakim Sulaiman is the pro-vice-chancellor (research) of the International Medical University Malaysia and a former deputy director-general of health (public health).