This article first appeared in Forum, The Edge Malaysia Weekly, on December 28, 2020 - January 10, 2021.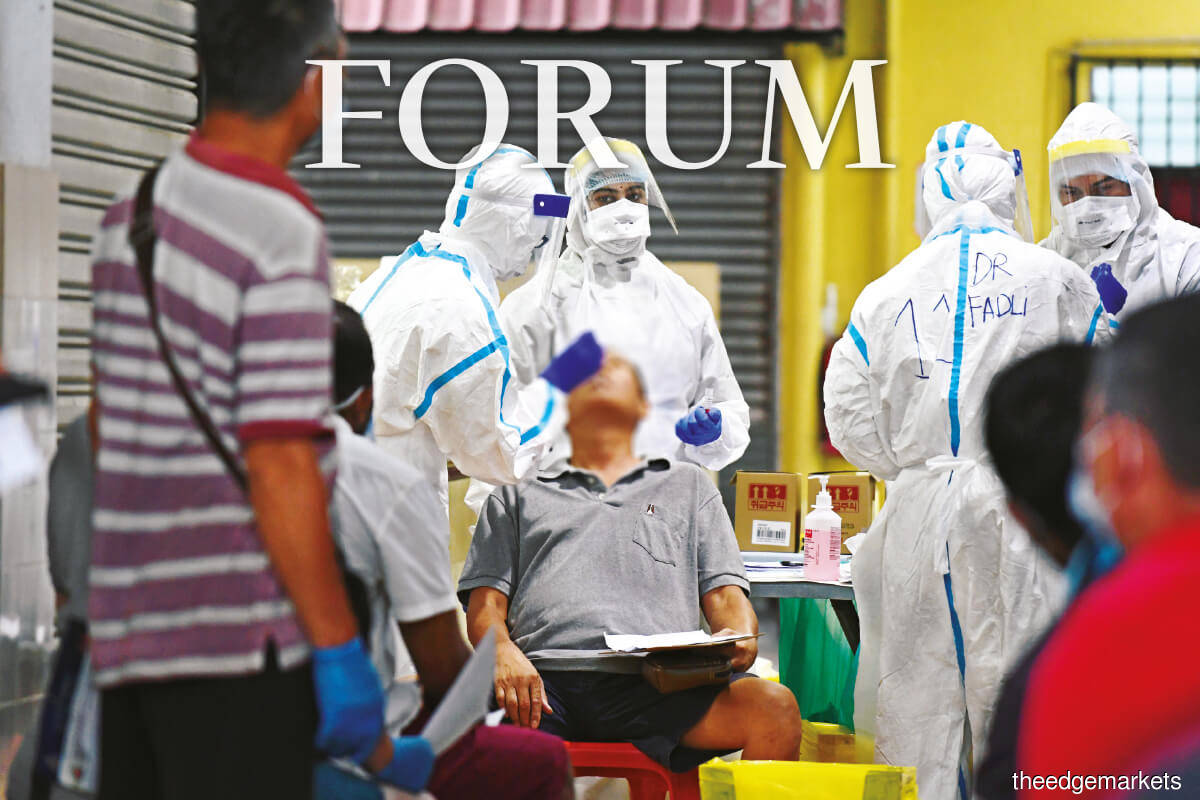 2020 will be etched in our history as a year of long-awaited ambitions that were profoundly altered by Covid-19. Our vocabulary was supposed to be full of terms like "developed-country status", "high-income economy" and "towering Malaysians". Instead, we repeated phrases like "flattening the curve", "physical distancing" and "movement control order" (MCO).
That is because Covid-19 is a national trauma of unprecedented proportions. It will set back Malaysia's national development, educational achievements and economic growth for years. When the final toll is calculated, we are likely to see worse inequality, lost productivity and a scarred collective national psyche. There are no gentle ways to describe its impact on lives, emotions and the bonds that hold individuals and societies together, but we can still draw strength and three lessons from the bleakness of 2020.
We owe our health service a hutang budi
The first lesson from 2020 is the fundamental importance of public healthcare, and how Malaysia's health service has risen to the occasion. Everyone has a story about health frontliners, and each story is a powerful testament to the skill, courage and sacrifice of individuals in the health service. The fate of the rakyat depends on the skill, courage and sacrifice of doctors, nurses, paramedics, lab technicians, contact tracers, field epidemiologists, pharmacists and every other health professional who stepped up.
One important note is the discipline of Malaysia's health service, which is at an almost semi-military level. Except for the uniformed services of soldiers, police officers, firemen and women or the coast guard, no other public service delivers 24/7/365. Schools, district offices and economic agencies close for the night, but hospitals continue running. During peacetime or pandemic times, we can depend on our nation's health professionals to keep us alive or free from pain and suffering.
In many ways, they exhibit the best of Malaysia. They demonstrate abundant skill, courage, sacrifice, discipline and reliability. They are non-politicised, non-discriminatory and non-racial, delivering effective services despite an understaffed and underfunded health system. Our health professionals are heroes many more times that we can count. As they have cared for us, we must care for them.
That means we owe them more than just verbal thanks. We owe them more permanent posts, better salaries and terms of service, opportunities for personal growth and education, adequate personal protective equipment and safe vaccines, childcare especially for the women on the front lines, psychosocial support and adequate opportunities for rest. This is how we repay our hutang budi to them.
Doing all that requires reforms to our health system in three systemic ways. Our health funding must be larger, more sustainable and diversified; the delivery system must be reorganised to remove conflicts of interest and deliver effective services; and human capital must be managed with fairness and efficiency. It would be morally criminal to only tweet our thanks or engage in publicity stunts like lighting bridges in blue to acknowledge our heroes.
Health is the new GDP
The second lesson from 2020 is that health cannot only depend on doctors, hospitals and vaccines. If that were true, even an infinite amount of money cannot improve health if we discharge a patient into a home, environment or society that harms them.
As examples, a living wage and social protections allow citizens to stay home during MCOs and not have to make the agonising choice between health and earning a day's wage to put food on the table. Enforcing the Workers Minimum Housing and Amenities Act protects foreign workers (morally and legally necessary) and reduces the risk of factory shutdowns (economically beneficial, if one needs this argument). Clean water in Kelantan will do more for Kelantanese health than building another hospital. Durable solutions for migrant health in Sabah are more important than temporary quarantine centres.
Covid-19 kills, but so do poverty, hunger, poor nutrition, prolonged isolation in sub-standard housing and economic deprivation. Malaysia may yet see an epidemic of deaths of despair, hunger or poverty as a result of Covid-19, if we do not improve the conditions in which we live, work, play, eat, sleep, rest and move. That requires Malaysia to adopt a "Health in All Policies" approach where all government agencies will include health into their planning and operations. HiAP is endorsed by the World Health Organization as an important tool to improve population health.
Doing all that needs a national psychological and system reset. Unfortunately, the world has always prioritised GDP growth as the "best metric" of national progress, and Malaysia is no different. There are obvious problems with a singular focus on economic development, leading to new tools that incorporate health metrics like the Human Development Index or Multi-dimensional Poverty Index. Their proponents sometimes try to displace GDP as the national target, for many good reasons.
In the post-Covid-19 era, health will feature even more prominently. Domestically, the performance legitimacy of a government will depend more on safe, strong and fair health services. Internationally, the soft power of a country is enhanced by strong health services; look at Taiwan, Thailand and South Korea. Financially, investors, donors, lenders and ratings agencies will use health as an additional metric for investments, loans and ratings. This long-term trend of featuring health as a prime metric will become irresistible. Malaysia cannot just stumble along in a GDP worship and continue to neglect health.
The GDP has outlived its historic mission, and summary measures of population health will replace it. There are many incentives for politicians from both sides, senior civil servants and business leaders to embrace health and well-being as a formal and visible target to achieve. Instead of treating health as a mere consequence of economic growth, Covid-19 proves that health is a determinant of national progress. Only if Malaysians are healthy can we progress as a nation, not only the other way around.
Deep reforms are needed
The third lesson from 2020 is that Covid-19 has exposed the need for deep structural reforms for Malaysia. Our failure to achieve Vision 2020 cannot be conveniently blamed on a virus, when it is actually due to decades of poor strategy, poor execution, poor governance and benign neglect. Many commentators and scholars believe that Malaysia has several more years of runway before our country becomes unsalvageable, whatever this term means. Therefore, Covid-19 is an important and convenient trigger or milestone for deep structural reforms in several areas.
One, Malaysian politics needs to become more stable, predictable and policy-driven. Everyone has an incentive for a stable two-coalition democracy to emerge, with both coalitions competing based on policies and governance models. If politics and governing are predictable, our national attention can turn to nation-building. To achieve this, we must aim for confidence and supply agreements, shadow cabinets and shadow budgets, and professionalising the political parties one by one.
Two, we must stamp out corruption using a basket of solutions. A stronger Anti-Corruption Commission, more whistleblower protections, radically transparent government procurement and visible enforcement are only four perfectly reasonable ideas.
Three, we must build institutions that can outlast the temporariness of governments and individuals. Shifting more power to parliament from the Executive and decentralising decisions away from Putrajaya are necessary, and in the rational self-interest of Cabinet ministers who will want to remain relevant if they lose their seats.
Malaysia's health and healthcare service do not exist in a vacuum. It is a testament to the resilience, skill and professionalism of the Health Ministry that they operated without a health minister for 14 days in February to March, but this cannot happen again. Predictable, professional and policy-driven politics, robust anti-corruption measures and patient institution-building will strengthen our health service and insulate it from unnecessary manmade shocks.
Crisis is opportunity
2020 has seen Malaysians feeling alternately angry, fearful, anxious or powerless, but there are silver linings. The vaccine, if approved and delivered safely and equitably, will assist in a V(accine)-shaped economic recovery. The pressure from Covid-19 will force us to make bold and brave choices for our health social contract, beyond just increasing the Health Ministry's budget.
If Malaysia makes some right choices, we will recover quicker than other countries; Vietnam's excellent public health response allowed them to grow the fastest in Asean in 2020.
Many believe that existential crises are powerful triggers for great change. Social safety nets were improved after the Great Depression, the UK's National Health Service was born after World War II, and global systemically important banks cleaned up after the global financial crisis.
Will Malaysia take this Covid-19 opportunity to dramatically transform our country, or are we too paralysed, too timid or too unimaginative? This is the biggest question facing us as we end the year of living dangerously. There remains much within our power and abilities in 2021, and there is still hope in the experts, the youth and the courageous citizens of Malaysia.
Happy New Year to everyone, and wishing you all the very best of health and happiness.
---
Khor Swee Kheng is a physician specialising in health systems, health policies and global health