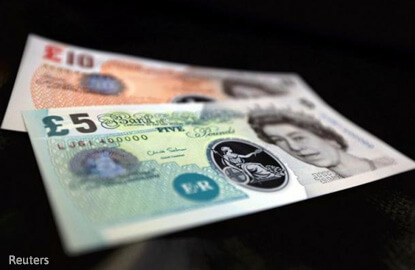 LONDON (March 27): Sterling surged almost 1% to a seven-week high against the US dollar on Monday, gaining with other major currencies after the failure of a Republican healthcare bill weakened faith in US President Donald Trump's other campaign promises.
At the start of a week set to include Britain's formal request to leave the European Union, the pound gained 0.8% compared to Friday's close on Reuters' broad sterling quote page, hitting US$1.2580, its highest since Feb 9.
The pound was also up 0.2% at 86.42 pence per euro and dealers said the squeeze on record high bets lodged against sterling in recent weeks had helped it outperform currencies including the Australian and New Zealand dollars against their US counterpart.
"The legislative setback for the Trump administration has brought into question the 'Trump reflation trade'," analysts from Credit Agricole said in a morning note.
"The yen (was) the strongest performer in G10 FX (and) the euro and sterling were the next best ... as the most popular long dollar positions got squeezed."
Dealers pointed to the Feb 9 high of US$1.2582 as the next target for the pound. Beyond that are this year's highs around US$1.27.
Sterling has been rising steadily since a Bank of England meeting on March 16 that saw a number of its members swinging towards concern over rising prices and its next move being a rise in interest rates to quell consumer inflation expectations.
But official US futures market data on Friday showed net bets on the pound rising even further in the week to last Tuesday, a measure of the deeper concern among investors about Britain's path out of the EU over the next two years.
A number of major banks have predicted the pound will fall below US$1.20 in the period of political jousting sparked by the launch of formal negotiations on the terms of the divorce.
"Our near term bearishness towards the pound has been challenged by the constructive BoE message on rates," said Kamal Sharma, a strategist with Bank of America Merrill Lynch in London.
"But we don't think Article 50 is the last shoe to drop on sterling bearishness. From Wednesday, the narrative is out of May's hands and with the EU. That may put more pressure on the pound again."