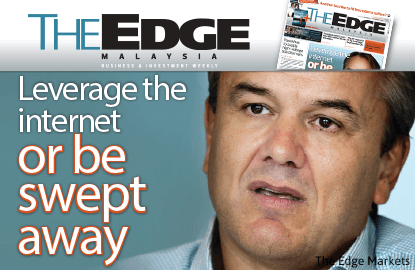 KUALA LUMPUR: Here's the fact: billions of ringgit in profit from the simple text message or short message service (SMS) are fast dwindling today for telecommunication companies, no thanks to free alternatives like WhatsApp, WeChat, SnapChat and what have you.
If the 14.6 million SMSes sent in the first half of 2015 are any indication, Malaysia is set to see the number of text messages sent fall 40% year on year to about 29 million – the lowest in a decade and barely 30% of the 96.8 billion SMSes sent in the country in the year 2010.
As The Edge Malaysia wrote in its latest cover story titled 'Leverage the internet or be swept away' for the week of Nov 9-Nov 15, there's an estimated 400,000 messages sent every second, which means "there are now more free messages sent in a day than the number of SMSes the entire industry sees in a year".
Not surprisingly, Maxis Bhd chief executive officer Morten Lundal shared with writers Cindy Yeap and Liew Jia Teng why Malaysian businesses must step up their digital initiatives to survive and how the telco itself is having to reinvent itself for the same reason.
For the internet has levelled the playing field now in an unprecedented way and it's no longer about who is the biggest guy or has the deepest pockets who will gain consumers' favour.
Indeed, new billionaires are being minted in places like Silicon Valley from disruptive ideas such as WhatsApp, ironically made possible by technology advancement and the ubiquitous mobile internet infrastructure that cost mobile service providers big bucks to build and maintain, wrote the weekly.
In short, the challenges ahead and the technological options available to take one's business to the digital age is tremendous.
The idea is a thrilling and promising one but the awareness – going by the fact that only 1 in 10 Malaysian SMEs is on social media and doing some business online, and only 1 in 4 SMEs here has a website and plans for e-commerce – is obviously still lacking, the paper wrote.
Even big guys like Maxis itself admits that it is still reengineering to stay relevant, to evolve and search for new revenue sources, to replace the fast dwindling ones.
The story package also looks at the 'Spectrum adequacy poser as Malaysians' mobile data usage rises', and whether Maxis' generous dividends will stall at 21 sen, as analysts believe Maxis remains most vulnerable to the yield reversal theme among local telcos as its capex intensity remains high while competition stays unabated.
Pick up a copy of The Edge Malaysia from newsstands around you to read about what the telco plans to do, and the challenges it foresees it needs to overcome, to stay ahead of the game and win investors' favour again.
P/S: The Edge Malaysia can also be downloaded from Apple's Newsstand and Androids' Google Play.