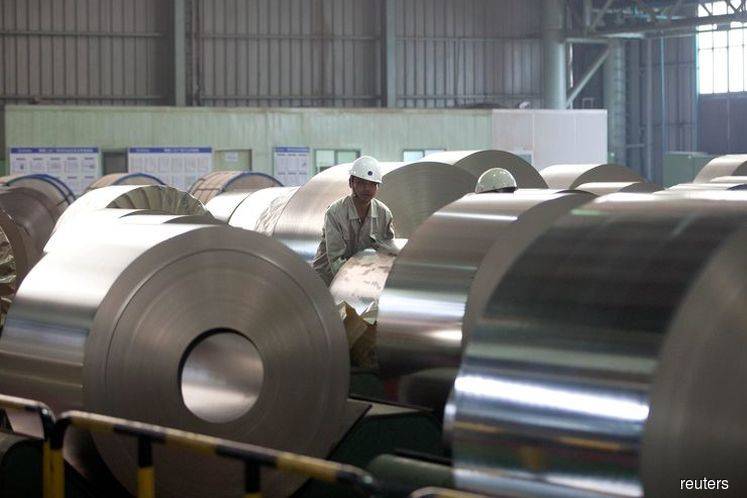 KUALA LUMPUR (Nov 29): Steel-related stocks advanced this morning on Bursa Malaysia on the back of a report from Moody's Investors Service, in which the rating agency said its outlook for Moody's-rated steel companies in Asia through 2018 is stable, because profitability will be steady during this period, after improving significantly in 2017.
Among advancing steel counters were Southern Steel Bhd (up 3.62% or 8 sen to RM2.29), Tatt Giap Group Bhd (up 3.45% or 0.5 sen to 15 sen), Press Metal Aluminium Holdings Bhd (up 1.82% or 9 sen to RM5.03), Malaysia Steel Works (KL) Bhd (up 0.65% or 1 sen to RM1.55) and CSC Steel Holdings Bhd (up 1.30% or 2 sen to RM1.56).
In a released report titled "Steel — Asia, 2018 outlook", a senior Moody's vice president, Kai Hu, said the likely stable profitability for Asian steelmakers that they rate is underpinned by the removal of excess steel production capacity in China and broadly steady demand in Asia as a whole.
Moody's said steel production capacity in China will continue to decline due to the Chinese government's supply-side reforms and environmental protection measures; factors which will reduce the supply glut in Asia.
Moody's explained China drives the outlook for steel companies in Asia, because the country represents the region's largest steel consumer, as well as producer.
"Overall steel demand in Asia will remain stable, with robust demand growth in South and Southeast Asia, and flat growth in China," Hu added.
Moody's report said the stable outlook for steelmakers in Asia also reflects China's purchasing managers' index, which remains above 50, indicating increased manufacturing activity; a situation which is positive for steel demand.
The report said a likely slowdown of contracted sales in China's property sector will have only a limited effect on overall demand and industry fundamentals over the next 12 months, because the strong contracted sales since 2016 will support new construction starts and steel demand over the next several quarters.
It said among major steel-producing Asian countries, operating conditions will be the most supportive in India, because of robust domestic demand and protectionist measures, and despite an increase in raw material prices and new capacity.
It said domestic demand will prove steady in Japan and Korea, which, together with the steelmakers' efforts to cut costs and increase production of premium products, should keep earnings for companies in these two markets higher, when compared with the levels seen in 2015-16.
He added through stringent rules and regulations on members, a total of 189,777 hectares of high conservation value (HCV) areas, equivalent to 250,000 football fields, are being managed.
"There are also emerging trends in Africa, where HCV areas have increased by 13,405 hectares, whereas Malaysia has seen a rise of about 8,399ha of HCV land.
"We have made significant progress in the last year, with RSPO-certified plantations covering a total of 3.2 million ha across 16 countries, which is a 14% increase since the last reporting period (July 1, 2016 to June 30, 2017)," Hu added.  
Its latest report as at June 30, 2017 showed RSPO-certified smallholders rose to 139,123, from 109,415, with certified land up to 333,345ha, from 257,649ha a year ago.