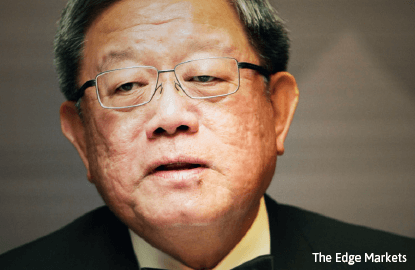 This article first appeared in The Edge Malaysia Weekly, on November 16 - November 22, 2015.
STEEL tycoon Tan Sri William Cheng Heng Jem has been selling land of late. Andalas Development Sdn Bhd, a company linked to Cheng, has sold 296 acres in Bandar Mahkota Banting, Selangor, according to industry sources. 
Andalas was once a subsidiary of Amsteel Corp Bhd, which was delisted from Bursa Malaysia in October 2007, as it had failed to regularise its financial position. 
The freehold parcel is located just a few kilometres from Cheng's steel manufacturing facility, Megasteel Sdn Bhd, in the district of Kuala Langat. It is understood that the tract was sold for an estimated RM110 million to a property developer called Island Circle Development (M) Sdn Bhd. 
Interestingly, Island Circle — which undertook the Pacific Place, Ara Damansara, and USJ Sentral projects — has a common shareholder in JAKS Resources. 
JAKS Resources and Island Circle also jointly own two companies.  Island Circle holds 49% equity interest in both JAKS Island Circle Sdn Bhd and MHN Global Assets Management Sdn Bhd. The remaining 51% in JAKS Island Circle is held by JAKS Resources Bhd through its wholly-owned JAKS Sdn Bhd. JAKS Resources bought the 51% stake in MHN Global in 2013. The shares are held through its wholly-owned unit called Harbour Town Sdn Bhd. 
This is the second parcel in Kuala Langat district to be sold by companies linked to Cheng. About two weeks ago, Lion Diversified Holdings Bhd (fundamental: 0.40: valuation:0.90) announced to Bursa Malaysia that it plans to sell a 156.66-acre freehold agricultural parcel in Tanjong Duabelas, Kuala Langat, to KLC Agro Sdn Bhd for RM36.5 million cash.
The sale, Lion Diversified says, will fetch a gain of RM19.8 million for the financial year ending June 30, 2016 (FY2016). It added that the disposal is to unlock asset value.
According to sources, the land sale by Andalas was completed last month and is viewed as favourable towards the purchaser as it changed hands at around RM8.50 psf while the price of a similar parcel in the area could fetch up to RM10 psf.  
When contacted to ask about the sale, an official from Cheng's office said the Lion group "is unavailable for comment". 
Island Circle confirmed that the developer had recently acquired a parcel in Bandar Mahkota Banting, but an official there declined to comment when asked for details. 
The Edge understands that a development order has already been obtained for the parcel  and it has been subdivided. The gross land area is an estimated at 296 acres, but the net area that will be built on is believed to be 138 acres. The difference is usually to provide for public facilities such as parks and roads. 
Andalas Development, according to sources, has obtained approvals for the construction of bungalows, double storey terraced houses, shophouses, semi-detached houses, petrol stations and a clubhouse. In total, the development will provide over 2,000 houses and shophouses. 
A search with the Companies Commission of Malaysia (SSM) shows that Andalas' directors are Cheng and Yeo Keng Leong. 
Andalas is wholly owned by the UK-incoporated The Brooklands Selangor Rubber Co Ltd. While it could not be immediately established who the shareholders of The Brooklands are, Amsteel's FY2006 annual report — the last available annual report prior to its delisting in 2007 — shows The Brooklands was wholly owned by Amsteel. 
In its annual report for FY2006 ended June 30, Amsteel said Bandar Mahkota is situated on 2,169 acres of freehold land located 15km from the Kuala Lumpur International Airport. Before it was called Bandar Mahkota Banting it was known as Bandar Baru Brooklands. As at FY2006, Amsteel had converted 925 acres for development into mixed residential and commercial units. 
The latest financial numbers on Andalas  available with SSM reveal that it posted revenue of RM1.28 million and a net loss of RM3.02 million in FY2014 ended June 30. The company has accumulated losses of RM34.69 million. Its total liabilities, which were all current, amounted to RM154.21 million.
The directors and shareholders of Island Circle are Rasli Musamah and Chen Cheong Fat. Rasli and Chen own 34.85% and 65.15% respectively in the company. Chen, the majority shareholder of Island Circle, appears on the list of the 30 largest shareholders of JAKS Resources, holding 2.5% of the company. 
In FY2014 ended Dec 31, Island Circle posted a net profit of RM20.39 million. As at Dec 31, 2014, its total debts were RM55.49 million, of which RM48 million were current liabilities.
Island Circle wholly owns two other subsidiaries, Pacific Place Land Sdn Bhd and Sanjung Merpati Sdn Bhd. 
It is not known if JAKS Resources will later participate in the development of the parcel in Banting.