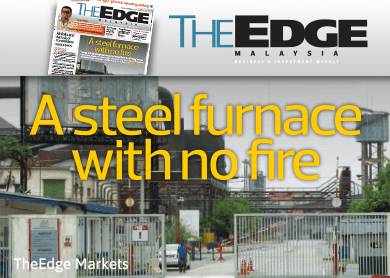 KUALA LUMPUR (Dec 27): Perwaja Holdings Bhd opened the door for Kinsteel Bhd's Tan Sri Pheng Yin Huah to join the big league.
But the steel glut has proved to be too much for the Kuantan businessman and the group to handle, according to the Edge weekly in its latest edition. 
The Edge said it was at Perwaja's steel mill in Kemaman, Terenganu that former prime minister Tun Dr Mahathir Mohamad forged the nation's first steps into heavy industries three decades ago.
"Most industrialised countries have a steel industry. It's very important, that's why we went into Perwaja," Mahathir had told The Edge in an earlier interview, it recapped. 
"Unfortunately, our ability to manage Perwaja was not there and we made several mistakes. Among the mistakes we made was to set up a plant in Gurun [Kedah] to produce steel bars and things like that," the weekly cited Mahathir as saying.
The Edge said Perwaja's high quality steel was supposed to kick-start the country's automotive and construction industries by reducing our reliance on imports. For a while at least, the vision did seem to gain traction, with Perwaja producing almost 1.5 million tonnes of steel annually — more than any other local steel maker — at its peak.
"But today,  the steel mill lies quiet. There is no smoke and there is no fire," it said. 
The weekly said the massive blast furnaces at the heart of the plant that used to churn out steel by the thousands of tonnes have been cold for over 17 months. 
It said only a skeleton crew remains to keep watch over the plant, while the group's remaining 2,000-strong workforce has been kept on the payroll with a RM450 monthly allowance.
The Edge said Perwaja's managing director Tan Sri Pheng Yin Huah in 2006, acquired a 51% stake in Perwaja through Kinsteel Bhd around the peak of the steel cycle, and enjoyed a profitable run through to 2008 on high steel prices.
It said Perwaja was a huge stepping stone for Pheng, since Kinsteel was only a fraction of its size at the time. 
"By the time Perwaja listed in 2008, it had propelled Pheng to new heights in the industry and the business community. He was made a Tan Sri and appointed president of the Federation of Chinese Associations Malaysia, also known as Hua Zong.
"But just as Perwaja lifted Pheng's fortunes, it would also prove to be his unmaking," it said. 
As the commodities party came to an end post-global financial crisis, Perwaja — facing a global oversupply of steel — had to borrow increasing amounts of money to keep operations going. As at September 2014, its debts had ballooned to RM2.2 billion. 
In fact, in August 2013, the Kemaman plant was forced to shut down after gas supply was cut off by Petroliam Nasional Bhd, and energy supply by Tenaga Nasional Bhd, when the steel maker could not pay its energy bills.
Shutting down the plant was probably for the best in the short term, since Perwaja made a loss of RM1.21 billion in the 18 months ended June 2014 (reported such due to achange in its financial year end).
For more on Perwaja and Pheng's fortunes, read the Edge weekly edition for the week of Dec 29 – Jan 4, 2015 issue, available now at newstands.