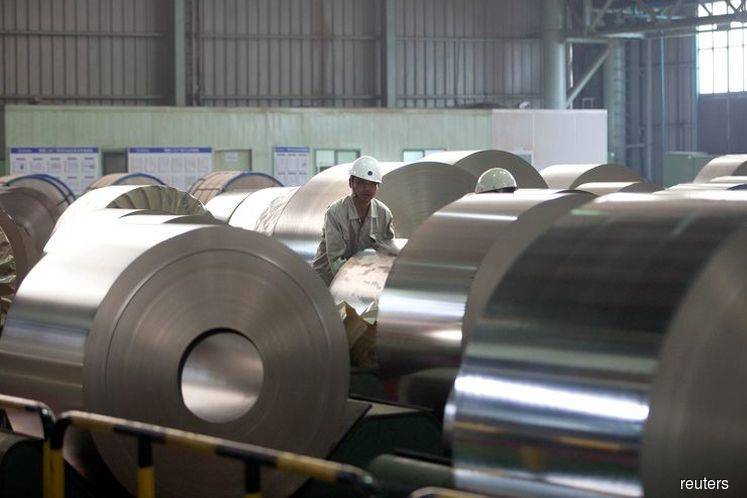 KUALA LUMPUR (March 7): Shares in most major steel and aluminium counters fell in the morning session today in line with broader market, underpinned by mixed sentiment and news on potential new US tariff.
This group of stocks were said to be impacted by the potential hefty new US tariffs which US President Donald Trump said on Thursday (March 1) that his administration will slap onto steel and aluminium imports, at 25% and 10% respectively, a move the World Trade Organization warned could escalate global trade barriers and a deep recession.  
However, Malacca Securities Sdn Bhd head of research Victor Wan said losses in steel and aluminium counters are results of the mixed sentiment in the broader market, as well as the US potential new tariffs.
"It is because of the mixed sentiment, because Malaysian companies don't really have a lot of exposure to steel and aluminium trade with the US.
"It is not because of profit taking. Right now, I think it is much more mixed sentiment-driven. By looking at the sector as a whole, obviously sentiments are not good because at anytime, the tariffs could affect the whole market, whether it is the US, China or Malaysia. We are all affected," Wan told theedgemarkets.com when contacted.
At the same time, there could be a glut — an oversupply of steel and aluminium products — which probably dampened the prices, he added.
"That is what the industry is worried about. Of course, once prices are dampened, it will affect Malaysian manufacturers and producers as well.
"We do not have a lot of trade with the US in terms of export of steel and aluminium products, but what is going to happen is that it will indirectly affect us, because there are tariffs imposed by the US, meaning that global steel and aluminium prices might fall because of the oversupply," Wan added.
Commenting on the outlook of the Malaysia steel sector, Wan said the industry remains fairly firm as the construction industry is picking up with lots of ongoing infrastructure projects, coupled with rail projects.
"It is a waiting game as most of our steel products, so-called long products or steel bars, are used in infrastructure projects and are much taken up by them  (construction industry).
"Even so, globally prices are still weak and that also affects the sentiment of the local manufacturers," Wan said.
At midday break today, CSC Steel Holdings Bhd saw its shares fall one sen or 0.71% to RM1.40, while Malaysia Steel Works (KL) Bhd's shares dipped 10 sen or 9.62% to 94 sen. Shares in Ann Joo Resources Bhd also dropped 5 sen or 1.44% to RM3.42, while YKGI Holdings Bhd dived 3 sen or 8.33% to 33 sen. Press Metal Aluminium Holdings Bhd fell 16 sen or 3.09% to RM5.02.