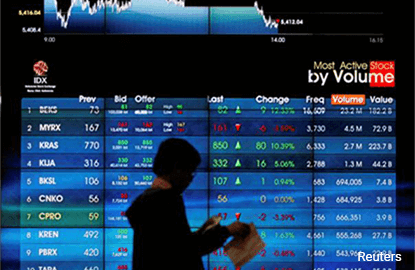 (Jan 27): Southeast Asian stocks were steady on Friday in thin trading, tracking a rally in broader global peers on strong U.S. corporate earnings and an overnight surge in oil prices.
MSCI's world index, which tracks shares in 46 countries, hovered near record highs, cheered by a 2% rise in oil prices and a rebound of the greenback from a
seven-week low. 
U.S. President Donald Trump's pro-growth initiatives also boosted sentiments. 
"Everybody was a little nervous about what would happen, after the inauguration. They were sceptical, but nothing happened. So we're back to the main trend, which is bullish," said Joseph Roxas, president of Manila-based Eagle Equities Inc.
Singapore stocks were up as much as 0.44%, at their highest level in 15 months, bolstered by financials and real estate stocks.
The city-state's industrial production in December grew at the strongest pace in five years, raising the chances of an upward revision to fourth-quarter growth.
"December manufacturing output surprised on the upside. We had expected another month of good showing in the industrial production index, but the outcome is way above expectation," DBS Group Research said in a note.
One of southeast Asia's largest developers, CapitaLand Ltd, was the top gainer, surging as much as 2.5% to touch its highest in over a year, followed by City Developments Ltd which rose 1.2%.
Philippines was up as much as 0.46%, helped by gains in financials and telecom stocks. 
"Philippines is going to outperform this year, the first after an election, because we always do well for at least the first three years after the election," Roxas added.
Metropolitan Bank and Trust Company and the country's biggest telecom firm PLDT Inc were among the biggest gainers.
The Kuala Lumpur Stock Exchange was down 0.35%, with all sectors except industrials in the red, ahead of inflation data due on Feb 1.
The world's largest palm oil company by land size, Sime Darby, jumped as much as 5.1% to hit its highest in 20 months.
Indonesia was flat with telecom stocks offsetting gains in financials.
"The general tone is quiet in Indonesia, because we are still having uncertainties with regard to interest rates. It remains to be seen, if they are going to tighten the monetary policy and how inflation will turn out in the first quarter" said Dang Maulida, an analyst with Jakarta-based Daewoo Securities.
Vietnam is closed for a national holiday. 
SOUTHEAST ASIAN STOCK MARKETS at 0429 GMT
Change on day
| | | | |
| --- | --- | --- | --- |
| Market | Current | Previous close | Pct Move |
| Singapore | 3058.24 | 3051.78 | 0.21 |
| Bangkok | 1588.93 | 1591 | -0.13 |
| Manila | 7347.87 | 7332.64 | 0.21 |
| Jakarta | 5312.467 | 5317.633 | -0.10 |
| Kuala Lumpur | 1686.36 | 1692.22 | -0.35 |
Change this year
| | | | |
| --- | --- | --- | --- |
| Market | Current | End 2016 | Pct Move |
| Singapore | 3058.24 | 2880.76 | 6.16 |
| Bangkok | 1588.93 | 1542.94 | 2.98 |
| Manila | 7347.87 | 6840.64 | 7.41 |
| Jakarta | 5312.467 | 5296.711 | 0.30 |
| Kuala Lumpur | 1686.36 | 1641.73 | 2.72 |