This article first appeared in The Edge Financial Daily, on May 9, 2019.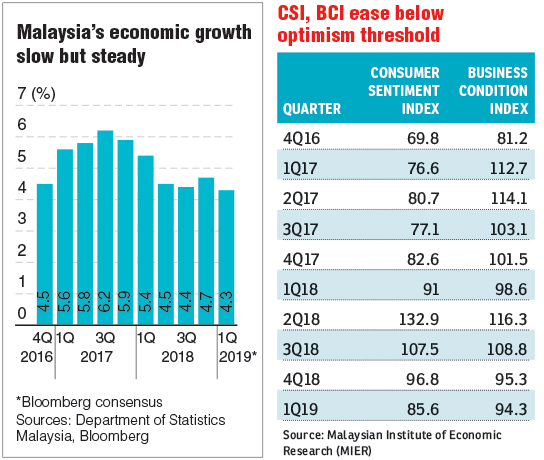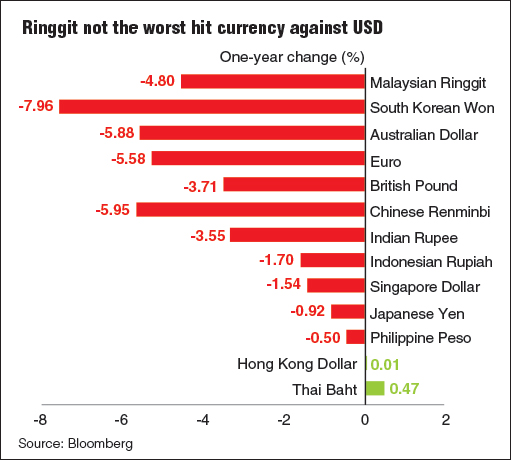 The country's economic growth so far is still deemed commendable, as it is still pacing between 4% and 5%, despite growing slower than the previous year.
While both the World Bank and the International Monetary Fund (IMF) have projected a slower global growth of 2.9% and 3.3% in 2019 respectively, it is notable that both the supranational financial institutions had retained Malaysia's gross domestic product (GDP) growth forecast at 4.7% in 2019 — the same pace as in 2018.
Nonetheless, some economic indicators are showing cautious underlying tone.
The first quarter of 2019 (1Q19) Consumer Sentiments Index (CSI) and Business Condition Index (BCI) were at 85.6 and 94.3 points respectively, below the 100-point optimism threshold, according to the Malaysian Institute of Economic Research (MIER).
The decline was considerably sharp from when the CSI breached the optimism threshold — soaring to 132.9 in 2Q18 — a 21-year high, while the BCI was up at 116.3.
Despite the persistent grouses on the escalating cost of living, the Consumer Price Index (CPI), however, indicates the easing of inflationary pressure. The CPI was hovering below 1% since June last year. This was due to the three-month tax holiday, transition to sales and services tax (SST), as well as weekly-managed float mechanism for retail fuel — in which RON95 was capped at RM2.08.
The CPI, in fact, had contracted in January and February this year — the first time since the 2009 global financial crisis.
The ringgit, meanwhile, continued to weaken against the greenback, dragged by concerns that global index provider FTSE Russell may downgrade Malaysian bonds.
The local currency hovered between 3.9415 and 4.2020 over the past year and was seen at a four-month low of 4.148 against the US dollar last Tuesday as it reacted to the interest rate cut.
Most major currencies also depreciated against the US dollar. British pound, Chinese renminbi, Australian dollar and South Korean won were down 3.71%, 5.95%, 5.88% and 7.96% respectively, according to Bloomberg data.
However, compared to the ringgit, most of these currencies are stronger.
Some of the notable weaker currencies against the ringgit are the renminbi, Australian dollar and South Korean won, which declined 1.21%, 1.11%, and 3.32% respectively.