This article first appeared in The Edge Malaysia Weekly, on July 15, 2019 - July 21, 2019.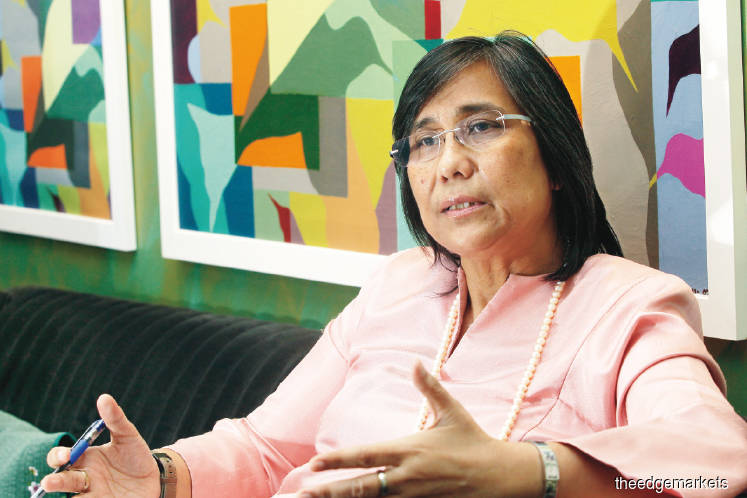 Sharzede: It's all about visibility. Photo by Haris Hassan/The Edge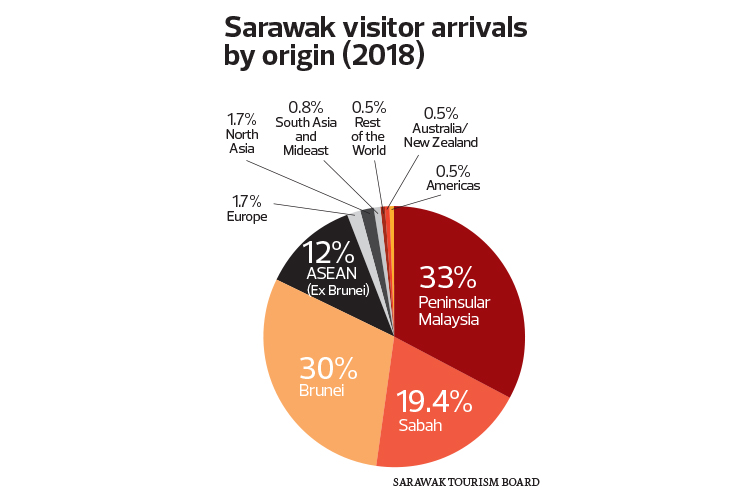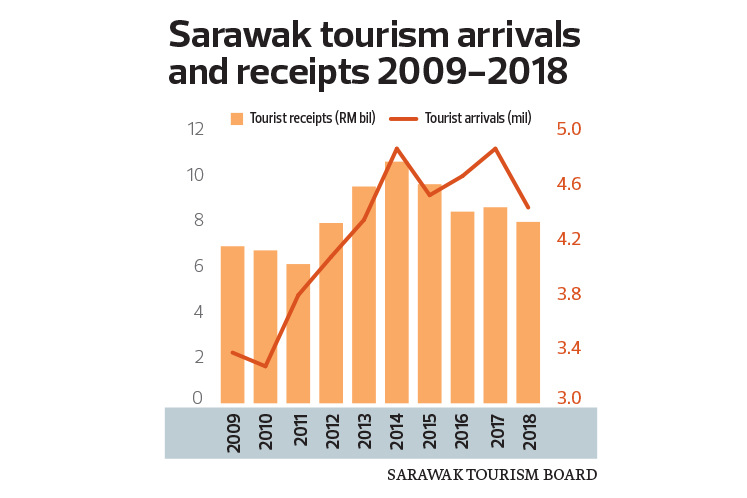 FOR a state that is home to most of Malaysia's national parks, Sarawak's tourism has been underperforming recently.
Last year, the state finished sixth among Malaysian states in terms of visitor arrivals, which, at 4.43 million, was its lowest level in five years. Tourism receipts were also at a seven-year low at RM7.59 billion.
Resetting Sarawak's tourism agenda and driving the numbers back up again are the mandates given to Sharzede Salleh Askor, who was appointed the CEO of the Sarawak Tourism Board (STB) last September.
The target is to hit five million arrivals this year and 5.2 million in 2020, Sharzede tells The Edge.
"It's a tall order because that would be about 12.8% growth whereas the World Tourism Organization forecasts 6% to 7% average growth annually. It's a challenge but we shall try our best," she says. "My focus is on the Visit Sarawak campaign, (improving) the numbers, and working and engaging with stakeholders to create new products and package them better."
There are another two years to go on Sharzede's contract, which coincides with the looming Sarawak election that must be held by Sept 7, 2021.
There was no permanent CEO at STB for five years prior to Sharzede, which hurt Sarawak's visibility. This  is reflected in the declining arrival numbers, says Sharzede. Her immediate focus is to arrest the decline and then reverse it. "It's all about visibility. We have been off the radar screen for a while, so to get back in (the game), we need to create visibility."
She adds: "I didn't expect this big a problem (although) I did expect challenges (coming into the role)."
The short-term goal is to play the volume game by targeting more domestic arrivals from Peninsular Malaysia, which is traditionally the largest source for the state. However, that is balanced with the pursuit of niche market high-yield arrivals from Europe and Australia, particularly the Beneluxe nations of Belgium, the Netherlands and Luxembourg.
STB says the average daily tourist spend for domestic visitors is RM1,350.38 compared with RM2,282.05 for international visitors — a figure depressed by the Chinese, who spend about RM1,800 on average.
Taking Chinese spending out of the equation, the average for international tourists goes up to about RM3,200 per day, says Sharzede.
When the contradiction of pursuing both a volume game and a niche market is pointed out, the STB chief responds: "It is a volume game but it also has to be a balanced game. I don't believe in over-tourism. When you have too many tourists coming to Sarawak, it's going to be too expensive for locals (in terms of cost)."
STB received an additional RM20 million allocation this year, exclusively for its Visit Sarawak campaign, which is separate from its business-as-usual budget. Its total available budget is over RM30 million.
About half the RM20 million goes to wooing domestic arrivals from Peninsular Malaysia. The rest is formarketing the state overseas.
"Of course, there is more impact on Peninsular Malaysia. Given the exchange rate, our money is better stretched domestically."
But boosting Sarawak tourism is not easy despite its attractions.
Malaysia's largest state is a cultural melting pot with 27 ethnic groups who speak 45 different dialects. It is also home to 56 protected areas, 37 gazetted national parks, five wildlife sanctuaries and 14 nature reserves — with rainforests the size of Austria.
However, connectivity is a key structural challenge. It is no surprise that Brunei, for which Sarawak is the only land-based neighbour, is traditionally the second-largest source of arrivals.
It does not help that passenger service charges in Malaysia for both domestic and international flights have increased in recent years, thanks to the government's equalisation drive.
On Sept 1, 2017, the government also started collecting tourism tax — at a flat RM10 per room per night from foreigners regardless of hotel type.
And by September this year, a new departure levy on international flights will also come into effect, the finance minister declared last year.
"Pricing is very sensitive to anything we do. And, of course, people will use price as a measurement when deciding whether to go or not to go," Sharzede remarks.
"When I was staying in the peninsula, (sometimes) it was cheaper for me to go to Bandung than to come back to Sarawak for a holiday, so this is an issue. The flights are there but the pricing is madness at times."
This is an issue that Sharzede is bringing up with stakeholders and hopes to raise with federal regulators eventually, although she recognises that it is largely beyond STB's control.
That is not the only structural challenge. On the ground, the local tourism players are disorganised and generally not in sync. "most players are operating in silos. Nobody is really working as one big happy tourism family. There are a lot of trust issues. Because (the tourism products) are so niche, people are frightened to let other people know about these things and don't want to share."
Thus, engaging with stakeholders to get them to cooperate more is a major focus area for STB as well. Another concern is getting players to work harder and be more robust.
"The stakeholders need to play their role. We can bring up the numbers as much as we can but at the end of the day, repeat business will only come if your product meets their expectations — that is the responsibility of the stakeholders, the business owners," Sharzede stresses.
Among others, STB has started a matching incentive programme with a budget of about RM1 million to encourage more tourism players to invest in digital marketing initiatives.
The first test of STB's drive in this regard are the annual music festivals in the state — the The White Rajah of Sarawak Musical (July 5-7); the Rainforest Fringe Festival (July 5-12); and The Rainforest World Music Festival (RWMF) (July 12-14).
For the first time since the RWMF started, 14 local tourism players have formed a consortium to work together on promoting their products, each focusing on different aspects of the trade but supportive of the others, says Sharzede.
"It is our 22nd year (for RWMF) but for the first time, we have this group of agencies working together as a consortium, marketing and promoting (the event) as one rather than fighting and working in silos.
"That's what we need because the players are not big and our numbers are not big enough yet. But if we work together, we can have that volume, we can bring in those numbers," she says.
To be fair, there are already signs of progress. Domestic tourist arrivals for the first five months of the year were up 13% year on year, says Sharzede.
As for the international segment, she expects to reap the fruits of overseas promotions and marketing only from 2020 onwards. "We would see a lot of international tourists coming in after this year because it takes them 6 to 12 months to make their bookings and all."
So, given the extent of the situation and relatively little time to do something about it, what would she hope to achieve in two years?
"I hope that the ecosystem will improve because CEOs come and go, but setting a system for STB to ensure that there is a system to manage the ecosystem and stakeholders is something that I'll be very proud of (accomplishing)."