This article first appeared in City & Country, The Edge Malaysia Weekly, on November 11, 2019 - November 17, 2019.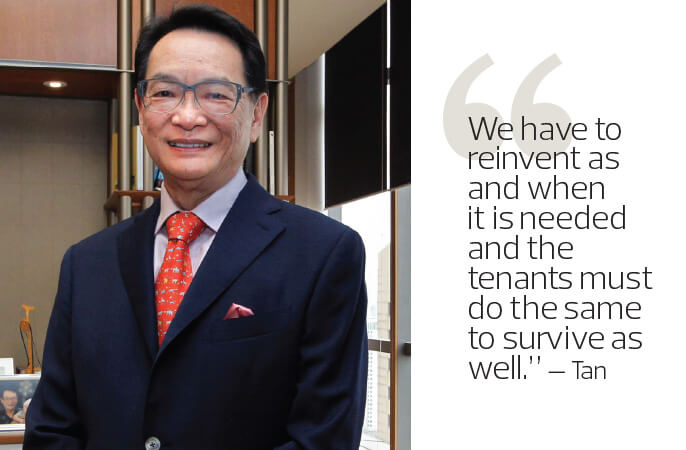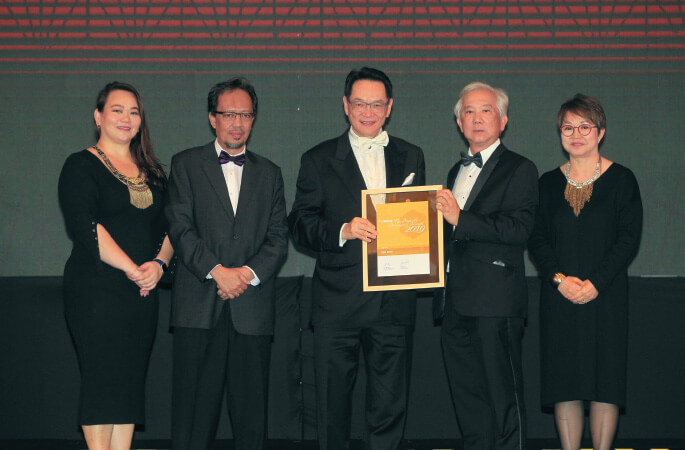 Tan with (from left) City & Country editor Rosalynn Poh, The Edge Malaysia editor-in-chief Azam Aris, The Edge Media Group publisher and group CEO Datuk Ho Kay Tat and EdgeProp.my managing director and editor-in-chief Au Foong Yee. Mohd Shahrin Yahya / The Edge


No. 10 | IGB Bhd
 
2019
2018
Overall
10
-
Quantitative
8
-
Qualitative
8
-
IGB Bhd has managed to stay the course despite the challenging market. Last year, Goldis Bhd acquired IGB Corp Bhd and the listing status of IGB Corp. The shares of IGB Corp Bhd were delisted from the Main Market of Bursa Malaysia.
As at June 30 (1HFY2019), IGB Bhd's cumulative revenue increased to RM650.82 million compared with RM587.69 million during the same period last year.
The group's property investment/retail division is represented by IGB Real Estate Investment Trust (IGB REIT). Its revenue increased 4.3% to RM276.20 million in FY2019, compared with the same period last year.
April saw the opening of The Mall in Mid Valley Southkey in Johor Baru. The Mall is the largest integrated development in Southern Malaysia/Singapore with 1.5 million sq ft of nett lettable area (NLA). The RM6 billion mixed-use development will comprise retail, leisure, offices and residences and the 32-acre development will have a NLA of 2.5 million sq ft.
IGB Bhd group CEO Datuk Seri Robert Tan has more in store for the group going forward. We sat down recently with him to talk about the group's performance, its strategy and future plans.
City & Country: How have the last 12 months been for IGB?
Datuk Seri Robert Tan: The last 12 months were full of uncertainty. We remain cautious about the market due to the trade tensions between the US and China and we have put our project in London, Blackfriars, on hold due to the Brexit uncertainty in the UK.
Domestically, structural changes within the government bureaucracy is taking time and the domestic economy has been recalibrating. The residential property market overall has been very soft and IGB has held back on new launches. We have always taken a prudent stand in line with all the uncertainties locally and globally.
What are the contributing factors to IGB's continued dominant position in the market?
When we first started Mid Valley City in Kuala Lumpur, our market capitalisation was about RM300 million. Now asset-wise, we are at close to RM9 billion. We had never done anything on this scale, and we worked phase by phase. So there was a lot of trial and error, and when there was an error, we resolved it quickly. That's key.
Of course, we have been prudent in conserving cash to prepare for any major unexpected downturn in the market and also for strategic acquisitions. Our senior management team constantly reviews our business strategies and directions, and we are attentive to any threats and opportunities to ensure the growth of our various businesses.
Our diversified portfolio includes assets that deliver constant recurring income for the group and we remain focused on our four core areas of business — retail, property development, commercial and hotels. Our core focus areas ensure a balance between business risks and opportunities, and generate healthy, long-term recurring income for the group.
Luck also plays a role. I have always told people that IGB is quite a lucky company — we have survived recessions. Credit must be given to the team I have built. When I took over, we were a small residential developer. Now, we are able to design, build and construct any development of any size. We did everything for Southkey Mall in Johor in-house.
In an increasingly competitive retail landscape, and the growing popularity of online shopping in Malaysia, what are IGB's plans to grow or maintain the income of its retail assets and footfall?
We are fully aware that online shopping is a global trend and online shopping platforms are gaining in popularity. Therefore, malls are making more effort to engage their communities online as well as through on-ground events.
We launched The Mall, Mid Valley Southkey in Johor Baru in April. As at Oct 15, it had achieved 87.13% occupancy with 308 confirmed tenants occupying 342 lots.
We hold 53% (direct: 48.892%, indirect: 4.113%) of the shares in IGB REIT Bhd, as at Oct 14. Mid Valley Megamall and The Gardens Mall are the retail assets under IGB REIT.
IGB REIT constantly refreshes and upgrades its tenant mix to enhance the shoppers' experience. Mid Valley Megamall and The Gardens Mall were upgraded with new escalators and new retail spaces. This has helped maintain and grow support from consumers.
We have to reinvent as and when it is needed and the tenants must do the same to survive as well. It is also important to have the right tenants and the right tenant mix. Every year, we reserve a certain amount for upgrading. That has to be the case because I see a lot of malls that look terrible after a few years without any upgrading. This is something we do for our tenants, and the tenants are the ones who, more or less, bring in the business.
The same applies to the hospitality market. With external factors such as the trade war between the US and China and Brexit causing economic uncertainties, what are IGB's strategies to keep its assets profitable and manage the risks?
We are focusing on realigning market segments with targeted campaigns and improving cost efficiencies while maintaining quality products and improving services throughout. Asset enhancements and works are being carried out. Currently, Boulevard Hotel and Cititel Mid Valley are undergoing refurbishments to upgrade the rooms.
We are in the process of completing our St Giles Southkey in Johor Baru, which consists of 575 rooms and is scheduled to open next year. We will keep on looking for opportunities and areas where we can grow our hotel assets. Our hotels are also embarking on digital transformation initiatives to stay competitive in the market as well as offering attractive packages to consumers.
It is getting quite challenging. Airbnb is growing in popularity, so we have to relook our strategies. It is not a bricks-and-mortar business anymore. We need and are slowly recruiting younger people, including those with IT backgrounds, so they can try to put together something that appeals to a certain kind of people.
To me, the focus is more on the affordable hotels rather than five-star hotels, which are really just for the prestige. We have reached a stage where we do not really look for prestige anymore and five-star hotels have always been difficult to manage.  
I am looking at coming up with a new model, but this model cannot work locally due to the relatively cheap prices of five-star hotels. It is workable in big cities such as Singapore, Tokyo, Japan and Shanghai. That is all I can reveal at this time.
The domestic office market has been soft this past year, and concerns remain over the current and incoming supply of office space. How is IGB working to sustain or grow its occupancy rate?
The office market is very challenging but we are, in a sense, quite lucky. We have an average occupancy rate of 80% for our commercial buildings, which have 3.8 million sq ft of NLA. That has been encouraging.
We treat our tenants as our partners. We have a full team at their beck and call. We service and try to accommodate their requests, to a reasonable extent, of course. And the rental rates that we have achieved here are higher than some of the offices in the city.
Mid Valley City is like a magnet that attracts people. It is self-contained. We have everything you need and you do not have to go out of this 50-acre space. Unlike in the city, you still have to go out and brave the traffic to get certain things. In another few months, the whole Mid Valley City will be completely linked. We are in the final stage of constructing the linkage.
Right now, we are looking to grow our occupancy rates with a few strategies. We are focusing on maintaining the rental rates and occupancies by offering attractive rates to long-term tenants; providing attractive incentives to prospective tenants; elevating the standard of customer service; increasing tenant engagement; and creating a conducive working environment where tenants can enjoy security, cleanliness and excellent building maintenance. We also have to improve the tenancy mix to avoid exposing ourselves to concentration risk.
What will IGB's focus be in the near future?
Aside from St Giles Southkey, we have several other major projects in the pipeline under the Southkey mixed-use development in Johor Baru. We have the 24-storey office buildings, Mid Valley Southkey North Tower and South Tower with a net floor area of 322,000 sq ft each — both are scheduled to be completed next year. The third floor mezzanine areas in Southkey mall are expected to be completed by the end of this month, in time for the peak Christmas season.
In the Klang Valley, Southpoint Residences in Mid Valley City is scheduled for completion 3Q2020. It comprises 19 floors of residential and three floors of facilities. The 27-storey Southpoint Offices with 488,551 sq ft of space has an occupancy rate of 50%.
Stonor 3, a high-end condominium project in Jalan Stonor, Kuala Lumpur, will be handed over in the final quarter of this year. The 41-storey buildingcomprises 400 units of upmarket condominiums.
We have received master plan approval from Kuala Lumpur City Hall for a 129.7 acre site in Wangsa Maju. We are now working on concepts that would suit the current market conditions. We are also looking into another potential site to expand our co-living business as well as exploring opportunities in senior living, which we believe is an underserved market, even though Malaysia is an ageing nation.
What is the market outlook for the next 12 months?
In the retail market, retail sales saw a growth rate of 4.5% year on year in 2Q2019, but this did not meet market expectations, which Retail Group Malaysia had projected to be 5.5%.
Therefore, we remain cautious about the market but we are firm in our commitment to create long-term value for our unit holders and will continue to bring innovative retail experiences that promise to excite the market.
As for property development, statistically, while demand appears to be improving, the pace of growth in transaction volume appears to lag behind the incoming supply, due to the mismatch in product offerings and affordability.  We remain cautious about the market for these reasons and are working on innovative new residential products to be a step ahead.
For the commercial properties segment, the overall market is expected to remain soft due to an oversupply of office space and a lack of catalysts to boost demand. The occupancy rate of offices in the Klang Valley has dropped 2% to 75% in 2Q2019, compared with a year ago. However, the office markets in KL Fringe and Selangor are expected to remain resilient with steady occupancies and rents.
Last but not least is the hospitality market. Although we recorded a 6.8% year-on-year increase in tourist arrivals in 1H2019, the hotel supply in the Klang Valley has also increased 4% to 55,297 rooms. The total occupancy rate of hotels in the Klang Valley as at September was 67.5% with an average daily rate of RM325.56.
The target for Visit Malaysia 2020 is 30 million arrivals and the tourist receipts, worth RM100 billion. We are well prepared to handle the expected upsurge in tourist arrivals as we are upgrading our hotels to stay relevant and attractive.
Personally, my hope for the future of this country is that there will be racial harmony. Racial problems are the only thing that will ruin this country. Malaysia is blessed, we are blessed and as long as there is racial harmony, this country will keep growing.