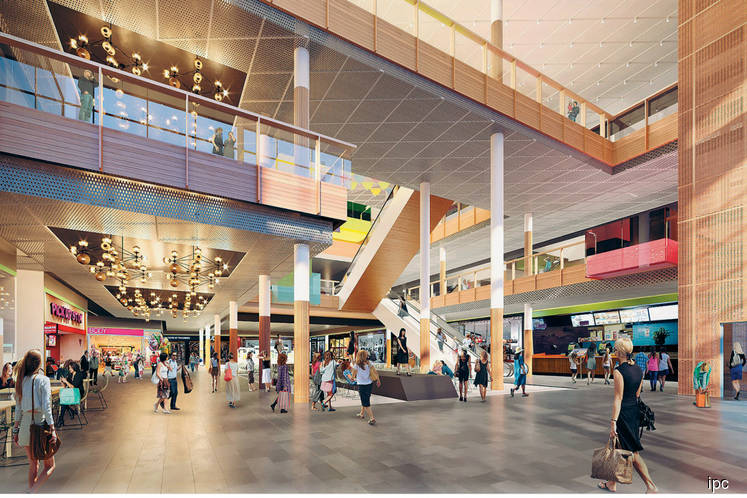 MALLS, malls and more malls. The retail supply in the country especially in the Klang Valley has continued to expand rapidly despite the growing challenges in the industry such as market dilution and the expanding e-commerce trend.
Nevertheless, up till June 2017, the retail mall market has remained stable in terms of occupancy based on data collated by the National Property Information Centre (Napic) under the Valuation and Property Services Department of the Finance Ministry Malaysia.
Its Property Market Brief for 1H17 noted that the retail sub-sector's occupancy performance was at 81.5% (2H16: 81.4%) amounting to 320,000 sq m (about 3.4 million sq ft).
Overall, retail occupancy rates remained "encouraging" with 10 states securing about 80% occupancy. However, Kuala Lumpur saw a slight decline from 86.9% to 84.9% whilst Selangor maintained an average occupancy of 85.4%.
"Most states recorded positive take-up led by Kuala Lumpur with nearly 104,000 sq m (about 1.12 million sq ft), attributed to the good take-up in new shopping complexes namely MyTown, Pavilion Elite and KL Gateway," said the report.
As at end-June 2017, there were 15.1 million sq m of existing retail space from 983 shopping complexes across the country with 17 new mall completions injecting more than 384,000 sq m of space. This was a 25.3% reduction against the 513,934 sq m recorded in 2H16. On the contrary, starts totalled nearly 289,000 sq m, an increase of more than 36,658 sq m from the preceding half.
Another 58 complexes (1.85 million sq m) are incoming while planned supply totalled 29 complexes (0.85 million sq m). Selangor has the highest amount of existing retail space whilst Johor dominated the incoming supply and KL the planned supply.
In KL, the average rental rates of retail space were generally stable with isolated upward movements recorded in selected complexes.
"Suria KLCC remained in a class of its own, securing rental rate of more than RM2,000 p sq m for its lower ground floor units," noted Napic.
According to property consultancy Knight Frank Malaysia in its "Real Estate Highlights 1H2017" report, by end-2017, another five shopping centres are slated for completion in the Klang Valley including Empire City Mall, KL Eco City Podium, Amerin Mall in Cheras Selatan, Melawati Mall (already opened) and Evo Shopping Mall.
Collectively, they will offer a total net lettable area (NLA) of about 3.52 million sq ft in the Klang Valley, stated the report.
Hence, not only do shopping malls have to compete with the onslaught of online shopping retailers, they also have to compete with each other as supply mounts. What then can a mall do?
More than just a facelift
As consumer spending habits evolve and the competition from online shopping increases, it is crucial for malls to create "the right shopping environment" for different types of consumers, says Knight Frank Malaysia retail consultancy and leasing associate director Rebecca Phan.
"Most shoppers still enjoy the mall experience and physically shopping for their merchandise as online shopping is still in its infancy [in Malaysia].
"However, a mall today is not just about buying things. It has evolved to become a place for meeting people, for bonding and serves as a pillar in the community," Phan tells EdgeProp.my.
While malls do regularly schedule renovations and upgrades, Phan notes that sometimes, it takes more than just a facelift to rejuvenate a mall. Mall owners may need to also analyse the consumer market.
"Who are they? What do they want? Why are they not visiting the mall and how to bring them back to the mall? Consumer studies need to be done every five years before one considers a facelift," she says.
The analysis allows the mall to know which major retailer doesn't yet have a presence at a location; new technology that makes it convenient to navigate the mall or find parking; concierge services that deliver shoppers' packages; or dining and entertainment options that draw people to the centre, she adds.
Knowing how crucial it is to refresh their look and enhance the customer experience to draw new customers and maintain current ones, several malls in the Klang Valley are currently undergoing major transformation works. They include IPC Shopping Centre in Mutiara Damansara; Lot 10 in Bukit Bintang, Kuala Lumpur; Subang Parade in Subang Jaya; AEON Maluri and Cheras Leisure Mall in Cheras KL.
IPC Shopping Centre
Home to Malaysia's first IKEA store, the 14-year-old IPC Shopping Centre in the heart of Mutiara Damansara is undergoing a centre-wide facelift and upgrade. Established in December 2003, IPC attracts over 15 million visitors annually.
The renovations began in March this year and are being carried out in stages. On July 1, its LG1 and LG2 floors reopened upon the completion of the first phase of its redevelopment.
The upgrading works will see the relocation of tenants and the addition of new ones. Sporting a new concept and design, LG1 is now known as Foodland, welcoming the return of popular F&B tenants such as Uncle Lim's Cafe, De Irrfan's Café, and Noodle Shack. New tenants include AEON Wellness, Penang Road Famous Teochew Chendul and Ben's Independent Grocer, which opened on Oct 12.
IKEA Southeast Asia shopping centre director Thomas Malmberg says the facelift is meant to keep in step with the changing needs of the local community. The centre intends to increase the number and variety of F&B options, offer new sports outlets and bring in new fashion retailers. He reveals that there will be an exciting new outdoor alfresco dining area where patrons can enjoy a range of enticing food offerings.
"This upgrade will not only include a relocation of the tenants that will remain with us but also the addition of fresh, attractive new tenants to diversify the mix of our centre's offerings," says Malmberg, adding that IPC has an NLA of 37,346 sq m (about 402,000 sq ft) and is currently 95% occupied.
IPC is prioritising family-friendly features with its redevelopment and will be creating an all-new kids' play area, featuring a sweets and confectionery space called Funland on level 2. This will also be home to the second Young Chefs Academy in Malaysia, offering fun and creative cooking classes for children.
As part of its long-term strategy and commitment to sustainability, the redeveloped IPC will meet green building accreditations under the Leadership in Energy and Environmental Design for Existing Buildings & Operations and Malaysia's own Green Building Index.
The grand opening will be sometime early next year in conjunction with the mall's 15th anniversary celebrations.
Lot 10
Located in the heart of KL, Lot 10 is also in the midst of a rejuvenation effort which began in June 2016. It is targeting millennial shoppers as they are the ones to shape the retail future, says YTL Land & Development Bhd and YTL Hotels vice-president Joseph Yeoh.
The youthful new branding, Meet.Play.#lovelot10, announced in 1Q2017, will focus on Lot 10 becoming the social destination of choice for millennials to gather, have fun and connect.
"With their strong disposable income and excellent product and brand awareness sourced from online platforms including social media, they are defining how malls and retail experiences are fast changing. While they do shop extensively online, they still enjoy visiting malls and stores for fresh and exciting retail experiences. Capturing the moments on social media is key and they value experiences more than just brands.
"In Lot 10, we focus on creating engaging and stimulating experiences with the right retail mix of international and local brands including pop-up store concepts to attract and retain these millennial shoppers.
"We need to be constantly connected with them to stay in touch with their fast changing trends and aspirations, and respond by regularly updating our retail mix and fine-tuning our events and activities," Yeoh tells EdgeProp.my.
According to Yeoh, there is already an increase of 50% footfalls in Lot 10 in August 2017 compared to August 2016, while businesses in Lot 10 Hutong Food Court has also seen a 20% growth with the help of the new Bukit Bintang MRT stop.
It has a healthy occupancy of more than 90% for both its retail and office spaces. Lot 10 has an NLA of 390,000 sq ft.
Some physical changes have already been completed, including a remodelled interior ceiling inspired by sunlight piercing through a treetop canopy, a new main entrance right next to Isetan the Japan Store with its colour-changing smart LED lights and Lot 10's new mascot Lottie, a 4m white bear welcoming all shoppers at the new front entrance.
There will also be a brand new Lot 10 entrance and façade facing the MRT station entrance on Jalan Bukit Bintang with a set of new escalators leading from the street level to level 1 shops, redesigned car parks and new "Play Walls" with interactive activities for shoppers to have fun on every floor.
"From the software perspective, shoppers have already experienced mall events which are more engaging and interactive, such as the Red Escape Room during the Lunar New Year celebration, and new activities such as busking performances on the weekends.
"Supporting young entrepreneurship and growth of local brands, we showcase more pop-up concept stores to give strong visibility to locally-designed products and young local designers," says Yeoh.
Embracing the online shopping trend, Lot 10 will also introduce online and offline retail concepts to enhance the overall retail experience, even after the mall closes.
"Our upcoming tenant Reebonz (luxury fashion store) is opening its first store in Malaysia integrating its online and offline shopping experiences as one.
"As a mall focused on tapping new technology for a more seamless retail experience, shoppers in the future can also expect convenient e-payments made available," adds Yeoh. The transformation is slated for completion by 1Q18.
Cheras Leisure Mall
Owned and managed by PPB Group Bhd, Cheras Leisure Mall in Taman Segar, Cheras is being refurbished and will see 20,000 sq ft added to the existing 260,000 NLA.
Although located in a suburban area, the mall has enjoyed a 94% occupancy rate so far and this is expected to increase when the upgrading works are completed.
PPB Group Bhd and director of PPB Property Development Sdn Bhd chief operating officer (properties) Chew Hwei Yeow tells EdgeProp.my that the main purpose for extending the mall space is to link Cheras Leisure Mall to the newly operational Taman Mutiara MRT station.
"It will also add more space for promotions and events. We are also sourcing new tenants especially F&B tenants. With the additional 20,000 sq ft, we can have about 40 new shoplots in Leisure Mall, depending on the built-ups of these shops," he says.
Chew also notes that more consumers are moving to online shopping, hence the refurbishment is also part of an effort to create a more attractive atmosphere and ambience to continuously attract visitors to the mall.
The refurbishment works and the link bridge to the Taman Mutiara MRT station will be completed by mid-January 2018 and operational by end-January 2018.
Subang Parade
First opened in 1988, Subang Parade is undergoing upgrading works under Hektar Real Estate Investment Trust's (Hektar REIT) asset-enhancement initiative. Based on a report in April 2017 by theedgemarkets, Subang Parade has an occupancy rate of 93%.
Chief executive officer of Hektar REIT manager Hektar Asset Management Sdn Bhd Datuk Hisham Othman had in the report said the upgrading works will see an addition of 20,000 sq ft to the current over 500,000 sq ft NLA, giving room to another 24 new shops.
Subang Parade's renovation works, he said, will be implemented in stages, with the first stage involving the expansion of its F&B area. Completion of the transformation works is expected by mid-2018.
AEON Taman Maluri Shopping Centre
After 28 years of operations, AEON Taman Maluri Shopping Centre is undergoing a major upgrade and refurbishing, according to AEON Co (M) Bhd in its 2016 annual report.
"The upgrade is timely not only in the face of competition but also to provide a new refreshing level of shopping experience for customers with expanded space, a better retail mix and merchandise assortments," said AEON Malaysia in the report which also noted that the revamp had commenced in February this year.
In March, NewStreamAsia quoted AEON Malaysia managing director Shinobu Washizawa as saying that the upgrading works in phase one covers building expansion over a period of 26 months while phase two encompassing renovation of the existing store spaces will be over a six-month period.
The existing supermarket and departmental stores continue to be opened for business during the renovation period while certain sections will be closed in stages. The renovation works are estimated to be completed by end-2019.
This story first appeared in EdgeProp.my pullout on Dec 8, 2017. Download EdgeProp.my pullout here for free.