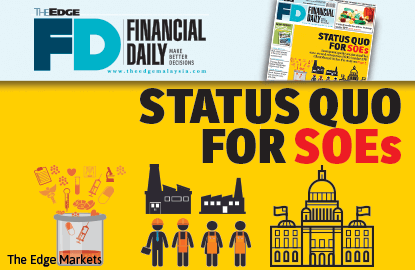 This article first appeared in The Edge Financial Daily, on November 6, 2015.
KUALA LUMPUR: The text of the controversial Trans-Pacific Partnership (TPP) agreement seemed to confirm fears raised previously over higher costs of certain medicines, although the government has succeeded in maintaining Malaysia's bumiputera affirmative action policy with regards to state-owned enterprises (SOEs).
In the TPP agreement released yesterday, it is stated that Malaysian SOEs may provide non-commercial assistance to bumiputera enterprises, pursuant to measures implementing bumiputera affirmative action; Sabah and Sarawak-based enterprises, pursuant to measures to promote economic development in these states; and small and medium enterprises (SME).
Under the TPP, SOEs may give preferences to bumiputera and SME suppliers up to 40% of their annual purchases, and a 30% quota may be set aside for bumiputera contractors in construction services. 
However, this shall not apply to state oil company Petroliam Nasional Bhd (Petronas), its subsidiaries or any new, reorganised or successor enterprise when engaging in upstream activities in the oil and gas sector.
Malaysia also reserves the rights to maintain current policies and adopt new policies related to bumiputera concerns through the creation of new and additional licences or permits in investment and services.
The Minister of International Trade and Industry Datuk Seri Mustapa Mohamad said in a statement that the 12 countries agreed to disclose the agreement yesterday. 
Following this, two cost-benefit analysis carried out by the Institute of Strategic and International Studies and PricewaterhouseCoopers (PwC) would be finalised in two weeks.
"The government hopes that the final text which is disclosed to the public with the two cost-benefit analyses will give a better explanation to the people with regards to the agreement," Mustapa said.
Mustapa had also said yesterday morning that he would meet the Speaker Tan Sri Pandikar Amin Mulia to discuss the date to table the agreement to Parliament to be debated and decided by the House.
The controversial pact agreement was reached on Oct 5.
On government procurement, the agreement requires member countries to adopt transparent policies and engage in good practices.
However, PKR Kelana Jaya MP Wong Chen expressed concern over the high threshold for open bidding in the construction services which is applicable to companies from member countries.
He said that the government has carved out 63 million Special Drawing Rights (SDR) (approximately RM374 million) for construction services for five years and subsequently at a reducing rate after 21 years at SDR14 million (RM80 million).
"This threshold means that the government of Malaysia can continue to award construction projects without open competitive tender to companies from other TPP countries.
"The current negotiated tender practices of the Najib administration will therefore continue even after the TPP is ratified. The Malaysian threshold is exceptionally high and I worry that this will encourage the culture of crony capitalism," Wong said.
As a comparison, he said, the US, Canada, Australia, Singapore, New Zealand, Peru, Chile, Japan and Brunei has a mere threshold of SDR5 million (RM30 million). The only TPP country to have a higher construction services threshold is Vietnam at SDR65.2 million (RM387 million).
On the issue of patent protection for pharmaceutical drugs, the document revealed that it would remain at 20 years, consistent with the World Trade Organization Trade-Related Aspects of Intellectual Property Rights agreement. Only in the event there is an unreasonable delay would the patent period be extended.
Chairman of Bantah TPPA Mohd Nizam Mahshar said that under the trade pact, pharmaceutical companies will be able to extend the patent for their drugs beyond the standard 20 years, if there is an "unreasonable" delay in getting the patent application or grant marketing approval from a drug regulatory authority.
"Generic drug companies will be prevented for five years from registering an equivalent generic version of a patented drug, which would mean curbing the supply of cheaper drugs," Mohd Nizam said.
Meanwhile, in the chapter of exceptions, a party may take any measure it considers necessary for the protection of its essential security interests.
In addition, it specifies that no party is obligated to furnish information under the TPP if it is against its laws or public interest, or would prejudice the legitimate commercial interests of a particular enterprise.
"A party may elect to deny the benefits of Investor-State Dispute Settlement (ISDS) with respect to a claim," the summary of the text reads.
Mohd Nizam expressed concern that the investment chapter overrides national sovereignty, allowing foreign investors to sue the government directly and preventing a government from protecting the citizens' interests.
He said it provides for overly wide definition of "investment" that extends the coverage of the foreign investor rights, exposing the government to challenges and multi-million dollar compensation over their actions and policies. The definition of "investor" is also overly wide, allowing corporations from non-TPP countries to sue under the chapter's ISDS system.
"Rights will be granted to foreign investors that are not granted to domestic firms, such as the ability to challenge and demand compensation in an international court, which is a system that is lopsided in favour of private commercial interests.
He also highlighted the lack of appeals mechanism and lack of code of conduct for judges over ISDS that is comparable to a judicial system.
"Although Malaysia has signed investment agreements containing ISDS provisions as far back as 1959, the situation today is vastly different. Multinational corporations today wield far greater power, some of which have individual budgets exceeding that of entire countries. The scope and depth of investment provisions today provide for the enjoyment of rights, but no obligations, by multinational companies," he added.