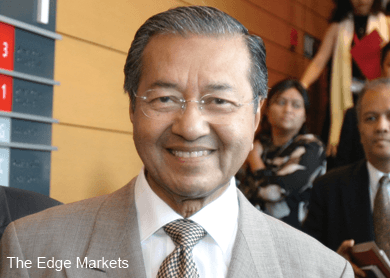 (June 15): Verbal explanations on 1Malaysia Development Bhd's (1MDB) questionable deals are "useless" without documentary proof, Tun Dr Mahathir Mohamad said today, adding that without evidence, money borrowed by the troubled state investor could be assumed to have disappeared.
In a new blog post, the former prime minister reviewed some of 1MDB's investments, such as its joint-venture with PetroSaudi and its investments in the Cayman Islands which are now said to have been repatriated in the form of "units".
"The second minister of finance now says it is 'units'. Units of what?
"1MDB and the prime minister have not shown proof of the existence of the money from Cayman Islands. Is it in Singapore or has US$1 billion disappeared?" Dr Mahathir said, referring to one of the two tranches of funds brought back from the Caymans which had been deposited in BSI Bank in Singapore.
"Statements without documentary proof are, as we have seen, quite useless. We need proof of all the investments and payments made by 1MDB.
"Until signed documentary proof and not just statements by the chief executive officer or prime minister are shown, we have to assume that the money borrowed by 1MDB has disappeared," he said.
Prime Minister Datuk Seri Najib Razak, who is finance minister and chairman of 1MDB's advisory board, has rebutted Dr Mahathir's claim about the money's disappearance, saying that no funds were lost, only debts incurred.
Najib also said the company had assets worth RM51 billion which far exceeded its RM42 billion debt.
Today however Dr Mahathir demanded proof, saying that the only deals which had documentary evidence were 1MDB's acquisition of power plants, government land in Kuala Lumpur and private land in Penang.
The retired statesman, who is now Najib's arch critic, questioned the US$1 billion 1MDB paid PetroSaudi in order to enter a joint venture with the little known company, which in turn did not pay a single sen.
He also asked why 1MDB had to pay PetroSaudi a further US$700 million for a loan the latter company took from PetroSaudi International. This was money which had allegedly been siphoned off to a company owned by businessman Low Taek Jho, although he and 1MDB have denied it.
Dr Mahathir also questioned the change in reasons stated on the repatriation of funds from the Cayman Islands, where Najib and 1MDB president Arul Kanda Kandasamy had at first said they were in cash at the bank in Singapore, but later turned out to be units.
The former prime minister has been relentless in attacking Najib over 1MDB and calling for his resignation.
Najib has also been criticised for not facing the public and Parliament over 1MDB, and instead opting to give explanations about the troubled firm behind closed doors to Umno members.
Yesterday, Najib, who is also Umno president, gave a briefing on national issues including 1MDB to party division information chiefs and said he would solve all controversies surrounding the fund by the end of the year. – The Malaysian Insider