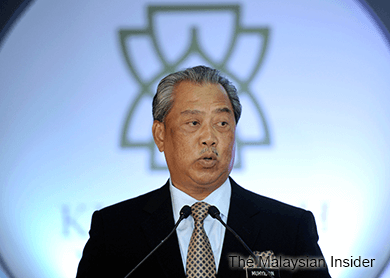 (May 26): The Barisan Nasional Backbenchers Club (BNBBC) chairman Tan Sri Shahrir Samad has urged Tan Sri Muhyiddin Yassin to state his public stand on 1Malaysia Development Bhd (1MDB) as the deputy prime minister and not only as an Umno member.
A recording of a closed-door speech to Umno members recently showed Muhyiddin calling for the sacking of the entire 1MDB board, but Shahrir said that Muhyiddin must state a public stand in his capacity as DPM and cabinet member.
"As deputy prime minister, he has the format to say any views in the cabinet and as deputy president, he can speak in the Supreme Council," Shahrir told reporters after the Dewan Rakyat sitting today.
Shahrir said Muhyiddin's views on 1MDB must be voiced through other platforms and not limited to the closed-door speech in Janda Baik alone, which was recorded by an Umno member, who is set to face party disciplinary action over the matter.
"I understand that at the point in time he was merely answering a question directed at him, but I hope he cane express his views in these two platforms, not only in Janda Baik," Shahrir said.
Shahrir, however, agreed that internal party action must be taken against the party member who recorded the video and then spread it.
"That was a closed-door speech. I agree that action must be taken. He was a high ranking party member (deputy division chief), don't tell me he didn't know it was a closed-door event?" he asked.
He said he did not understand the motives behind recording and then spreading of the video.
In the seven minute clip that went viral online, Muhyiddin claimed to have told Prime Minister Datuk Seri Najib Razak that the entire 1MDB board should be sacked.
1MDB is Najib's brainchild and currently sits on a RM42 billion debt in just six years, an amount Muhyiddin said is difficult to explain. - The Malaysian Insider