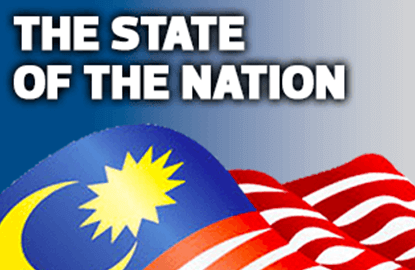 This article first appeared in The Edge Malaysia Weekly, on March 21 - 27, 2016.
CHINA'S export numbers routinely tumble at the start of the year and rarely shock observers. But last month's Chinese exports data probably rattled a few people.
The most conservative estimate of the country's export performance for February was a 20% contraction, while the most optimistic of the lot forecast a growth of 6.5%, Bloomberg data reveals.
However, China reported a steeper-than-expected decline in trade figures for the month — exports fell 25.4% year on year (y-o-y) and imports slid 13.8% during the period in US dollar-denominated terms. That made February the eighth consecutive month of exports decline for the country, and it is the weakest its exports have been since the financial crisis in 2009.
To be sure, data from Beijing is often taken with pinch of salt and worries over the export decline in February, in particular, can be explained away. The Lunar New Year and the week-long national holiday for its celebration during the month can distort consumption and bring about a lull in production levels. So, China's decline in exports may well have been overstated.
Yet, the International Monetary Fund felt the near collapse in Chinese exports severe enough to warn the world of a risk of "economic derailment", and urged policymakers everywhere to support economic activity. And local economists concur — MIDF Research, for instance, says the depressing export data is "too low" to be attributed to seasonal factors.
This will be difficult reading for many, like Malaysia, which count China among their main customers.
Last year, Malaysia's trade with China expanded 11.1% to RM230.89 billion despite depressed commodity prices and a more sluggish Chinese economy. Malaysia shipped 13% of what it produced or RM101.53 billion worth of goods — a 10% growth from the year before — to China. Of this, 81% or RM82.26 billion were manufactured goods. The rest mostly comprised commodities such as palm oil products and mining goods like aluminium and petroleum products.
That Malaysia can still boast double-digit growth in trade and exports with "the world's factory" is read by many as a sign of its export resilience. Nevertheless, the depreciation of the ringgit last year gave the country's exports a boost.
Even with the successive renminbi devaluations in 2015, the ringgit still lost 14.8% against the renminbi. As the ringgit slowly strengthens and steadies itself again, its impact on export competitiveness will wane. MIDF Research is already expecting Malaysia's exports to contract by 4% y-o-y in February due to the higher ringgit value and weakening global demand.
Harder to ignore for Malaysia now are signs of a slowdown in China's manufacturing sector. The bulk of what Malaysia sells to China are intermediate and capital goods. Intermediate goods are partly finished products used as inputs in the production of final goods, while capital goods are tangible assets such as equipment and machinery used in the production process. As demand for Chinese exports slackens in the near term, demand for production inputs, which Malaysia sells, will similarly weaken.
The Caixin China General Manufacturing Purchasing Managers' Index (PMI) has been below the 50-point mark, indicating a contraction in manufacturing activity, since March last year. In February this year, China's manufacturing PMI stood at 48 points. So, a prolonged and persistent slowdown in China — Malaysia's largest trade partner — and its manufacturing sector is not unlikely and could eventually start to hurt. 
Beyond that, changes in the Chinese economy could increase Malaysian exporters' risk. China wants to stop relying on exports and to allow domestic consumption to drive growth. Economists say this will involve making Chinese supply chains more domestic-oriented and substituting imported input with domestically produced ones. In turn, opportunities will be more limited and competition keener for exporters such as Malaysia to offload intermediate and capital goods.
Yeah Kim Leng, the dean of the School of Business at Malaysia University of Science and Technology, says, "There is a strong correlation between exports in China and Malaysia. When China slows, the effect will trickle down to Malaysia."
Rajiv Biswas, chief economist at IHS, remarks, "In our base case scenario, the Chinese economy is expected to grow around 6.3% in 2016, which would support sustained expansion in Asia-Pacific and the Malaysian economy. However, any further sharp slowdown in China would pose a risk to the entire Asia-Pacific region's growth rate, and would have a negative impact on the Malaysian economy."
One way to soften the blow is for the two countries to facilitate trade through free trade agreements such as the Asean-China Comprehensive Economic Cooperation Agreement. Another, Yeah says, is to "move along with China", which is still aiming to grow 6.5% to 7% a year.
"Exporters will have to change the nature of their products and fulfil a different kind of demand," he continues. This means selling finished and specialised products such as consumer durables and food-related products as well as services such as healthcare, tourism and professional services to China.
Some quarters say failing to do so could put Malaysia's current account at risk. The country counts on its exports to keep its current account in surplus. Its services, primary and secondary income accounts have been in deficit for years. Few economists expect Malaysia to see a current account deficit this year, but fewer are those who will rule out the possibility after 2016.
It is tempting to exaggerate the risk. Slower exports to China would likely result in reduced imported input from China as well. It is worth noting, though, that the value of imports from China has vastly outpaced exports in the opposite direction.
Malaysia's exports profile is also sufficiently diversified in terms of geographical destinations and trade partners. Yeah points out that Malaysia can make up for the loss in exports to China with an increase in exports to other countries, such as the US, that are seeing their economies strengthening.
The trouble, however, is that not many of its trade partners are in much better economic shape than China.