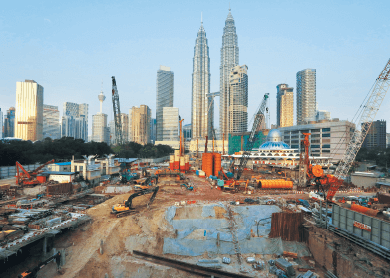 IT probably did not help that Prime Minister Datuk Seri Najib Razak's tabling of the 11th Malaysia Plan (11MP) last Thursday morning took place amid heightened confusion over the worth and form of government-owned 1Malaysia Development Bhd's (1MDB) assets in BSI Bank Singapore, let alone a call by no less than Deputy Prime Minister Tan Sri Muhyiddin Yassin to give the 1MDB board the boot.
With a lot more to do and less than five years to do it before Malaysia hits its self-imposed 2020 deadline for becoming an advanced nation, scepticism over whether the country can achieve Vision 2020 gained strength post the tabling of the last pre-2020 five-year development plan.
"The plan to become a high-income nation by 2020 was mooted by Tun Dr Mahathir Mohamad in the early 1990s, when Malaysia's economic growth was growing at a rate second only to China's. Since 1998, we have had two economic crises, a seismic political shift, incessant attempts to make politics as religious a matter as possible and a huge national debt," says Ooi Kee Beng, deputy director of the Institute of Southeast Asian Studies (ISEAS) in Singapore.
"Besides, since then, the country's educational level has been falling steadily and its public institutions have been losing their credibility. Given all that, to imagine that Vision 2020 can be achieved nevertheless is silly. Furthermore, Vision 2020 was about the creation of a society at peace with itself. That goal has naturally been forgotten," he adds.
Ooi is also the editor of Penang Economic Monthly magazine published by the state government's policy think tank, Penang Institute.
Economists also have their doubts about the country's growth projection and fiscal targets under 11MP (2016-2020), where RM260 billion has been allocated for development expenditure through 2020 — up 16.3% from RM223.6 billion in 10MP — about half of which is expected to go towards infrastructure-related projects.
Chua Hak Bin, head of emerging Asia economics at Bank of America Merrill Lynch (BaML), for instance, reckons that Malaysia's targeted reduction of its public debt-to-GDP ratio to 43.5% by 2020 from 52.7% last year "looks more like an aspirational target rather than a realistic projection".
"This is especially since oil-related revenue, still a large share of overall fiscal revenue, is sensitive to future oil and LNG prices. Such public debt targets are, moreover, incomplete without taking into account the size of government guarantees and other off-balance sheet liabilities," he tells The Edge.
It is also worth noting that while government debt as a percentage of GDP is projected to fall, Malaysia's total debt to GDP in absolute terms is projected to rise about 5.8% a year to reach RM774 billion (43.5% of RM1.01 trillion GDP) by 2020 from RM582.8 million (52.7% of RM1.41 trillion GDP) in 2014, official 11MP documents show.
Economists also see Malaysia potentially missing its productivity targets and, in turn, the projected GDP growth of at least 5% to 6% every year needed until 2020 for it to achieve an average gross national income (GNI) of US$15,000 per capita that the World Bank counts as the floor for a developed nation.
"There are downside risks to the government's 5% to 6% per annum GDP growth target in 11MP, in our view, if the productivity and capital contributions fall short of expectation," RHB Research Institute economists Peck Boon Soon and Vincent Loo say in a May 21 note. "As it stands, Malaysia has not been able to achieve the economic growth target set in the last four Malaysia Plans due to economic crises, poor execution of investment promotion policies and a non-conducive global economic environment."
According to them, Malaysia has focused on increasing innovation and productivity to transform itself from an input-driven economy to a know-ledge-based one since the mid-1990s. Yet the country's productivity lags behind that of most developed economies, for example, the US and South Korea, owing to a lack of skilled manpower and shortcomings in the education system that will take time to overcome.
"Indeed, [Malaysia's] emphasis on increasing productivity did not yield any improvements under 10MP. The percentage contribution of productivity to GDP deteriorated to 29.8% in 10MP (2011-2015) from 34.7% in 9MP (2006-2010)," they write, pointing out that the country's aspiration to become a high-income nation by 2020 involves multi-factor productivity (MFP) contributing 40% to the growth target and a sustained increase in investment, of which the private sector remains a major driver.
"To achieve the target, the government will need to do something drastically different from the past for MFP to have meaningful improvement by moving to a more liberal economy," write the RHB economists, who also reckon that Malaysia has not done enough to revive its exports, "which have been on a weakening growth trend since 7MP (1996-2000)".
"The domestic market is simply too small to sustain more robust economic growth, implying that it would be a challenge for the government to achieve the 5% to 6% per annum real GDP growth target set under 11MP," they say.
They also reckon that "there is risk of the government not being able to achieve its budget deficit target of 0.6% of GDP or RM9.9 billion by 2020, if it needs to increase spending, given that private consumption growth could fall short of expectation".
Furthermore, the government's operational expenditure (opex) is projected to rise to RM289.8 billion in 2020 from RM219.6 billion in 2014. Emoluments and pension and gratuities are expected to take up RM119.7 billion or 41.3% of opex in 2020, up from RM85.1 billion or 38.8% in 2014. Subsidies are projected to rise to RM29 billion in 2020 from RM26.8 billion projected for this year but be below RM39.7 billion in 2014.
Bolstered by Goods and Services Tax (GST) receipts from April 1 — which are expected to rake in an average revenue of RM31.4 billion a year compared with RM15.5 billion a year from the repealed Sales and Services Tax — indirect tax collections are expected to double from RM37.5 billion in 2014 to RM65.6 billion in 2020. Direct tax revenue, meanwhile, is projected to rise from RM126.7 billion in 2014 to RM205.2 billion in 2020.
The projected growth in total government revenue from RM220.6 billion in 2014 to RM326.4 billion in 2020 will help narrow Malaysia's budget deficit from last year's 3.4% of GDP to 0.6% of GDP in 2020 — the "below 1% of GDP" level that the government counts as a "balanced budget", Minister in the Prime Minister's Department and head of the Economic Planning Unit (EPU) Datuk Seri Abdul Wahid Omar said at a media briefing last week.
The former corporate chieftain also said 11MP will focus on initiatives that have the highest impact per ringgit spent as guided by the Malaysia National Development Strategy
(MyNDS) that seeks to maximise the use of resources while ensuring no one is left behind as the country progresses through initiatives to lift the bottom 40% of the population (B40). Malaysia also wants to see 45% of its population earning middle-class income in five years. Currently, the 40% or 2.67 million households earning between RM3,855 and RM8,135 per month are considered middle class.
According to Wahid, the government will demonstrate its seriousness in boosting productivity by sending out a strong message that under-performers will have to shape up or ship out. Will this be enough?
As it is, Malaysia is already paying the price for its sluggishness in driving up productivity — having taken 19 years to achieve the transition to the innovation-driven stage in 2011 with productivity growth of 2.7% per annum. South Korea took only seven years (1987-1994) to do the same, according to official 11MP documents. In absolute terms, Malaysia's labour productivity level was only 32% of that of the US and 56% of South Korea's. This is why 70% of Malaysia's growth since the mid-1990s has been contributed by labour and capital with only "modest contribution from MFP", which is needed to ensure more sustainable growth patterns and equitable distribution of wealth among the agents of economy in the long run.
ISEAS' Ooi isn't putting much stock on improvements happening overnight: "[The outlook] is grim because the basic problems have been avoided [and] they are not going to go away. I suspect it will be regionalist concerns and dynamics that will change Malaysia and overshadow its ethnocentrism."
Even Khazanah Research Institute's managing director Datuk Charon Mokhzani, who applauded the emphasis on skill training and B40 households, admits the challenge for 11MP "will be implementation in the face of an uncertain global economy".
Can Malaysia prove its critics wrong?
This article first appeared in The Edge Malaysia Weekly, on May 25 - 31, 2015.