This article first appeared in The Edge Malaysia Weekly, on July 22, 2019 - July 28, 2019.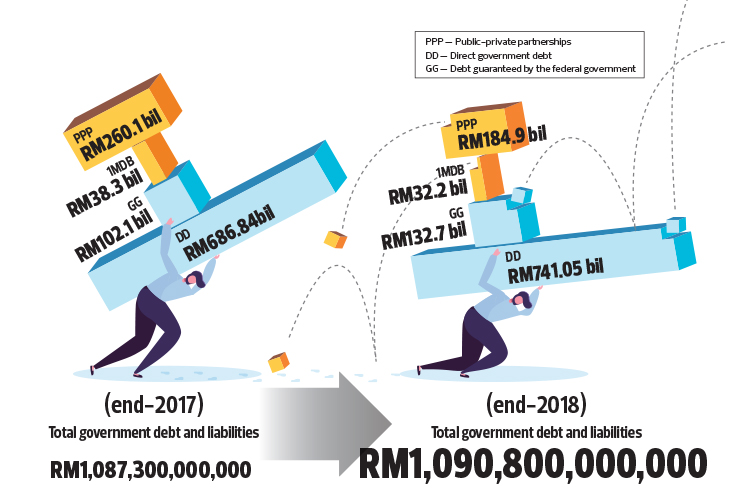 Click / Tap image to enlarge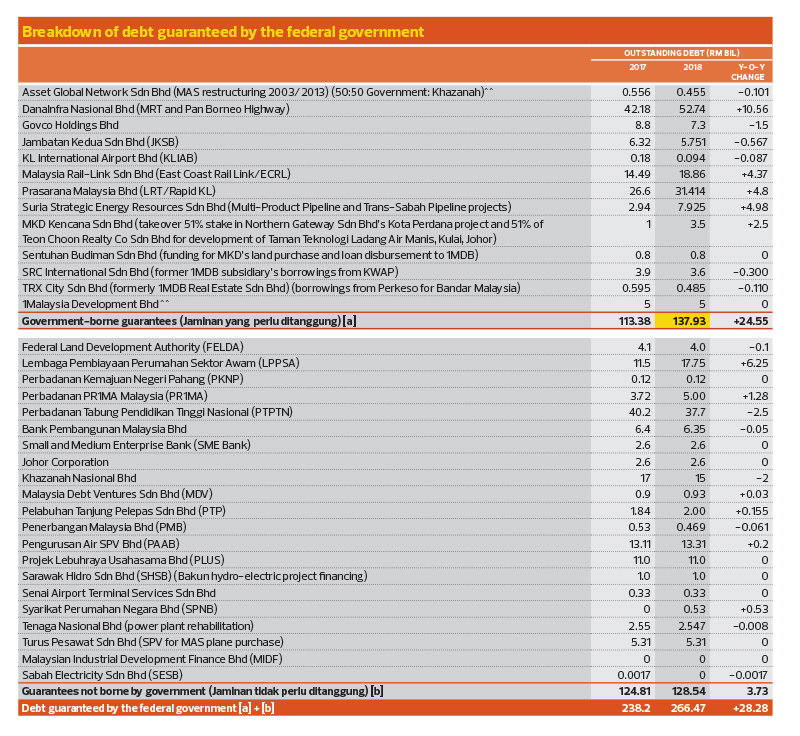 Click / Tap image to enlarge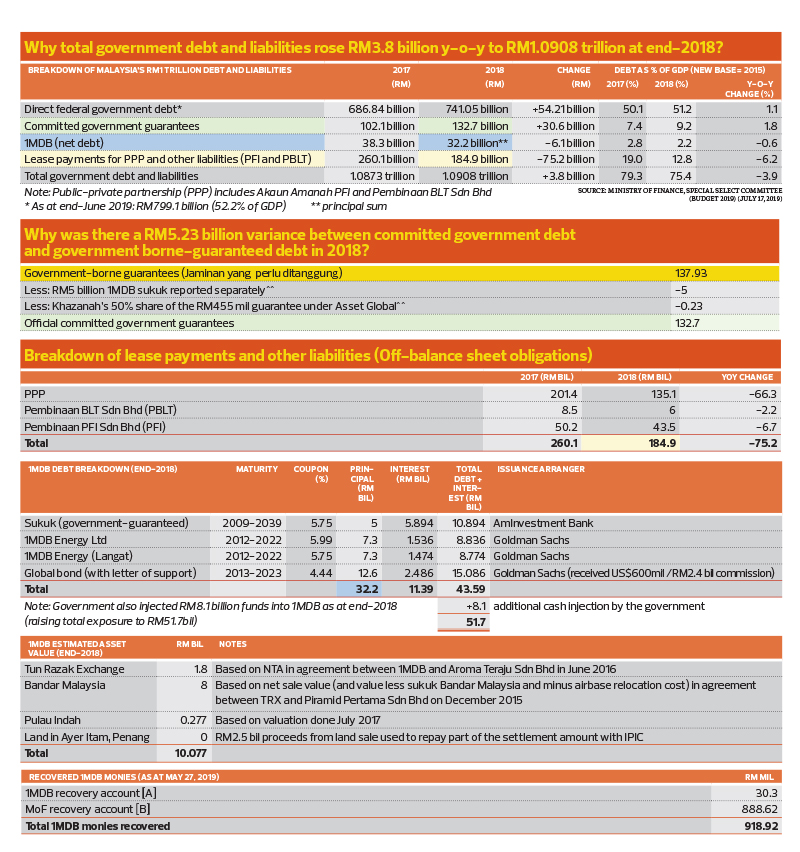 MALAYSIA's total debt and liabilities continued to exceed RM1 trillion as at end-2018, up about RM3.8 billion from end-2017. This is not surprising to anyone who has been paying attention to the country's finances.
After all, fiscal deficit (in absolute terms) was RM53.3 billion in 2018, up from RM40.3 billion in 2017. The projected fiscal deficit of 3.4% of GDP (about RM52.08 billion) for 2019 means that Malaysia still needs to borrow about RM50 billion this year for development expenditure. This is because there is not much government revenue left after the payment of civil servants' salaries and pensions, debt service charges, subsidies and other operating expenses (OpEx).
In fact, the so-called current balance — basically the amount of revenue left after paying OpEx — had fallen from as high as RM21.07 billion in 1997, when Malaysia last had a budget surplus, to as little as RM1.04 billion in 2014, before the introduction of the Goods and Services Tax (GST) on April 1, 2015 (see also our cover story).
According to preliminary figures provided in Budget 2019, the current balance was RM1.01 billion in 2018 and was projected to be RM1.96 billion this year, despite the RM30 billion special dividend from Petronas. This was largely due to the repayment of an estimated RM37 billion in outstanding GST, individual and property tax refunds to individuals and businesses.
While debt as a percentage of GDP eased to 75.4% as at end-2018 from 79.3% as at end-2017, the absolute amount of debt remains slightly higher year on year.
Borrowings used to fund most of the country's planned development expenditure are expected to nudge up direct government debt, which rose RM54.2 billion year on year to RM741.05 billion at end-2018 from RM686.8 billion at end-2017.
The increase in direct government debt in 2018 was due to borrowings taken for some development projects under the 11th Malaysia Plan (2016-2020), according to a 44-page Bahasa Malaysia report on the government's debt and liabilities by the Special Parliamentary Select Committee (Budget 2019) released on July 17.
In the first six months of 2019, Malaysia's direct government debt increased RM58.05 billion to reach RM799.1 billion (52.2% of GDP) at end-June. It is understood that efforts are underway to keep it from rising further.
Debt guaranteed by the federal government rose by RM18.5 billion year on year to RM256.5 billion as at end-2018 from RM238 billion as at end-2017, largely from the RM24.55 billion net increase in government-borne guarantees for infrastructure-related projects last year. The highest year-on-year increase of RM10.56 billion was the debt financing of the MRT and Pan Borneo Highway projects under DanaInfra Nasional Bhd. Other increases include the RM4.98 billion in guaranteed debt for the Multi-Product Pipeline and Trans-Sabah Pipeline projects under Suria Strategic Energy Resources Sdn Bhd, RM4.8 billion for the LRT projects under Prasarana Malaysia Bhd and RM4.37 billion for the East Coast Rail Link (ECRL) under Malaysia Rail-Link Sdn Bhd.
Debt guaranteed but not borne by the federal government saw a RM3.73 billion net increase year on year, largely due to the RM6.25 billion increase in civil service housing loans under the Public Sector Home Financing Board (LPPSA) and RM1.28 billion increase under Perbadanan PR1MA Malaysia. At the time of writing, it could not be ascertained whether the increase at LPPSA had anything to do with the RM21.9 billion debt that was transferred from the balance sheet in January 2016.
The committee's report also — for the first time — shed light on how to reconcile the "old" and "new" ways of counting the country's RM1 trillion debt (as introduced in May 2018).
For the record, the "old" or standard practice of counting national debt was to add direct government debt (DD) with debt guaranteed by the federal government (GG) — regardless of whether the government had been tapped to bear/service the loans taken by the third parties for which government guarantees had been given. Loans not borne by the federal government are those with government guarantees but are serviced by the parties themselves. The "new" way of counting includes lease payments for public-private partnerships (PPPs) and other liabilities as well as debt obligations of 1Malaysia Development Bhd (1MDB).
The collective increase in DD and GG in 2018 was higher than the RM75.2 billion year-on-year fall in PPP and other liabilities as well as the RM6.1 billion reduction in the principal debt of 1MDB to RM32.2 billion as at end-2018 that excludes another RM11.4 billion in interest payments.
The committee rightly recommended that a statutory or administrative limit be set for GG and that regular reviews be conducted to assess the amount. It also said a detailed debt and liability position should be presented periodically in parliament so that people can get a clearer picture of the country's debt burden as well as its debt-servicing obligations and liabilities.
Clear, consistent and detailed disclosures as well as good execution of the committee's recommendations will certainly enhance the checks and balances mechanism that is necessary to ensure that the country's spending and debt will not hinder its path forward.