This article first appeared in The Edge Malaysia Weekly, on April 26, 2021 - May 02, 2021.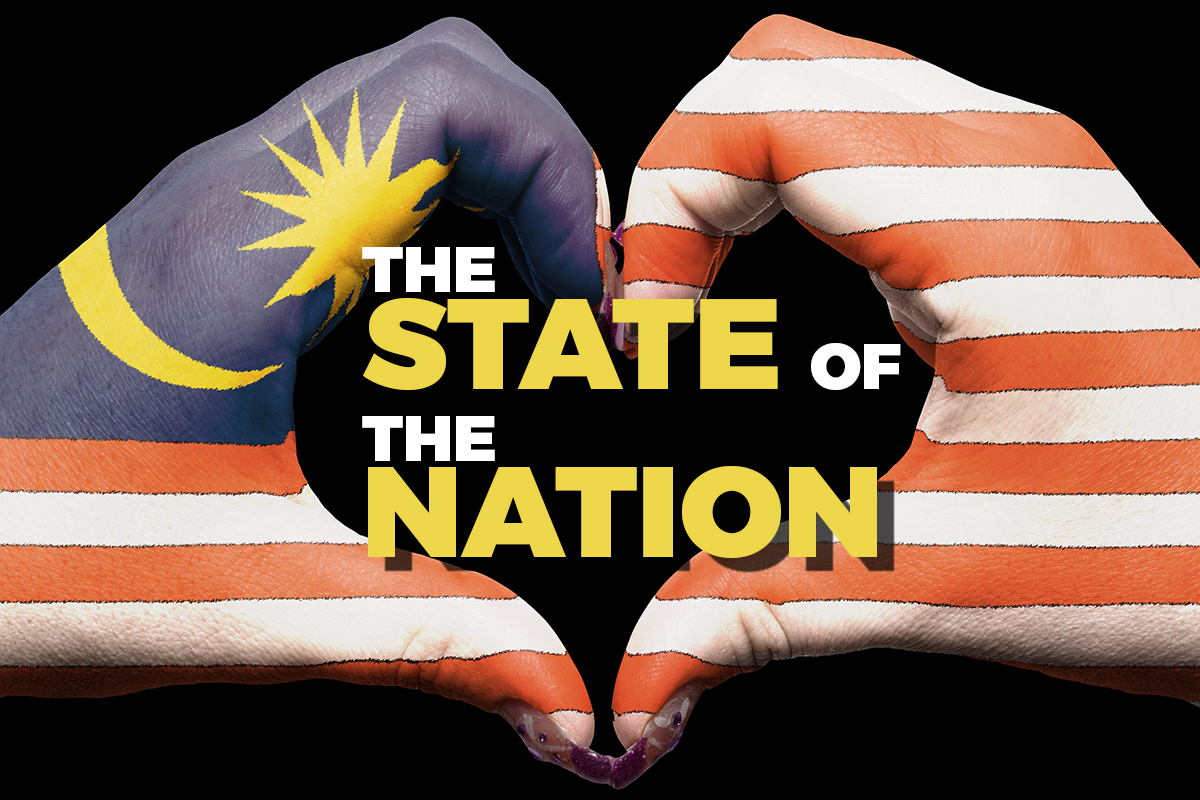 THE government's use of emergency powers to avail itself of RM19.2 billion from the National Trust Fund (KWAN) for the procurement of vaccines and any related expenditure has drawn flak and raised questions about the country's finances.
"The adverse reactions coming from several quarters of the public to the government's dipping into the National Trust Fund is not a surprise, given the fund's intergenerational purpose. Moreover, allocation has already been made in Budget 2021 for the vaccine purchase," says Prof Dr Yeah Kim Leng, director of economic studies at the Jeffrey Cheah Institute on Southeast Asia, Sunway University Business School.
"The unusual resort to the fund instead of using more conventional means, such as government debt, has served to fuel unhealthy speculation on the state of government finances and elicited unnecessary brickbats on the government's commitment to good governance and prudent fiscal management."
Lee Heng Guie, executive director of the Associated Chinese Chambers of Commerce and Industry of Malaysia's Socio-Economic Research Centre (SERC), says, "The announcement took the market by surprise, as the Ministry of Finance (MoF) had consistently disclosed that it would borrow locally to fund the budget deficit, including the budget allocation for the vaccination programme. This gives the impression that money [RM5 billion] had been allocated for the purchase of vaccines and that it would not draw on [something such as] KWAN — a natural resource-based contribution fund meant for future generation."
KWAN should only be used "as a last resort", he adds.
To ease taxpayers' and investors' concerns about the state of the government's financial position and expenses, "it is important that the government be transparent on the amount of withdrawals from KWAN and how it will be utilised", says Lee.
KWAN was set up on Feb 18, 1988, under the National Trust Fund Act 1988 (Akta Kumpulan Wang Amanah Negara 1988) as the country's natural resource fund to ensure that future generations will continue to benefit from a stable source of income from the country's rich but finite wealth of natural resources. Also known as the heritage fund, it is managed by Bank Negara Malaysia.
While KWAN should also see contributions from other industries in the commodity sector that utilise the country's resources (such as timber, oil palm, rubber and mining), its sole contributor so far has been national oil corporation Petroliam Nasional Bhd (Petronas).
Over the years, Petronas had contributed RM9.3 billion to the fund, which stood at RM17.4 billion at end-2018, thanks to its returns on investment, according to KWAN's 2018 annual report that was released to parliament in July last year.
KWAN's fund size stood at RM19.2 billion at end-2019, according to Petronas' 2019 annual report. The fund's 2019 annual report had not been released at the time of writing.
Highlighting that Malaysia is already setting aside a lot less money with KWAN than it should for future generations, DAP secretary-general and former finance minister Lim Guan Eng said in a statement that it would be cheaper for Malaysia to borrow, pointing out that Timor Leste's Petroleum Fund already had US$15.8 billion (RM64.9 billion) in assets in 2018 even though it was set up in 2005.
Timor Leste's fund value rose to US$17.7 billion at end-2019, boosted by an investment return of 13.25% that year, according to its 2019 annual report. In 2015, the fund stood at US$13.5 billion (RM55.48 billion) — already larger than KWAN's RM15.5 billion back then.
In a statement last Thursday (April 22), member of parliament for Klang Charles Santiago questioned the move to tap KWAN at this juncture and asked the government to explain why the RM3 billion allocation under Budget 2021 (which was increased to RM5 billion when the Pemerkasa stimulus was announced in March) was inadequate for the procurement of vaccines and related expenditure. He also asked about the state of government finances for clarity on whether the situation warranted the need to tap the fund at this time.
At the time of writing, MoF had yet to issue a statement addressing the concerns about the country's finances, following the amendments to the National Trust Fund Act.
Setting thresholds
It is clear that Malaysia must do better in terms of setting aside savings and investments for future generations, as well as improving transparency when it comes to withdrawals from KWAN.
"I'm a bit surprised," says Sri Murniati, manager of the public finance unit at the Institute for Democracy and Economic Affairs (IDEAS) and author of the 18-page policy paper "The New Face of KWAN: Proposals to improve Malaysia's Natural Resource Fund" dated March 2015, when asked to comment on the government's move to tap the fund.
According to notes in KWAN's 2018 annual report, the only withdrawal made from the fund thus far was the RM42 million for the Ulu Langat Wetland Sanctuary. Even Sri Murniati is "not sure when this withdrawal was made". A footnote in her paper published six years ago read: "The author is still not clear whether the Wetland Sanctuary Project mentioned in the 2014 KWAN annual report is the Paya Indah Wetland in Kuala Langat [whose development] started in 1997."
"Basically, KWAN has been left untouched for quite some time," she tells The Edge, but added that the government's move "should have been anticipated", given the heightened fiscal needs to battle the Covid-19 pandemic. "KWAN was meant to ensure that Malaysia would have savings from its depleting natural resources. These savings can be used as an alternative source of income, especially for development expenditure."
While vaccine procurement is not strictly development expenditure — perhaps the reason the National Trust Fund Act was amended — what is important, she says, is the need to put in place a better system to govern withdrawals from the fund. Improvements include outlining the percentage of withdrawals that can be allowed, to ensure transparency and sustainability, something she noted in her paper six years ago and continues to advocate for today.
"Norway Oil Fund, for example, put expected returns as a rule for withdrawal. We don't have such rules for KWAN. As such, we don't know how much will be withdrawn from the fund for the current purpose," says Sri Murniati.
"In the absence of such rules, it would be good that the government discloses to the public the amount that will be withdrawn from the fund and the current size of the fund."
The amendments to the National Trust Fund Act 1988, or the Emergency (National Trust Fund) (Amendment) Ordinance 2021, published in the Federal Government Gazette on April 21, insert a new subsection to allow funds to be used for "the procurement of vaccines and any expenditure incurred in relation to the vaccines for an epidemic of any infectious disease as specified under the Prevention and Control of Infectious Diseases Act 1988".
To be sure, the global gold standard when it comes to investing oil money is Norway's oil fund, or the Government Pension Fund Global, which was set up in 1990 to invest surplus oil revenue. At US$1.3 trillion today, it is the world's largest sovereign wealth fund.
The Norwegian government tapped it for the first time in January 2016, after two decades of savings and investments, to fund public expenditure to counter a downturn triggered by low global oil prices. Norway can reportedly withdraw up to 3% of the fund's value every year.
The fund's market value stood at US$1.28 trillion at end-2020 (US$1.15 trillion at end-2019), and has generated an annual return of 6.3% since 1998, according to data on its website.
Saving surplus oil money
Malaysia is fortunate to have Petronas, which at end-2019 had contributed RM1.2 trillion to the federal and state governments in dividends, taxes, export duties and other cash payments, according to data from the national oil company. If 5% of that RM1.2 trillion had been saved by the government using a fund such as KWAN, the country would have at least RM60 billion set aside over the years, says an observer.
Between 2015 and 2019 alone, contributions from Petronas to the government stood at RM274.7 billion — of which RM84.6 billion was in 2019, the year the national oil company paid an outsized dividend of RM54 billion, which consisted of a special dividend of RM30 billion on top of the usual dividend of RM24 billion, to allow the government to repay excess taxes owed to the people and businesses.
The dividend from Petronas was RM34 billion in 2020, and has been pencilled in at RM18 billion for 2021, according to estimates of federal government revenue published in the Fiscal Outlook 2021 report.
Petronas, which also needs to invest to sustain its future earnings generation capacity, has yet to release its 2020 annual report at the time of writing. Its dividend payout ratio was more than 100% of its net profit for FY2016 and FY2019, 93% for FY2017 and about 70% for FY2015 and FY2018 — numbers that point to Malaysia spending most of the surplus revenue from Petronas on annual operating expenses, given that most of the country's development expenditure is funded by debt.
Could more oil money be put aside for future generations or are the odds already stacked against Malaysia, with government debt already high even before Covid-19 hit? In her paper, Sri Murniati noted that the RM9.5 billion that KWAN had in 2013 was a mere 1.5% of the RM621.13 billion in petroleum revenue earned between 1988 and 2013.
There is no question that fiscal spending needs to increase to counter the impact of the pandemic. Without specific legislated commitment to save oil money in a fund such as Norway or even Timor Leste, however, KWAN is likely to continue to underlive its potential as the country's natural resource fund.
Unlike in Norway — whose 5.2 million population was the envy of many around the world in 2017, as all of them were considered millionaires on paper, owing to the size of the oil fund — most Malaysians do not even know KWAN exists.
The country's future generations would stand to gain if attention surrounding the amendments to the National Trust Fund Act results in greater awareness of as well as practical action to consciously save and invest the country's resource-related income to ensure a more sustainable income source for the years to come. Malaysia is already late to the game and can ill afford any wrong moves.