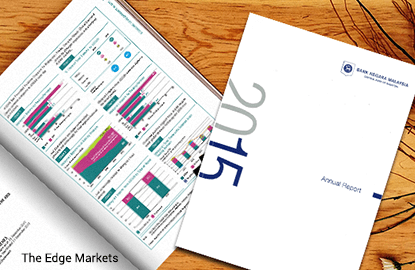 This article first appeared in The Edge Malaysia Weekly, on March 28 - April 3, 2016.
FOR some years now, Bank Negara Malaysia has been coming up with a good report card on the Malaysian economy in its annual report, which is released around late March every year.
This year, it was no different. According to the 2015 annual report released on March 23, despite a volatile and sluggish global economy, Malaysia still registered a creditable 5% growth in 2015. The central bank projects that gross domestic product (GDP) will still expand in 2016, albeit at a slower clip of between 4% and 4.5%, taking into account slower global growth and the risks posed by volatile financial markets.
In a nutshell, the domestic economy has proven itself resilient in the face of adversity.
But this time around, Bank Negara's outgoing governor Tan Sri Dr Zeti Akhtar Aziz has sounded a clear warning bell. The Malaysian economy will weather the storm in the short term but over the longer term, the story may not be the same if nothing is done to build future resilience, now.
Indeed, she stresses that the country's resilience today is largely due to efforts in the past to put its economy on a sound footing, which include diversification and strengthening the financial system.
But for how long can the economy continue to stay resilient relying on fundamentals built from past policy responses? That is the question. More so when the global environment is ever-changing.
"As we move futher into the future, it is important to recognise that the global landscape has changed in fundamental ways and these conditions will not revert to those experienced in the decades before," she says.
And here she warns: "We need to prepare ourselves for the next generation, we need to prepare now and work hard, otherwise Malaysia will slip into stagnant growth in the years ahead."
Zeti's is not a lone voice. Economists, some business leaders and market observers have been opining that the Malaysian economy is not restructuring fast enough to deal with future shocks. Other economies, like Vietnam's, are moving faster than ours.
This is despite the fact that in 2010, Malaysia launched the ambitious Economic Transformation Programme (ETP), which provided the road map for the country to get out of the middle-income trap and achieve high-income status by 2020.
Today, almost six years into the implementation of the ETP and four years to 2020, we are still hearing the same old concerns, and the same recommendations.
It is all the more worrying, given that both the domestic and global environments have turned even more challenging today than they were five years ago.
In fact, some economists have warned that the global economy is at risk of sliding into another major financial crisis within the next few years. Which is why Malaysia needs to step up its game if it is to be able to weather the next financial storm.
Yet, the statistics don't tell a good story.
For one, Malaysia's high level of indebtedness does not bode well for building resilience. Indeed, Zeti warns that if indebtedness rises above current levels, Malaysia could find itself in the same situation as the US and Europe.
Another structural risk is an ageing population. By 2030, 15% of the population will be aged and not working. They will need facilities to support them, which means placing an added burden on government financing.
The rising cost of living, especially in cities, is also a major concern. Despite the push towards higher income growth, the reality is that income in the cities is not growing as fast as it should.
Income growth in the urban areas is stifled by several factors, among them low productivity, inefficiency and low leverage on technology. Zeti notes that a high percentage of city dwellers only have school certificates.
In her governor's statement in the 2015 annual report, Zeti says that there is a need for Malaysia to accelerate its transition into a higher valued-added, high-income economy. To achieve this outcome, she cites the need for three vital shifts: (i) the intensification of a private-sector-driven shift towards higher productivity and innovation; (ii) integration into the global economy given the new and changing international landscape; and (iii) strengthening the existing institutional and physical infrastructures to create an enabling enviornment for a modern economy.
These recommendations are not new. They can be found in many of the economic blueprints that have been unveiled so far. Clearly, the problem is still in the implemenation. The country's recent political upheavals have not helped with economic restructuring, either.
So, where do we go from here? Not far if we do not get our act together.