This article first appeared in The Edge Malaysia Weekly, on July 12, 2021 - July 18, 2021.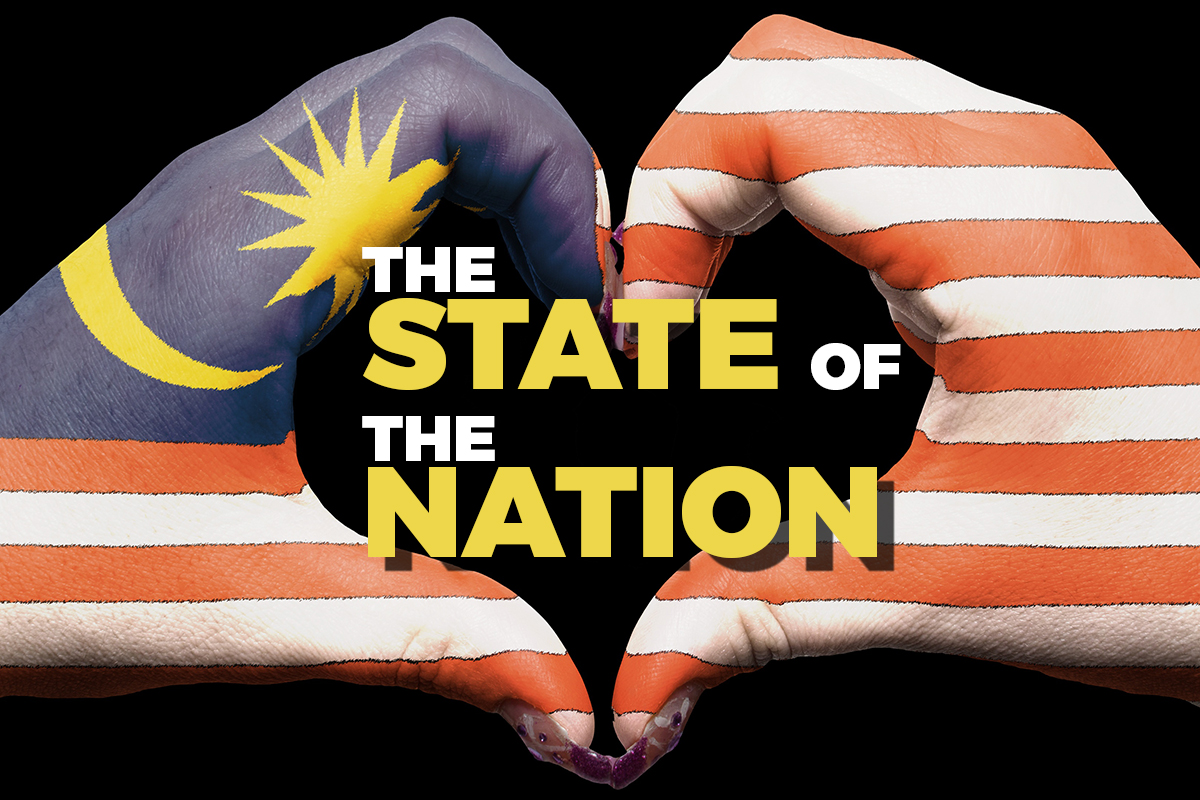 WITH the number of Covid-19 cases still high in the Klang Valley despite stricter movement restrictions since June 1, Putrajaya rightly decided to take a state-based approach to reopening, consistent with the approach of targeted lockdown in areas deemed red zones while allowing greater freedom in green zones, where the pandemic is under control.
There is a real danger of losing the race against new variants, however, if the right measures are not taken quickly, in view of the rise in the number of deaths in the past two months even as the rate of vaccination is accelerated.
As announced on July 3, five states — Perlis, Kelantan, Perak, Pahang and Terengganu — transitioned to Phase 2 of the National Recovery Plan from July 5, which allows an expanded list of businesses on the positive list to reopen at 80% capacity (versus 60% under Phase 1). On July 7, Penang also transitioned to Phase 2, as the island saw more than 10% of its adult population receive two doses of vaccine by July 5, averaged only 9½ cases out of 100,000 people for seven days and is back to a "moderate" use of beds in the intensive care unit.
Together, the six states in Phase 2 accounted for 20.53% of Malaysia's gross domestic product (GDP) in 2019, before the pandemic struck.
The state-based approach was a positive surprise, as it was not mentioned when the National Recovery Plan was announced on June 15. Khairy Jamaluddin, who heads the National Covid-19 Vaccination Programme, had also told participants at an online forum organised by The Oxford & Cambridge Society Malaysia on June 16 that a state-based approach to reopening was not being considered at that point.
The other takeaway is that the vaccination threshold considered for transition in the National Recovery Plan is based on the adult population and not the entire population — a consolation, perhaps, for businesses that had asked that the government require one dose, instead of two doses, of vaccine as one of three yardsticks for reopening.
Two out of three
More states are set to move to Phase 2 "soon", Finance Minister Tengku Datuk Seri Zafrul Aziz said in the 60th Laksana Report dated July 7, without naming the states. Zafrul — who jointly announced the state-based transition on July 3 alongside Defence Minister Datuk Seri Ismail Sabri Yaakob, who was named Depu­ty Prime Minister on July 7 — said the state-level transition is fairer as it rewards states that successfully brought down the number of Covid-19 cases to continue on the recovery path while motivating other states to do better.
In regard to the 10% threshold of the adult population completing two doses of vaccines to move to Phase 2, only Selangor — the most populous state, and at 9.4% as at July 8 — had yet to cross the 10% threshold. It is expected to do so within a day or two, as it was only about 30,000 doses short, according to back-of-the-envelope calculations.
It is the move to Phase 3, which allows all sectors except those on the negative list to reopen, that businesses want to happen fast.
As at July 8, Putrajaya (46.6%) was the only state that had fulfilled the 40% vaccination threshold to move to Phase 3, according to data released by the Special Committee on Covid-19 Vaccine Supply (JKJAV). Labuan was close to a third, whereas Perlis, Kuala Lumpur and Sarawak already have more than 20% of the adult population with two doses (see chart).
Still, there is more good news for Terengganu and Sabah, which had attained two of the three key thresholds for Phase 3 in terms of number of cases and ICU bed usage, according to slides shared by Ismail and Zafrul on July 3. Meanwhile, Perlis had attained the thresholds for Phase 4 on those two fronts as at July 2, and needs only to cross the vaccination threshold.
The vaccination threshold to move to Phase 4 is 60%. If the threshold were one dose, Kuala Lumpur, Putrajaya and Sarawak would already have had more than 60% of their adult population being given at least one dose as at July 8, double the national average of 30.9%, data from JKJAV shows. Two doses offer greater protection against variants. Some countries are already considering a third (booster) shot to bolster protection against new Covid-19 variants.
Clarity and predictability
The state-level transition should be positive for jobs as well as economic growth, observers say. What is critical is to ensure the number of cases does not spiral again and cause another wide-scale lockdown, which disrupts businesses that need predictability to continue supporting jobs and livelihoods.
A clear and transparent list of sectors and subsectors that are allowed to reopen under each of the four phases in the National Recovery Plan and the respective standard operating procedures (SOPs) is one way of providing predictability.
A clear list would also eliminate the need for businesses to reapply for permits, cutting red tape.
Sectors allowed to operate in Phase 2 are reportedly those involved in the trade and distribution of items such as books, stationery, computer and telecommunication accessories and electrical appliances. Also allowed are car wash operators and barbers offering basic services as well as non-contact sports conducted individually with physical distancing of at least two metres such as jogging, hiking, cycling, golf, fishing, archery, equestrian and tennis (singles). Only morning markets are allowed but limited to the selling of vegetables, fruits, groceries, seafood, processed chicken and meat.
More sectors are also allowed to open in Selangor, which accounted for 23.7% of the country's GDP in 2019 but is still under Phase 1, pending its transition to Phase 2. In recognition of "the importance and significance of sectors supporting the production of goods in the global supply chain as well as critical production of health and food and beverage products in the country", the Ministry of International Trade and Industry on July 7 expanded the list of sectors allowed to operate in the Enhanced Movement Control (EMCO) areas in Selangor to include the electrical and electronics sector and its supply chains, aerospace sector (maintenance, repair and overhaul), machinery and equipment sector for the production of healthcare and food products as well as key F&B manufacturing companies.
45% of new cases in Klang Valley
Part of the rise in new cases in the Klang Valley, which accounted for about 40% of the country's GDP in 2019, corresponded with the increase in testing in EMCO areas for more effective containment.
Yet, the stark increase in the number of Covid-19 deaths in the past two months greatly raises the urgency to inoculate as many people as possible so that Malaysia will not be a hotbed for new variants that could threaten lives as well as the pace of reopening. The 135 deaths on July 8 were the country's highest daily death tally so far as The Edge went to print.
At a total of 5,903 Covid-19 deaths in the country as at July 8, a closer look at data released by the Ministry of Health shows that Malaysia recorded the highest number of deaths in June this year, with 2,374, when MCO 3.0 was in force. The June tally alone is more than the 1,290 deaths recorded in May and five times the 471 Covid-19 deaths recorded in the whole of 2020. In fact, the number of Covid-19 deaths was only 1,506 as at end-April but had jumped 2.4 times in just over two months.
Selangor accounted for 1,522, or about 35% of 4,397, deaths recorded between May 1 and July 8, and also accounted for 35% of nearly 400,000 new Covid-19 cases recorded in the same period. Kuala Lumpur accounted for about 10% of new cases and 11% of deaths in that period (see Table 2) on Page 12.
Race against variants
When the Alpha/UK B.1.1.7 variant was first detected in Malaysia in mid-January, the country had yet to receive its first batch of vaccines.
As at June 30, however, 198 cases with variants of concern (VoCs) — Alpha/UK B.1.1.7 (11 cases), Beta/South Africa B.1.351 (147 cases) and Delta/India B.1.617.2 (40 cases) — had been detected in Malaysia, along with 19 other variants of interest (VoIs) — Kappa/B.1.617.1 (four cases), Theta/P.3 (12 cases) and Eta/B.1.525 (three cases). So far, Malaysia has had neither a positive case of the Gamma/Brazil P.1 variant, which the World Health Organization also categorises as a VoC, nor the Iota/B.1.526 and Lambda/Peru C.37 variants designated as VoI.
The 40 cases (31 local, nine imported) with the Delta variant — which was responsible for half of the new cases in the US and most of the new cases in the UK, forced a shutdown in Sydney and is raising doubts over Covid-19 success stories across the globe — were detected in Labuan (nine cases), Kuala Lumpur (eight cases), Negeri Sembilan (six cases), Johor (three cases), Selangor, Putrajaya, Kedah, Pahang, Melaka, Sabah (two cases each) and Perlis and Penang (one case each) as at June 20. Just 10 days earlier, on June 20, Delta variants were detected in only seven states and territories instead of 12, with the exception of Kelantan, Perak, Terengganu and Sarawak.
The Beta/South Africa variant — which has been detected among locals in all states except Labuan and accounted for 74% of VoC cases detected in Malaysia as at June 30 — was reported to be behind the surge in cases on Seychelles, an island nation of 98,000 people which, according to a Bloomberg report dated June 24, had 70% receiving two doses and offered mainly Sinopharm and Covishield, the version of AstraZeneca made in India. The Alpha and Delta variants were also found on the island. As at June 20, the Beta variant had not been detected in Pahang and Sabah.
Health experts have pointed out the need for greater vigilance on SOP compliance in the face of variants that are more contagious, even as vaccinations are being stepped up.
Phase 3's 40% attainable
Malaysia has successfully pushed daily vaccinations above 300,000 doses, with 376,909 doses administered on July 8 to bring the vaccination tally to 3.19 million people (9.8% of total population and 13.6% of the adult population) given two doses and 7.22 million people (22.1% of total population and 30.9% of the adult population) given at least one dose.
Assuming 150,000 people who already have one dose are given a second dose a day, Malaysia should have 40% of the adult population covered with two doses within 40 days (30 days at 200,000 a day), back-of-the-envelope calculations show. Getting to 60% requires at least another month, provided that purchased vaccines arrive within the expected timeline.
With Malaysia set to revise its 2021 GDP forecast when releasing its second quarter GDP reading on Aug 13, expectations are for stellar vaccination rates to provide added confidence that there would be no further delays in reopening the economy.