This article first appeared in The Edge Malaysia Weekly, on November 11, 2019 - November 17, 2019.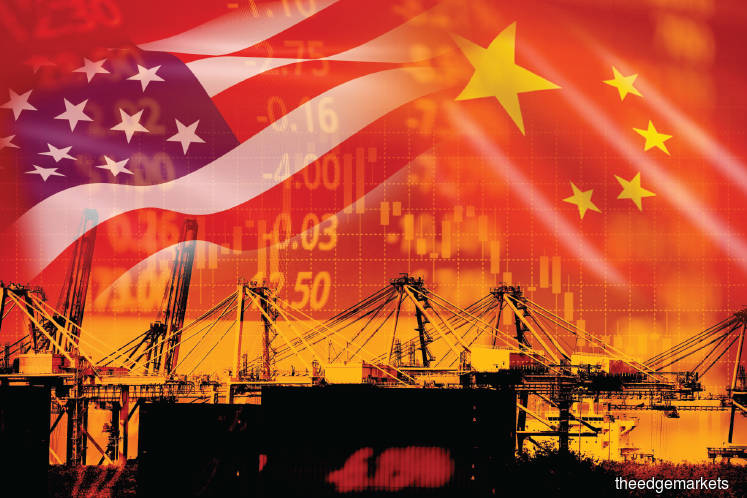 Some analysts see a possible upside, especially as the US-China trade war Phase 1 deal is reached.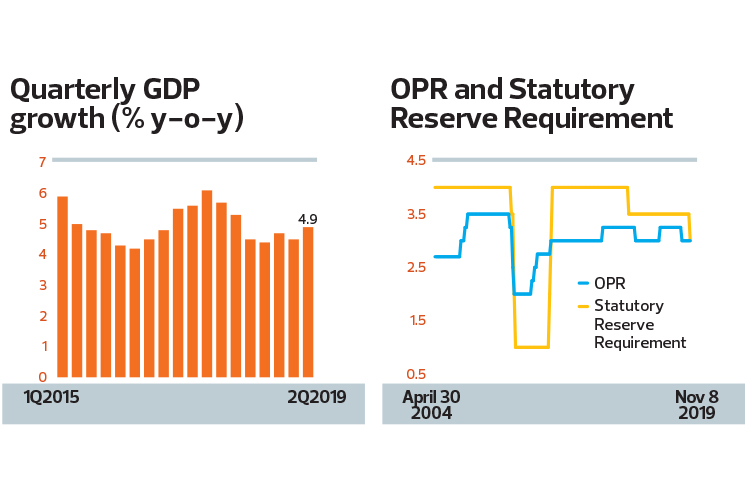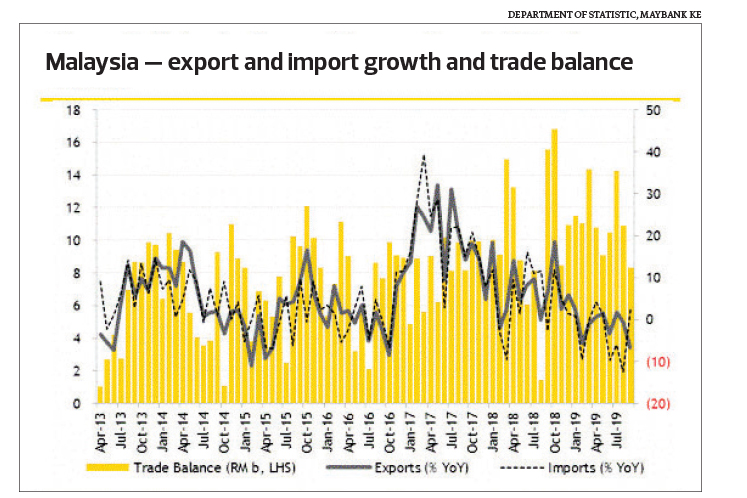 THIS Friday, Bank Negara Malaysia will release the third-quarter gross domestic product growth number, indicating how the economy performed in the penultimate quarter of the year. The average 3Q GDP growth forecast by consensus on Bloomberg is 4.3% — the highest projection is 4.8% and the lowest, 3.7%.
That said, no one expects GDP growth for the third quarter to come in above the surprising 4.9% seen in the previous quarter, spurred by the strength of private-sector expenditure, recovery in commodity output and higher net exports.
Just last week, data from the Ministry of International Trade and Industry showed exports dropping a higher-than-expected 6.8% year on year in September while imports rose 2.4%.
In a Nov 4 report, Maybank Investment Bank Research says the robust net external demand in 3Q2019, implied by a wider trade surplus, was due to steeper declines in both exports and imports "... with imports falling more than exports, indicating domestic demand was a drag on GDP growth last quarter. In particular, imports of capital and consumption goods dropped further and deeper (3Q2019: -10.3% y-o-y; 2Q2019: -2.5% y-o-y), hinting at softer 3Q2019 domestic demand, which accounts for over 90% of GDP".
AffinHwang Investment Bank Bhd chief economist Alan Tan forecasts third-quarter GDP growth of 4.6%, supported by domestic demand that will be held up by private consumption. He believes the government could have spent more on development expenditure because it usually increases in the third and final quarters of the year.
For the full 2019, GDP is expected to grow by 4.7%. Bank Negara says in its Nov 5 monetary policy statement that growth is expected to be within projections for 2019.
Notably, the overnight policy rate (OPR) remained unchanged at 3% after the last monetary policy committee meeting.
While Bank Negara says in its MPC statement that the growth of the economy is expected to sustain going into 2020 from 2019, it adds that the projection is subject to downside risk, mainly stemming from the uncertainties in global economic and financial conditions as well as weakness in commodity-related sectors.
Just days after the MPC statement, the central bank said last Friday that it is slashing the Statutory Reserve Requirement (SRR) by 50 basis points to 3% from 3.5% effective Nov 16.
"The decision to reduce the SRR is undertaken to maintain sufficient liquidity in the domestic financial system. This will continue to support the efficient functioning of the domestic financial markets and facilitate effective liquidity management by banking institutions," the central bank says in a statement, adding that the SRR is an instrument to manage liquidity and is not a signal of its stance on monetary policy.
Be that as it may, the move to cut the SRR — the first since February 2016 when it was slashed from 4% to 3.5% — may add to the dovish tone of Bank Negara's MPC statement, an economist says.
The cut is expected to release about RM7.35 billion into the financial system.
The anticipation of external uncertainties potentially weighing down further economic growth next year is a widely shared sentiment among economists.
The government has projected 4.8% GDP growth for next year, which is seen as optimistic by the street's standards. Based on Bloomberg data, economists' average forecast for 2020 GDP growth is 4.2%.
"I believe the drag on growth will come from the external front. If we look at the slower China growth, Purchasing Managers' Index data and semiconductor manufacturing growth, there could be a downside risk there in terms of external trade, which could affect exports.
"Domestic demand will continue to be supported, partly by the Budget 2020 measures, such as the petrol subsidy, cash aid (Bantuan Sara Hidup) and the increase in minimum wage," says AffinHwang's Tan.
However, RHB Research senior economic analyst Ahmad Nazmi Idrus believes that the downside risk is limited given the existing pessimistic projection for GDP growth next year. RHB Research's GDP growth forecast for 2020 is at the lower end of the scale at 4.3%.
"I believe we have a possible upside, especially as the US-China trade war Phase 1 deal is reached," he says.
Tan believes the earlier 25% tariffs that were imposed would have to be removed in order for there to be a lift on the uncertainties seen in the external environment. "As long as there are no discussions on lifting the earlier tariffs, I believe the drag on growth will continue."
While local economic growth is expected to be supported by private consumption going into 2020, private investment is expected to be moderate.
"Private consumption has always been the anchor to growth. Investment does play a smaller role but it is equally important as it generates higher productivity in the long run, which feeds back to future growth," says Nazmi.
Tan believes there is some upside to private investment in 2020, but it will all hinge on the way the external environment moves next year. "Private investments go hand-in-hand with the external outlook. So businesses tend to become more careful when there is uncertainty. However, I believe domestic investment will remain strong and the approved foreign direct investments that we are seeing will likely be realised in 2020."
Nazmi concurs, saying that any positive surprises for private investments can only happen when business sentiment improves, which would point towards businesses being more confident to invest. "The 2020 budget measures do help to some extent, as development spending and incentives for SMEs are higher, but I think the bigger issue is the uncertainty caused by the trade war. So a resolution to this could be a major catalyst."
At this juncture, economists say business sentiment still remains weak.
International news agencies have recently reported that the US and China have agreed to remove some tariffs, signalling that the two economic superpowers, which have been in a tariff war since last year, could be inching closer to a truce.
This has provided a glimmer of hope for global economic growth, which has been suppressed by the trade war. An International Monetary Fund spokesman was quoted as saying that an interim trade deal that removed some tariffs could have the potential to improve the global economic forecast for 2020.
OPR cut anticipated next year
The OPR was left unchanged at 3% in the recently concluded MPC meeting on Nov 5. Maybank IB Research believes that Bank Negara's dovish tone in its statement indicates continued easing bias in its monetary policy.
Many economists anticipate an OPR cut of 25bps next year. While Maybank IB Research did not specify when it thinks the rate cut will take place, RHB's Nazmi thinks it will happen in the first quarter of 2020, while AffinHwang's Tan says that he expects it within the first half of the year.
"I believe there will be one 25bps rate cut next year to support domestic demand as private consumption is an important component of economic growth," Tan says.
The first MPC meeting for 2020 is set to take place on Jan 21 and 22.