This article first appeared in The Edge Malaysia Weekly, on November 4, 2019 - November 10, 2019.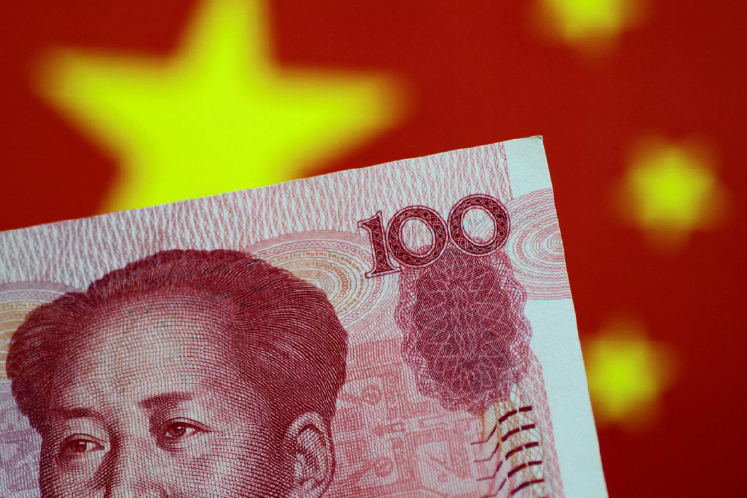 Photo by Reuters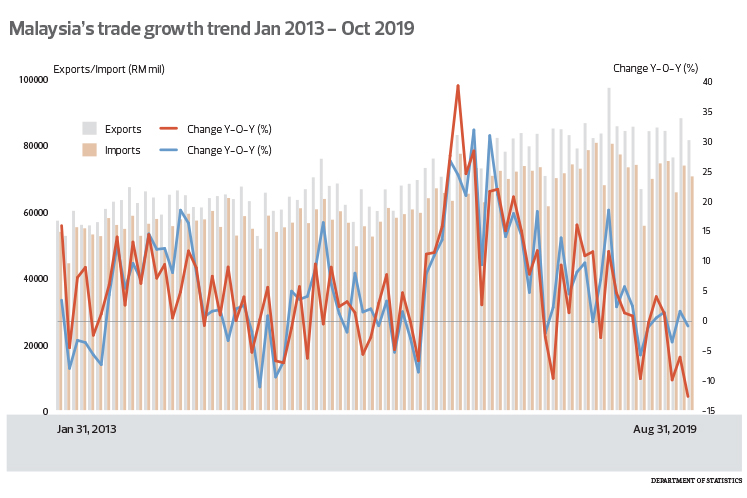 JUST over a decade ago, headline gross domestic product growth of less than 8% was seen as almost disastrous for China — the world's most populous nation. While not unexpected, the 6% growth the country registered in the third quarter this year continued to raise concerns over global growth, especially for countries with high trade exposure to the world's second largest economy.
In the first eight months of the year, trade with China made up 16.8% of Malaysia's total trade of RM1.2 trillion.
With economists projecting that China's economic growth will slip to below 6% in the fourth quarter and for the whole of 2020, where does Malaysia stand in the whole scheme of things?
While the US-China trade war has caused a considerable slowdown in the global economy, Malaysia's diversified products and trading partners would mean a drastic drop in exports can be averted, says Prof Yeah Kim Leng, director of the economic studies programmme at Sunway University.
"Despite the slowdown in global demand and the world electronics industry, Malaysia's exports of semiconductor and electrical components, appliances and parts recorded moderately strong increases of 4.9% and 4% respectively, in the first seven months of the year.
"Other exports that rose include telecommunications equipment, chemicals, processed food, iron and steel, plastics and textiles and construction materials. The product diversity — covering a range of capital, intermediate and consumption goods — is a contributing factor to the country's export resilience," says Yeah, responding to questions from The Edge via email.
Contrary to popular belief, in facing the global economic slowdown, Malaysia is in a position of strength, says Lee Heng Guie, executive director of the Socio-Economic Research Centre (SERC).
The country's still sound economic and financial fundamentals are supported by facilitative policies and accommodative monetary policy, he told The Edge via email last Thursday.
"Bank Negara Malaysia has the monetary space to lower interest rates from the current 3% level to counter the trade and financial transmission impact from a severe global economic downturn," he says, noting that during the global financial crisis of 2008, the overnight policy rate was cut to 2%.
Fiscal policy can be recalibrated to allow some room for an expansionary budget, focusing on sectors, initiatives and measures that would protect growth-enhancing spending and investment, he adds.
In Budget 2020, the deficit target was revised to 3.2% of GDP from the initial 3%, as the government increased development expenditure by 4.3% to RM56 billion to spur growth in the local economy.
The resilience of the economy can also be seen in the uptick in the Markit Purchasing Managers' Index last month to 49.3, the highest in six months. Any reading below 50 indicates a contraction on a yearly basis. While the PMI reading is still below 50, the uptick is encouraging as it indicates higher confidence among Malaysian businesses to increase production for future sales.
Peck Boon Soon, chief Asean economist at RHB Research Institute says that as the anticipation is for a global slowdown rather than a global recession, there will still be growth in Malaysia's exports, albeit at a slower pace.
While the country will be affected by a global slowdown, the impact will not be as bad as during the Asian financial crisis in 1997/98 or the global financial crisis.
"This means that although consumer and business confidence are turning more cautious, they are not collapsing. Hence, there will still be spending, albeit slower. And we believe the trade and investment diversion as a result of the US-China trade war should help the Malaysian economy somewhat.
"We are seeing some mitigating effects as a result of trade and investment diversion, indicating that businesses are slowly adjusting to a new normal with trade tensions here to stay, and they need to find ways to overcome it," says Peck.
China slowing down in an orderly manner
Sure, the sheer size of the Chinese population means that the country needs to create millions of jobs every year just to ensure social stability. That is why the slowing down of China's GDP growth to the lowest level since 1992 is a cause for concern.
However, many economists believe that the slowdown is being managed well by the Chinese central government. In other words, headline growth is no longer a concern for the Politburo, rather, it is guiding the country's economy towards more sustainable growth.
"There is ongoing debate on what are the implications of China's GDP slowing to below 6% in the coming year," says Julia Goh, senior economist and senior vice-president of global economics and markets research at United Overseas Bank (Malaysia) Bhd.
In an email response to The Edge, Goh says that instead of headline GDP levels, China is aiming for progressive and quality growth while prioritising poverty alleviation, provision of social services and high-technology ambitions.
"What is important is that employment conditions remain stable, financial stability risks appear manageable and a tentative US-China "Phase 1" deal helps to avoid an escalation of US tariffs in the near term," says Goh.
Meanwhile, Taimur Baig, senior economist at DBS Group Research, says that while the narrative of the worldwide growth slowdown remains intact, financial markets are not in the mood to fret, with equity and bond prices remaining in constructive territory.
Word of an interim US-China trade deal, a hard Brexit being taken off the table in Europe, rate cuts by the US Federal Reserve and no inflation worries have kept sentiments constructive, although their durability can be questioned, he says in a Nov 1 report.
"Looking at mixed China PMI data and a surprisingly strong 3Q for Taiwan, we feel that the worst of Asian trade-related developments may be behind us. Electronics exports show signs of bottoming out, especially when one examines leading indicators like semiconductor billing, which is presently suggesting that shipments are about to rise," he says in the report.
China's officials have signalled that they will continue to maintain accommodative monetary policies, accelerate infrastructure spending and implement tax cuts to cushion the downside risks to growth, adds Goh.
At the same time, while ensuring sufficient stimulus to near-term growth, China's officials are careful not to abandon a disciplined approach to economic policy, which is to avoid depending on releveraging the economy through credit and debt-fuelled stimulus, she adds.
"While a slower China GDP does translate into downside risks to regional growth due to the high economic dependencies, a gradual moderation of China's economy, with incremental support from the government, will ensure that the risks to other regional countries, including Malaysia, will be manageable," she says.
Corporations and households spending important for growth
While it is prudent for companies to postpone investment, conserve resources, prune costs and prepare for a risk-off environment, such a response by individual firms and households will collectively result in a slowdown of business and economic activities in the country, says Yeah.
"Firms will have to weigh the risks and opportunities in their respective sectors. Importantly, they could leverage the latter to prepare for an eventual pickup that may occur earlier than expected as the prognosis for the world economic outlook for 2020 seems to suggest the downside risks should subside quickly," he says.
For example, companies should consider spending on industrial and skills upgrading, productivity improvements, research and development and innovation, especially the opportunities presented in Budget 2020 for firms to accelerate the adoption of Industry 4.0, digital technologies and the search for new businesses and markets, adds Yeah.
On the other hand, the government returning the RM37 billion in Goods and Services Tax and income tax refunds to businesses this year would help to improve cash flow and enable companies to pull through during this difficult period, says Peck.
"Also, the government has done a good job in strengthening the fiscal position and putting the tax money into good use. The move will help to maintain the country's sovereign rating and improve investor confidence, thereby providing some support for the ringgit, which is currently weak.
"For next year, it is good that the government intends to increase its spending despite the challenging fiscal position to stimulate economic growth at a time when exports are not doing well," he says.