This article first appeared in The Edge Malaysia Weekly, on October 14, 2019 - October 20, 2019.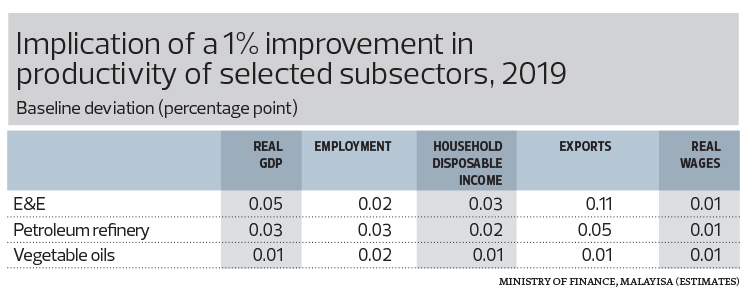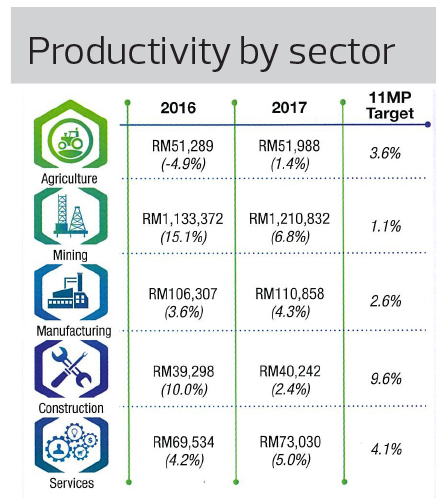 THE manufacturing sector is the second largest contributor to the country's gross domestic product. Last year, the sector employed 2.5 million people or 16.9% of total employment in the country. It also saw the highest wage growth, at 10.8%, and came in second in terms of labour productivity at RM110,858, behind mining, which grossed RM1.21 million.
Within the manufacturing sector, electronic components and communication equipment were the most productive and value-adding subsectors, according to Malaysia Productivity Corporation.
Studies by the Ministry of Finance (MoF) show that this sector has high intersectoral linkages, by way of its output requiring inputs from various sources of the economy and creating a backwards linkage.
At the same time, manufacturing output is also channelled back to other sectors, resulting in a forward linkage.
Its high intersectoral linkages will result in a 0.05-percentage-point contribution to GDP for every 1% improvement in productivity in the electrical and electronics (E&E) sector, estimates the ministry.
MoF's data also shows that the E&E sector makes the highest contribution to real GDP for every percentage improvement in productivity.
This is followed by the petroleum refinery and vegetable oils industries, which provide a 0.03ppt and 0.01ppt contribution to real GDP respectively.
It is also worth noting that a 1% increase in productivity in the E&E sector will result in a 0.03ppt increase in household disposable income.
As for the petroleum refinery subsector, a 1% increase in productivity will result in a 0.02ppt increase in household disposable income while the vegetable oils industry will see a 0.01ppt increase in household disposable income.
However, there are multiple challenges facing the manufacturing sector, such as premature deindustrialisation, low adoption of technology and local content development as well as skills deficit, notes the Economic Outlook 2020 report.
The acknowledgement of the manufacturing sector's growing significance to economic contribution and the challenges it faces has led the government to highlight several measures that can be taken to tackle the issues concerned.
One of the suggestions is the streamlining of incentives under a one-stop centre, which the government hopes will create a more conducive business environment for investors.
Apart from that, re-engineering training and skills to ensure employability through upskilling, reskilling and life-long learning is deemed crucial to equip employees with the required skills and knowledge to face the rise of digitalisation stemming from Industrial Revolution 4.0.
The report also mentions that another way forward for the manufacturing sector is to venture into new focus areas such as the fifth-generation cellular network, artificial intelligence, Internet of Things and big data analytics, which are expanding rapidly.
A final suggestion proposed by the report is to develop an integrated manufacturing hub with a complete ecosystem for modern services and advanced industries, as seen in Kunshan and Chongqing in China.
"Malaysia needs to leverage its strategic location and focus on building a complete ecosystem in becoming an integrated manufacturing hub," it says.