This article first appeared in The Edge Malaysia Weekly, on August 19, 2019 - August 25, 2019.
Click / Tap image to enlarge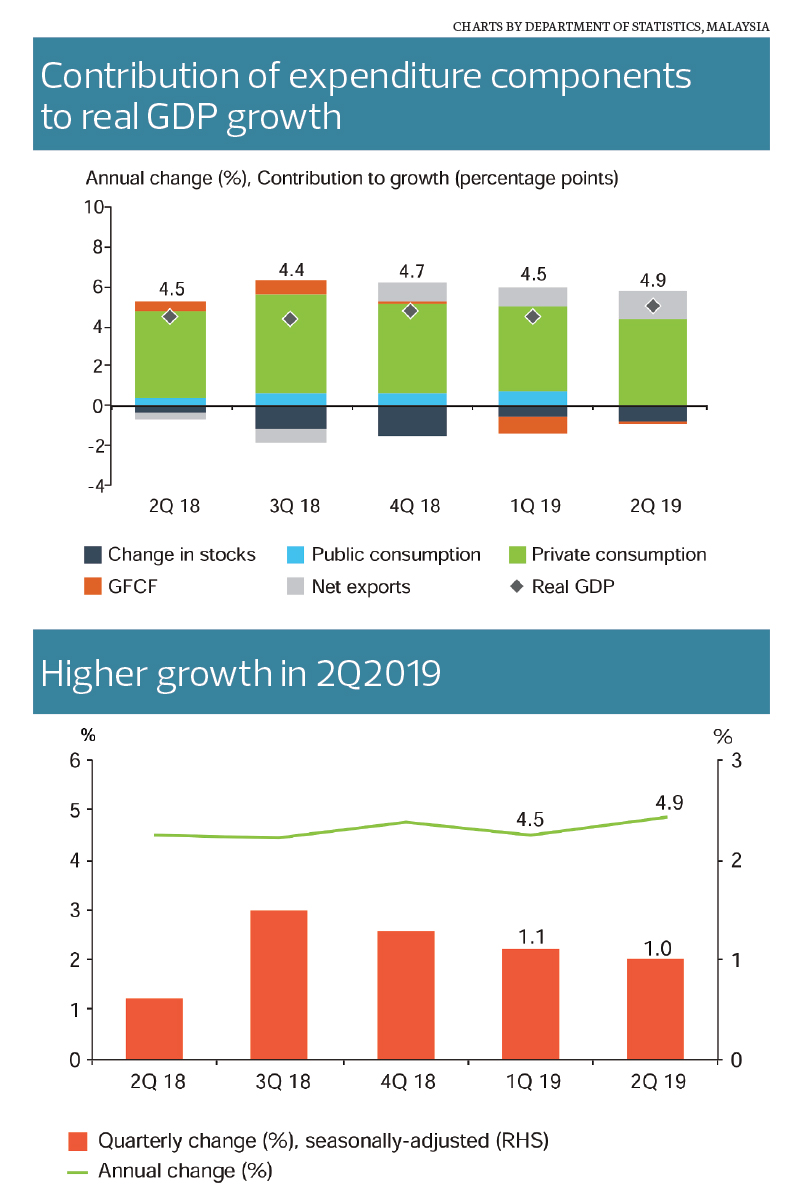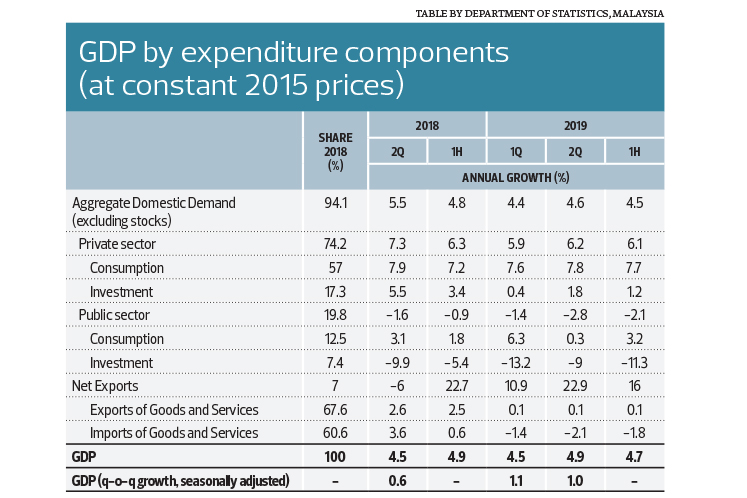 LAST week, fears of a global recession heated up again when the US bond yield curve inverted, with the benchmark 10-year Treasury trading at a lower interest rate than the two-year notes — an occurrence not seen since 2007.
Investors — spooked by the inverted yield curve, which is seen as an important predictor of a recession, and weaker Chinese data — sent the Dow tumbling 800 points on Aug 15, and the S&P 500 2.9%.
As unnerving as this sounds, Bank Negara Malaysia does not expect a global recession.
Bank Negara governor Datuk Nor Shamsiah Mohd Yunus told the second-quarter gross domestic product press conference last Friday, "We do not expect global growth to go into negative territory as we saw in 2008. When you talk about an inverted yield curve, the previous yield curve inversion was preceded by a much more acute tightening cycle and a sharp rise in yields.
"Unlike the situation now, where you have easy monetary policies and even negative interest rates in some economies, plus the geopolitical developments that have led [the flight] to safety. These are some of the factors that would describe the inverted yield curve we are seeing now.
"There is a case to say that this time round it's a bit different."
Nor Shamsiah is confident GDP growth for the year will fall within the central bank's forecast range of 4.3% to 4.8%, based on "a few things going for our economy".
These include improvement in commodities, which make up 15% of exports and GDP; commencement of production lines and facilities in the automotive, aviation and medical sectors; and the Petronas Refinery and Petrochemical Integrated Development in 4Q2019, she says.
"We have also benefited from trade diversion and engagement, with companies continuing to suggest this. Our labour market is firm, employment is strong and there is strong labour growth to support our economy going forward."
The key strength of the economy is its well diversified infrastructure, Nor Shamsiah says, adding that there is still space to tweak monetary policy. In the fiscal space, efficient and effective spending on high multiplier projects will also provide further support to growth. "We also have deep and diversified financial markets that can intermediate capital flows. Furthermore, our flexible exchange rate remains a key shock absorber in potential events of elevated capital flows and volatility which will help the economy to adjust to external shocks."
Nor Shamsiah also highlights that the US$103.9 billion in reserves would provide some buffer to external shocks. She also anticipates that Visit Malaysia 2020 will result in an increase in arrivals and average tourist spend.
GDP growth in the second quarter exceeded the street's expectations of 4.7%. The 4.9% expansion puts first-half growth at 4.7%. Growth in 2Q was spurred by robust private-sector expenditure, recovery in commodity output and higher net exports. These offset weak public investment activity.
Growth in domestic demand increased to 4.6% year on year from 4.4% in 1Q2019. Private-sector activity, which consists of private consumption and private investment, expanded 6.2% y-o-y against 5.9% in the previous quarter.
Private consumption, which grew 7.8%, was supported by continued income growth and festive spending during the quarter, boosted by the government's special Hari Raya Aidilfitri assistance and Bantuan Sara Hidup.
Private investment growth expanded more moderately by 1.8% y-o-y after hitting a multi-year low in 1Q2019 of 0.4%. It was boosted by increased capital spending in services and manufacturing.
However, public-sector expenditure contracted 2.8% y-o-y on the back of lower spending on supplies and services, while public-sector investment saw a much larger contraction of 9%.
UOB (M) Bhd observes in an Aug 16 report that public investment has fallen for seven quarters in a row due to persistent weak investment by public corporations, despite higher fixed asset spending by the federal government.
Exports were surprisingly robust — net exports grew 22.9% and contributed 1.4% to GDP growth.
HSBC Research says in an Aug 16 report that domestic demand has held up the Malaysian economy, which has outperformed regional economies. The research house believes the momentum in private consumption growth will likely hold up on the back of stable loan growth of 4.2% y-o-y in June.
"The strength here may be explained partly by lower lending rates following Bank Negara's rate cut in May, which passed quickly through to bank lending rates," says HSBC.
It says that what has set Malaysia apart is its relative resilience in net exports, reflected by the steady manufacturing output and improvement in commodity export volumes following the disruption in supply in the previous quarters.
However, the research house forecasts a steady deceleration from here on but expects growth to continue to hold up. This is premised upon exports coming under pressure from the worsening global trade environment, notwithstanding some trade diversion.
"Looking further down the road, we think that the government's fiscal stance is likely to be less accommodative next year, although the 2020 budget is unlikely to be as contractionary as was suggested last year. We believe a less accommodative Budget 2020 may lead Bank Negara to deliver another 25-basis-point rate cut in 4Q," says the report.
UOB Research believes that the external sector will continue to pose downside risks. The bank has a full-year GDP forecast of 4.6% for this year.
The bank believes Bank Negara is less likely to pursue another rate cut in the upcoming Monetary Policy Meeting on Sept 12, despite the recent synchronised rate reductions by four Asia-Pacific central banks. Instead, UOB Research thinks the central bank is likely to wait for the outcome of the US Federal Reserves' rate decision on Sept 18, US-China trade talks and the Budget 2020 announcement before making a move.
On further rate cuts, Shamsiah says the bank will continue to assess developments, especially external developments, and how they affect the medium-term trajectory of growth and inflation. "It is important for us to look past short-term developments and volatility."
Further liberalisation of foreign exchange administration policies
Bank Negara Malaysia announced several measures to further liberalise the foreign exchange administration (FEA) policies last week. "These measures announced today seek to further deepen the onshore markets so that real money investors have the flexibility to undertake the hedging requirements even after Malaysian trading hours," says Bank Negara governor Datuk Nor Shamsiah Mohd Yunus.
The announcement came ahead of a September review by FTSE Russell that will determine if Malaysia is to be excluded from the World Government Bond Index.
The four measures announced last week includes allowing flexibility for residents to hedge their foreign currency current account obligations up to their underlying tenure in view of promoting sound risk management and business efficiency.
Treasury centres in Malaysia will also be free to hedge on behalf of their related entities via a licensed onshore bank to facilitate efficiency in centralised risk management operations.
As for non-resident treasury centres, they will be able to hedge on behalf of related entities in Malaysia and overseas through a licensed onshore bank or appointed overseas officer after a one-time registration with the central bank.
Flexibility will be given to non-residents to hedge on an anticipatory basis via an overseas officer for settlement of trade in goods and services.
These measures will take effect from Aug 30.
The central bank also made a revision to the definition of domestic ringgit borrowings, where credit facilities that are used by corporations for miscellaneous expenses will be excluded from domestic ringgit borrowings under applicable FEA policies on investments abroad. This is to facilitate the management of operational expenses by residents without impacting their investment activities.
Nor Shamsiah says a recent engagement with FTSE Russell went well. "We have had very positive engagement with FTSE Russell when they were in town recently. They were appreciative of the measures we put in place to deepen the onshore market so that real money investors have the required access to hedging onshore. They have also engaged investors where investors have given them the same feedback."