This article first appeared in The Edge Malaysia Weekly, on February 3, 2020 - February 09, 2020.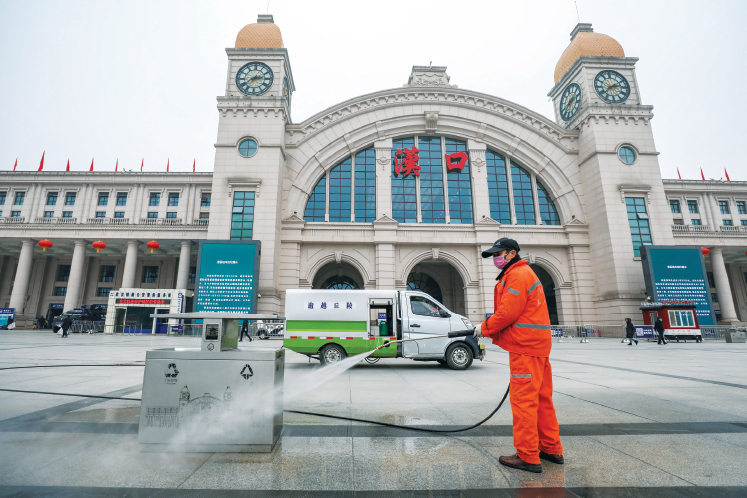 A worker sanitises the square in front of the Hankou Railway Station, closed after the city of Wuhan was locked down following the outbreak of a new coronavirus, 2019-nCoV.
Photo by Reuters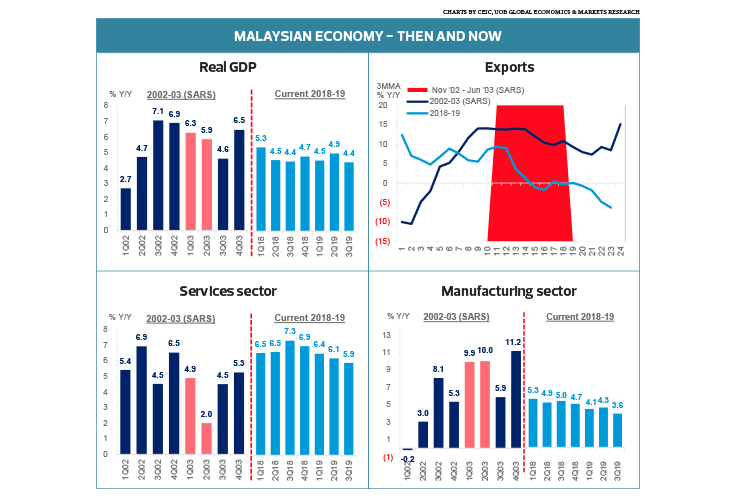 IN a widely expected move, the World Health Organization (WHO) declared the Wuhan coronavirus a global health emergency early last Friday as the outbreak continued to spread outside China.
At press time late Friday, the coronavirus 2019-nCoV, as it is technically known, had spread to 24 countries with 213 deaths — all within China — and 9,929 infected since it flared up in Wuhan a month ago. Over 9,700 of the infected people are in mainland China. In Malaysia, there are now eight confirmed cases, all of whom are Chinese nationals.
Economists whom The Edge spoke to say it is too early to properly gauge the economic fallout from the outbreak, but if the 2002/03 spread of SARS — also a coronavirus — is any indication of how things might go, then the impact on Malaysia's economic growth is likely to be small.
But, they also point out that this time, there are risks of a larger negative impact on Asean, including Malaysia, as China has become a much larger economy and is way more connected to the region than it was during the SARS outbreak. China's market share of Asean exports was 14% in 2018, compared with 6.5% in 2003, while its share of global gross domestic product has risen to 20% from just 9%.
In addition, a boom in China's outbound tourism has helped fuel growth for many Asean economies in recent years, particularly Thailand. Thus, China's recent ban on outbound group tours will definitely have an impact on tourism.
"Countries that are more open and dependent on China trade and tourism will likely be negatively impacted. Within Asean, we think Singapore and Thailand will probably be the most impacted and will likely see some growth downgrades. Malaysia and Vietnam will see a small impact while Indonesia and the Philippines will probably be the least impacted," say Maybank Kim Eng Research economists in a Jan 29 report.
The SARS crisis, which lasted for about nine months — from November 2002 to July 2003 — infected some 8,000 people and took about 800 lives globally. More than half of the fatalities were outside mainland China.
Forecasts mostly maintained
There is more concern this time also because China is Malaysia's largest export destination. In the 11 months of 2019, our exports to China were valued at RM125.94 billion, or 14% of total exports.
Lee Yu Je, an economist at Maybank Kim Eng , tells The Edge in a phone interview that while there are "definitely more downside risks" to growth, the research house is not looking to change its Malaysia GDP forecast for now, which at 4.4% for this year is already quite conservative and lower than market consensus.
During SARS, Malaysia's GDP growth slowed to 4.6% in 3Q2003 from 6.9% in 4Q2002 (when the outbreak began), before recovering to 6.5% in the final quarter of 2003.
Lee expects the tourism, transport and retail sectors to be the hardest hit, as they were during the SARS crisis. Trade remained resilient during SARS.
Visitor arrivals in Malaysia plunged at a steep pace of 52% year on year in 2Q2003, while hotel occupancy rates plummeted, albeit not as badly as in Singapore and Thailand.
"But then, the rebound was pretty quick. China notified WHO about SARS only in February 2003, and by July that year there were no more [new] cases. Yes, Malaysia's GDP growth was slower at 5.9% in 2Q2003, but it was not a decline like that seen in Singapore, Hong Kong and Taiwan, which were more affected by the SARS virus. So, [with the new virus], it is hard to tell, but if it is a short blip, then I do not think it will affect headline GDP growth," Lee says.
She believes the current outbreak will not drag out as long as SARS did, given the relatively faster response and drastic measures taken by China's government to contain the outbreak. Apart from lockdown measures across Hubei province, of which Wuhan is the capital, China reported the virus to WHO just over a month after the first case emerged, as opposed to three months for the SARS virus.
Other governments, too, are responding quickly. For instance, the US issued a travel warning to China,  while Singapore has imposed a 14-day leave of absence for workers or students returning from China.
"I suspect this outbreak will be short-lived and will be dealt with within the next three to six months. The market will eventually price this in, once the virus is brought under control," says Bharat Joshi, an investment director who helps manage some US$600 billion in assets at Aberdeen Standard Investments in Indonesia.
UOB Global Economics & Markets Research estimates that the new coronavirus outbreak could shave 0.5 to 1 percentage point off its base-case GDP growth forecast of 4.4% for Malaysia this year.
Tourism hit
UOB points out that China's share of Malaysia's tourism receipts more than tripled to RM12.3 billion in 2018, or 14% of total receipts (2003: RM904 million, or 4.2% of total receipts). China is the third largest source of tourism revenue for Malaysia, after Singapore and Indonesia.
"Given that tourism revenue accounts for 5.8% of GDP, we can approximate that the potential first order impact will be 0.5 to 1ppt shaved off our base-case GDP growth forecast of 4.4% for 2020. This is measured based on the direct impact of a decline in tourism revenue over two quarters. The net effect could be smaller, depending on whether other sectors are able to ride out the turbulence," its economists, including Julia Goh, writes in a Jan 31 report.
"Should the uncertainty related to the virus widen and persist for a longer period, the overall impact could be larger as intra-regional and global demand softens and productivity declines, which will derail expectations for an export and investment recovery this year."
During the SARS epidemic, monthly tourist arrivals fell 60% from 1.3 million in December 2002 to a low of 456,000 in April 2003. Cumulatively, tourist arrivals fell 20% to 10.6 million in 2003 from 13.3 million in 2002.
OCBC Bank economist Wellian Wiranto says the saving grace for Malaysia is that it attracts more tourists from Indonesia and Singapore than China. He also points out that tourism's 5.8% contribution to Malaysia's GDP, while sizable, is by no means "life-threatening". In comparison, tourism for Thailand and Vietnam comprises 11% to 12% of GDP.
Wellian is hopeful the new virus will be brought under control in the coming weeks and the "fear factor" affecting consumption will ebb in time. As such, he is not looking to downgrade his forecast of 4.2% growth this year for now.
"In terms of potential scenarios, there are many, obviously, including a longer and more serious virus outbreak that affects China's industrial production for an extended period. Given the larger trade linkages with Malaysia now, any sustained slowdown in China, including stoppages in its part of the global supply chain, will have repercussions in the near term. In that pessimistic out-turn, Malaysia's growth may well dip substantially below 4% in 1H2020, although pent-up demand might see things snapping back up strongly in the second half once the situation stabilises," he tells The Edge.
Earlier, Malaysia's manufacturing performance indicator for December 2019 had provided some hope that stronger economic growth could be in the offing. This expectation is now in doubt because of how quickly the Wuhan virus is spreading.
The IHS Markit Malaysia Manufacturing Purchasing Managers' Index (PMI) for December, released on Jan 2, increased to 50 points — its highest level in 15 months — from 49.5 points the previous month. A reading above 50 indicates expansion while one below 50 signals contraction.
According to Socio-Economic Research Centre executive director and economist Lee Heng Guie, high-frequency global indicators, such as the OECD leading index, global PMI for manufacturing and services as well as global semiconductor sales, have shown early signs of bottoming out, lending credence to a gradual improvement in regional PMI readings for the manufacturing sector, including Malaysia.
With Wuhan in lockdown and the lunar new year holidays extended to Feb 2 from Jan 30, there could be some impact on China's manufacturing sector.
Heng Guie says that while the services sector would be the hardest hit, manufacturing output could be dampened. The manufacturing contracts for technology and consumer goods that could be affected include those with Apple and Samsung.
"For the first quarter, there will be some weak numbers, more so because this is happening at a time of weak global growth, so there will be some impact on earnings. The question is whether the outbreak will be protracted," he says.
Any slowdown in China, the world's second largest economy, will weigh on global growth. Hubei accounted for about 4% of China's GDP growth last year.
UOB last Friday cut its GDP forecast for China to 5.7% from 5.9% before.
Meanwhile, Finance Minister Lim Guan Eng said last Thursday that it was too early for the government to decide whether it needs to revise its 4.8% GDP growth forecast for the year. However, it will hasten a stimulus package to boost the economy if necessary.
The government is maintaining its Visit Malaysia 2020 target of 30 million tourists.
Credit Suisse believes there is a possibility that Bank Negara Malaysia, which surprised the market with an earlier-than-expected overnight policy rate cut of 25 basis points on Jan 22, may cut the key rate again to support growth. The central bank's next monetary policy meeting is on March 3.
It is worth noting that despite calling it a "public health emergency of international concern", WHO does not suggest travel or trade restrictions to China. This marks the sixth time a health outbreak has been given that designation, the last one being the ebola outbreak in the Democratic Republic of Congo last July.
Stock markets
Until the virus is brought under control, UOB expects the ringgit to stay defensive alongside the renminbi and other Asian currencies. Since the outbreak gathered pace last week, the ringgit has weakened, with the greenback/ringgit rate rising to 4.10 from 4.06. Brent crude has also fallen from US$65 to about US$58 per barrel over concerns about a global slowdown.
Owing to the uncertainty, stock markets worldwide have also been hit. Bursa Malaysia's benchmark stock index FBM KLCI shed 2.65% last week to end at 1,531.06 points, its lowest level in eight years.
"While we are positive on the outlook for the market over the next 12 months, we believe investors should exercise caution over the next three to six months, as it appears that the current 2019-nCoV outbreak will not go away or taper off anytime soon, and it will probably get worse before it gets better," analyst Joshua Ng with AmInvestment Bank Research says. He is maintaining his end-2020 target of 1,670 points.
During the SARS epidemic, Bursa Malaysia's benchmark FBM KLCI lost more than 20% at the worst point, slipping from 794 points (April 2002) prior to the outbreak to a low of 630 in April 2003. The index remained depressed for eight months, from October 2002 to May 2003, hovering at 630 to 671 points, says Ng.