This article first appeared in The Edge Malaysia Weekly, on June 10, 2019 - June 16, 2019.
Click / Tap image to enlarge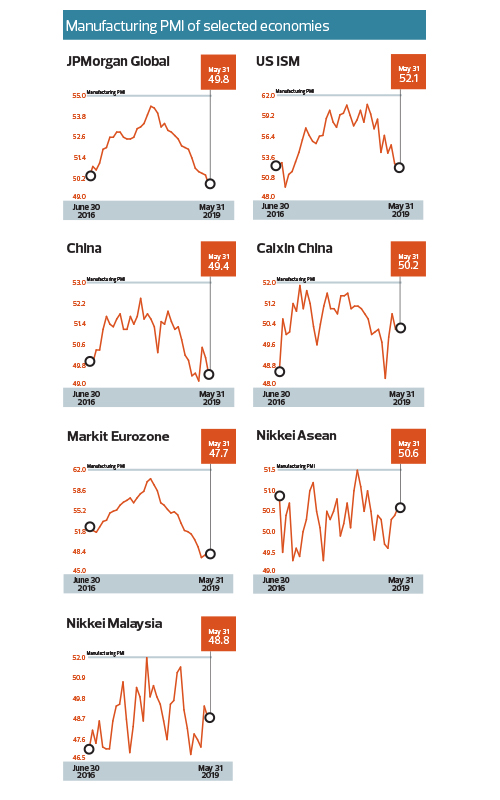 THE slew of manufacturing purchasing manager indices (PMI) released over the last week points to a cooling in the manufacturing sector globally. Data for May represents the first month since the US imposed a 25% tariff on US$200 billion worth of Chinese imports, which took effect on May 8.
Last week, Morgan Stanley chief economist Chetan Ahya was quoted in news reports as saying that a recession could start within nine months if President Donald Trump goes ahead and imposes 25% tariffs on an additional US$300 billion of Chinese exports and China retaliates.
While disagreeing that a recession is on the horizon, International Monetary Fund managing director Christine Lagarde warned in an interview last week that the escalating tariff threats would sap business and market confidence and slow growth, which is currently expected to improve next year.
Meanwhile, the JP Morgan global manufacturing PMI slipped from 50.4 points into the contractionary zone of 49.8 points in May — its lowest since October 2012 — casting a dim outlook on the global economy as the tit-for-tat tariff war continues between the two economic superpowers.
"The trend in international trade continued to weigh on the sector, with new export business contracting for the ninth month running. Business optimism fell for the second month in a row and to its lowest level since future activity data were first collected in July 2012," says the report.
Major economies showed either a cooling or a contraction in the manufacturing PMI data. China's official manufacturing PMI slipped to 49.4 points last month, after two previous months of readings above 50 points. In April, it stood at 50.1 points.
According to UOB Research, the deterioration in the US-China trade conflict at the beginning of May was likely to have contributed to the weaker PMI for the month. The research house also expects the outlook for manufacturing to worsen further should additional US tariffs be imposed on the remaining US$300 billion of Chinese exports to the US after the Group of 20 meeting at the end of this month.
While the official China manufacturing PMI fell into a contractionary mode, the Caixin China Manufacturing PMI remained unchanged from April at 50.2 points last month.
Interestingly, the Caixin manufacturing PMI showed the Chinese economy registering steady growth in May, with the manufacturing sector seeing local and overseas demand rising with prices holding steady.
Nevertheless, Dr Zhengsheng Zhong, director of macroeconomic analysis at CEBM Group, notes in the Caixin manufacturing PMI report that business confidence has weakened and manufacturers' inventory levels remained low.
"The trade tensions between the US and China are having an impact on confidence, and the best way to respond to this is to boost the confidence of enterprises, residents and capital markets by carrying out favourable reforms and to undertake timely adjustments to regulations and controls," says Zhong.
Meanwhile, the US Institute of Supply Management (ISM) manufacturing PMI fell to 52.1 points last month from 52.8 points in April. At 52.1 points, it is the lowest reading since October 2016.
"This is a stark signal that factory conditions are cooling in response to slower global growth and heightened economic uncertainty. However, both domestic and foreign orders showed some signs of a rebound, which should help stabilise a production slowdown. Orders are a leading indicator of production and employment. New orders and new export orders both firmed up, while production slipped," says Bloomberg Economics.
Nevertheless, economists at Bloomberg highlight that the ISM PMI data would have to drop closer to 43 points before it would signal a broader economic downturn. They expect the ISM PMI to fall further in the near term, given that many were caught off guard by the US decision to widen the trade war beyond China.
Just recently, US President Donald Trump said he would impose a blanket tariff on Mexican imports from June 10 in a bid to exert pressure on Mexico to tackle the issue of illegal immigration.
"Yet, assuming trade tensions do not escalate substantially, above-trend growth should remain possible this year. Conversely, if the Trump administration fully executes its threats on across-the-board tariffs on both Chinese and Mexican imports, the economic consequences would be sufficiently dire to warrant policy accommodation from the US Federal Reserve," adds Bloomberg Economics.
DBS Group Research forecast that the Fed would cut interest rates by 25 basis points in September and December. However, the research house believes the rate cuts would not accomplish much as the risks to the economic slowdown are not a result of a high cost of capital.
"Moreover, there is no link between tariffs and monetary policy. Furthermore, given the considerable rise in public and corporate debt burden over the past decade in the US, a tad lower interest rate payment won't act as a catalyst to pile on more leverage, in our view," it explains.
While the global manufacturing PMI slipped into a contraction, the Nikkei Asean Manufacturing PMI bucked the trend, showing an expansion from 50.4 points in April to 50.6 points for May.
Economist at IHS Markit David Owen comments in the PMI report that Asean manufacturing firms saw an established recovery in business conditions last month, building on the progress made after the downturn at the start of the year.
May showed the fastest increase in sales in nine months with strong growth in output. Owen adds that the PMI indicated that the Asean export market had improved and it remained broadly stable following an eight-month decline.
"However, given the impact of the US-China trade war last year, businesses will be downbeat on news of tariff increases in May. Export demand from China may be damaged once more, possibly leading to another period of decline in foreign sales. Luckily, domestic markets are holding up, offering hope of continued strength in new factory orders," he says.
Malaysia is one of two Asean countries that saw a worsening of the manufacturing PMI, declining further to 48.8 in May from 49.4 in April as external new orders contracted.
This comes at about the same time that Malaysia saw a slight recovery in its exports in April, at 1.1% year on year, from a contraction of 0.5% y-o-y in March. However, economists expect the relief to be short-lived and caution that the outlook for trade is uncertain at this juncture with the renewed trade tensions globally.
"We expect exports to slip in May as global trade policy uncertainties hurt demand and business sentiment. Malaysia's manufacturing PMI declined from 49.4 in April to 48.8 in May as external new orders contracted. While the output of the surveyed manufacturers remained high, the pipeline of new work was depleting, leading firms to remain cautious on hiring and capacity expansion.
"Manufacturing activity should remain subdued while the deepening trade dispute between the US and China presents downside risks to our 2019 GDP growth forecast of 4.7%," says CGS CIMB Research in its report.
While the global tension is growing with risk tilted towards the downside, Minister of Finance Lim Guan Eng issued a press statement last Friday highlighting that Malaysia has benefitted from the trade war through trade diversion and business relocation.
He adds that the country will likely benefit from investment diversion that arises from the reconfiguration of the global supply chain, pointing out that the increase in approved foreign direct investment to RM80.5 billion last year from RM54.4 billion in 2017 was a reflection of this.
That said, the finance minister hopes the trade war will end. "All parties should, instead, enhance cooperation at the regional and global levels to allow the global economy to grow sustainably."