This article first appeared in The Edge Malaysia Weekly, on February 24, 2020 - March 01, 2020.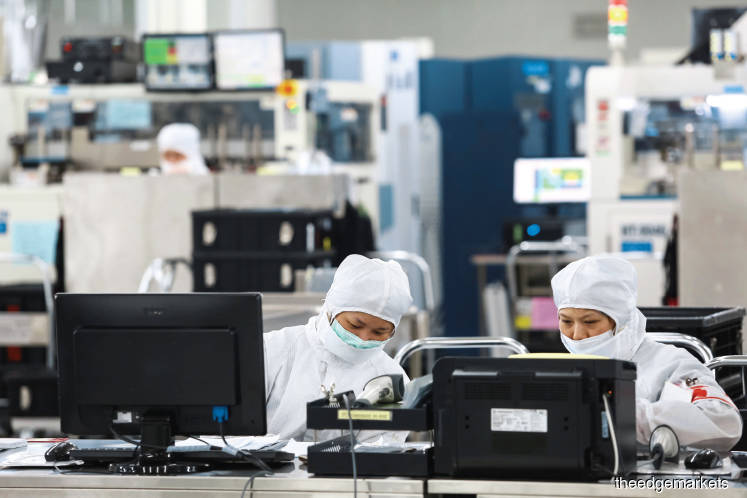 As China returned to work on Feb 10, it was hardly business as usual
Photo by Bloomberg
TO paraphrase a saying often used to refer to the US, when China sneezes, the rest of the world catches a cold. This is evident in the current coronavirus (Covid-19) outbreak, which has not only weakened demand but disrupted global supply chains as well.
Manufacturing companies that rely on Chinese output are now caught between a lean production schedule and keeping their cost down as many  offices and factories in China have been temporarily closed.
Malaysian manufacturers have not been spared. According to news reports, as China returned to work on Feb 10, it was hardly business as usual as provinces and cities were instructed to reopen at their own discretion.
And even though a significant share of China's manufacturing plants have resumed operations, many are operating at far below capacity due to labour shortages as many migrant workers are unable to return to work due to lockdowns in some cities and quarantines imposed on workers travelling across towns.
This is expected to cause supply chain disruptions, particularly in raw materials sourcing, assembly, test and shipping. This disruption is expected to impact two major sectors in Malaysia — technology and electronics manufacturing services (EMS).
Captains of industry The Edge spoke to warned that the global supply chain disruption caused by the virus outbreak could pose a bigger risk to businesses than that of the US-China trade war. However, they remain calm for now.
Tech sector
According to Amcham's Malaysian American Electronics Industry Committee chairman Datuk Seri Wong Siew Hai, Malaysian technology firms that source their components from China will be affected.
"Some may face bigger problems, depending on their inventory levels. If you have sufficient stock, then you can complete the product. The impact will be greater on those who do not have the inventory," he tells The Edge over the phone.
Wong adds that many EMS companies and contract manufacturers in Malaysia rely on suppliers in China for their parts.
"Even if one component does not arrive, you cannot complete the product unless you can find a replacement. But it is not as simple as that. To find a replacement, you need product qualification and that will take time. It is too risky. By the time you get the qualification, the supply chain would probably have returned to normal," he says.
Seeking new suppliers outside China is a natural move, but it is easier said than done.
Wong acknowledges that Malaysian companies should consider supplier base diversification outside China in the future, but he advises them not to rush into seeking new suppliers.
"Realistically, you still have to rely on China in the short to medium term. To me, the best is to wait. The demand is there, it is just a matter of how soon the Chinese can ramp up production. We have no choice but to brace ourselves during this period," he says.
In the long run, says Wong, Malaysia should encourage more China suppliers to set up plants here. "This is likely to solve the supply chain problem for us. This is an opportunity for us. This is an area that we should explore."
Looking at the multiplier effect of the supply chain disruption as a result of the Covid-19 outbreak, Wong believes this is a bigger concern than the US-China trade war.
"I do not know the financial analysis of the supply chain disruption and trade war. But, to me, not getting the product is definitely worse than paying more for it. If a company cannot deliver the product, the whole supply chain is affected. Companies plan for their businesses. If the supply chain is disrupted, they have to find ways to resolve their problems," he says.
Pentamaster Corp Bhd co-founder and chairman Chuah Choon Bin acknowledges that the group has encountered some delays from its suppliers in China and other countries.
"Even though not all of our parts and components are Chinese brands, most of them are made in China. Even if I buy the components from other countries, they also source the raw materials from China. The whole supply chain is affected," he says.
Penang-based Pentamaster is a high-technology firm specialising in providing factory automation equipment, as well as systems and information and communications technology solutions, to industrial and commercial customers.
It is learnt that more than 20% of Penta­master's components and parts directly and indirectly come from China.
"Over the past one month, certain parts and components that we want to buy have been affected. When we called the suppliers, there was no response. Some of them told us that they do not know when they can supply to us," says Chuah.
In fact, not only have Pentamaster's components been affected, its project delivery is also delayed.
"We sell machines to China. When the machines were sent there, we were not able to send our people to install and set them up. That affects our machine and project delivery. Some of our customers have asked us not to ship the machines to them now," says Chuah. "We have had some project discussions to finalise certain details but we cannot travel, so, a lot of sales cannot be closed. Shipping is also affected — the airlines, customs clearance — the disruption is wreaking havoc. We have to find alternative parts or alternative suppliers. If we cannot, we have no choice but to delay the shipment."
The company may have to change some designs and things will be getting more expensive if it were to source materials from South Korea, Taiwan and Japan, he says.
EMS sector
In a Feb 20 research report, AmInvestment Bank says EMS companies that partially import raw materials from China face materials sourcing risk.
VS Industry Bhd, which has operations in Malaysia, Indonesia and China, has said that it will be business as usual for its Malaysian segment. However, if the Covid-19 outbreak prolongs, there may be disruption to the supply of raw materials as the segment imports its raw materials from China.
ATA IMS Bhd, which imports one-third of its raw materials from China, says its inventory is sufficient up until mid-March. For now, the group has not seen any decline in orders from its key customer, nor disruption in production.
"We do not see the need to revise earnings for EMS players yet, as both players (VS Industry and ATA IMS) have enough inventory to last another month," says AmInvestment Bank.
Asked for comment, VS Industry managing director Datuk Gan Sem Yam tells The Edge that if the resumption of work in China were to be delayed again, the group would face a problem.
"The last thing we want to see is offices and factories in China temporarily shutting down again. If that does not happen, we should be able to see it through.
"China is still very strict. You have to make sure your workers are absolutely fit to work. If something happens in your factory, there will be serious consequences and you have to take responsibility for it," he says.
Johor-based VS Industry is one of the largest EMS providers in Asean, and among the top 50 in the world, with in-house printed circuit board and battery-pack assembly capabilities. The group also operates a factory in Zhuhai, China, via its Hong Kong-listed unit VS International Group Ltd.
"Our operations in China were halted for over two weeks. We have 1,000 employees there. Last week, 70% of our workers in the Zhuhai plant were back at work. We need another few weeks to return to full force. But, even then, we still need to make sure that we have enough raw materials, parts and components," says Gan.
VS Industry's operations in Malaysia might also be affected as about half of its components come from China.
"It does not make sense for us to seek other suppliers because they also source their raw materials, directly or indirectly, from China," Gan says.
He says the virus outbreak and supply chain disruption are causing businesses more problems than the US-China trade war. "Trade wars lead to trade diversion and we can seize opportunities from there. But when the supply chain is disrupted, everything is stuck."
Notion VTec Bhd executive chairman Thoo Chow Fah stresses that China is still the manufacturing hub of the world, especially for the electrical and electronics sector. Hence, the virus outbreak will affect imports and exports from China and delays in restoration of the supply chain.
"Our diversification of industries and customers has helped buffer this slowdown. Notion VTec does not import much from China so it is not much of a problem so far. Of course, if the outbreak becomes a pandemic, then the effects on the rest of the world will be serious. Hopefully, it is well contained and things will get back to normal in three months' time," he says.
Notion VTec is a precision parts manufacturer.
"Just like any crisis, the Covid-19 outbreak will surely pass. In comparison to a longer-term tariff hike, I think this is only a short-term disruption and the recovery will be faster," says Thoo.