This article first appeared in The Edge Malaysia Weekly, on April 29, 2019 - May 05, 2019.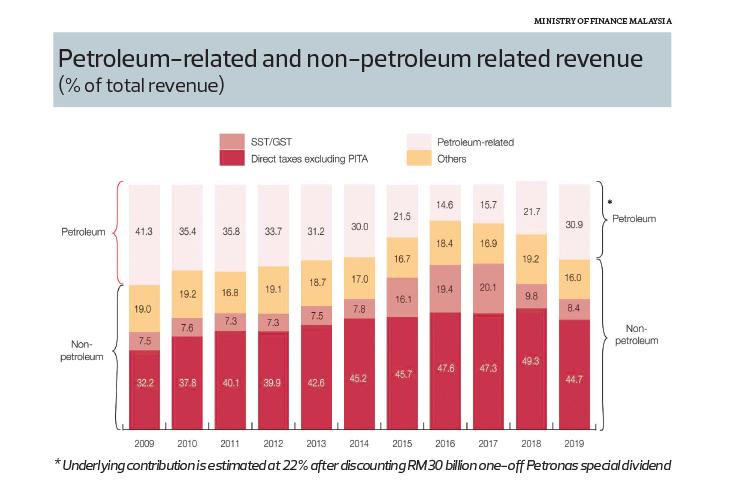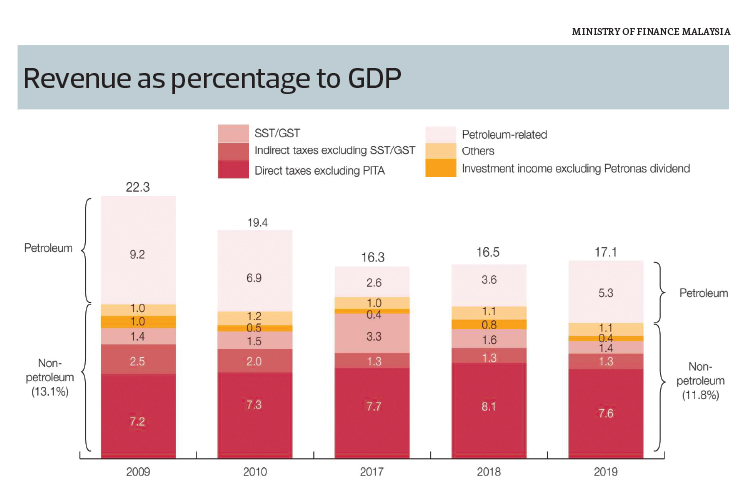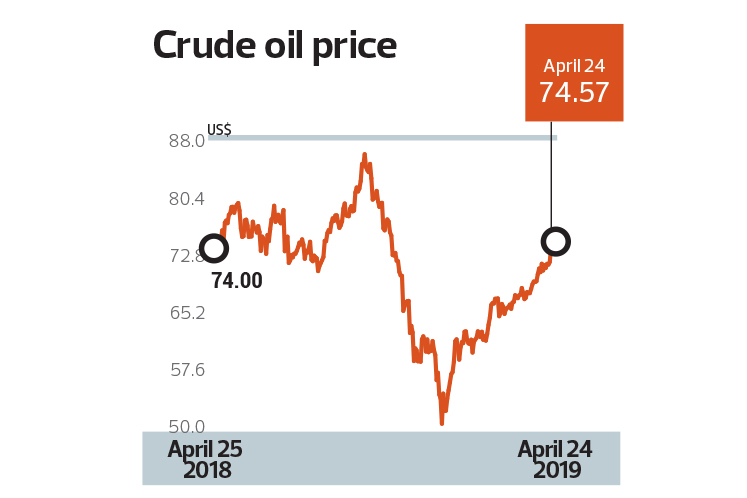 A recent Bloomberg TV interview with UBS Global Wealth Management regional chief investment officer (CIO) Kelvin Tay in Singapore clearly ruffled some feathers, judging by the rebuke from two members of parliament familiar with Malaysia's finances.
In a live interview on the equity outlook for the region, Tay wrongly said "current account deficit" when he was referring to Malaysia's 3.4% fiscal or budget deficit. He also mistakenly said Malaysia's gross domestic product (GDP) is more reliant on oil following the zero-­rating of the Goods and Services Tax (GST) when the right term should have been government revenue and not GDP.
UBS Singapore has since clarified that Tay had inadvertently used some wrong terms given the short duration of the interview. The wealth management firm added that it "remains positive on the long-term economic prospects in Malaysia", which is "a highly defensive market", but its current preference is for more cyclical markets in Asia such as China.
International Trade and Industry Deputy Minister Ong Kian Ming and Tony Pua, political secretary to the finance minister, both highlighted Malaysia's current account surplus in the country's balance of payments, particularly the strength of its exports over imports.
In fact, Malaysia has not had a deficit in its current account of the balance of payments for the last 21 years. A twin deficit situation, whereby both the fiscal and current accounts are in deficit, has not occurred in Malaysia for almost three decades.
In his statement, Pua noted that oil and gas (O&G) revenue as a percentage of the government's total revenue had been declining over the years, from a peak of 44% in 2008. While O&G revenue is expected to make up 30.9% of government revenue in 2019, its underlying contribution is estimated to be only 22% after discounting the one-off RM30 billion special dividend from Petroliam Nasional Bhd (Petronas), which will be used for GST and income tax refunds that were owed and not disclosed by the previous administration.
Yet, looking beyond the terminology mea culpa, it would seem that the point Tay was trying to drive home was that Malaysia's finances would have been less reliant on oil-related revenue if GST had not been replaced with the expanded sales and services tax (SST). In the interview, Tay also noted the possibility of Malaysia's fiscal deficit being higher than the projected 3.4% in 2019 should oil prices fall below US$70 a barrel. That, he said, could mean that the government would need to scale back expenditure to keep the fiscal deficit in check.
With Brent crude oil hovering at over US$70 a barrel since early April — from US$50-levels at the end of 2018 — there is no need to recalibrate Budget 2019, which was tabled last November and assumed average crude oil prices of US$73 per barrel.
With crude oil prices currently above US$70 per barrel, the risk of missing this year's budget deficit target of 3.4% of GDP is diminished, says Maybank Investment Bank Research chief economist Suhaimi Ilias.
"There is no substantive rise in government revenue dependence on oil. Excluding the one-off special dividend by Petronas, the ratio (oil-related revenue as a percentage of total government revenue) is about 20%, which is not a big jump from around 14% to 15% when GST was around," he says.
The GST was zero-rated on June 1, 2018, fulfilling one of the many election promises made by the Pakatan Harapan government when it came into power following Barisan Nasional's defeat in the 14th general election on May 9 last year.
According to Pua, every US$1 decline in crude prices will only have a RM300 million impact on government revenue. "Hence, even with US$10 decline, the overall revenue impact will only be RM3 billion," he wrote.
Socio-Economic Research Centre (SERC) executive director Lee Heng Guie, meanwhile, says even if oil prices were to slide below US$70 a barrel, there are other ways for Malaysia to keep its fiscal deficit in check without having to scale back necessary expenses.
"Besides the new initiatives, expenditure rationalisation and revenue enhancement measures in Budget 2019 that are estimated to raise RM4 billion to RM5 billion additional revenue, the unlocking of potential assets disposal would provide a buffer to the revenue shortfall," he says. Revenue measures mentioned in Budget 2019 include changes to Real Property Gains Tax and stamp duties, the Special Voluntary Disclosure Programme, a soda tax and departure levy.
Rather than scaling back public expenditure, Lee reckons that the government has consolidated and rationalised total expenditure to optimise resources and achieve expenditure efficiency for every ringgit of revenue collected.
"It must be noted that total development expenditure is budgeted to decline marginally by 0.5% to RM54.7 billion in 2019 from RM54.9 billion in 2018. All in all, the review of mega projects — LRT3, MRT2 and ECRL — have resulted in total cost savings of RM45.34 billion, which will help to reduce the stock of debt and lower debt service payment," Lee adds.
Given that the country would need time to adequately revamp the SST, which came into effect on Sept 1 to replace the GST, Mizuho Bank Singapore's head of economics and strategy Vishnu Varathan says that in the near term, greater oil reliance is an unavoidable fiscal necessity to buy time.
"[However] Malaysia has every opportunity to wean itself off this reliance. If oil reserves are created when oil prices overshoot [the] budget, then these reserves may be drawn down on bad years, when oil prices plunge or tax revenues fall short due to global recessions.
"And if this is done, then oil revenues could be a good thing, an enviable buffer, rather than a fiscal bugbear and crutch that stymies sustainable fiscal strategy," he says.
UOB Malaysia senior economist Julia Goh says that based on channel checks made, SST collection is expected to be higher at RM25 billion, which is above the projected RM21 billion.
"There is a pipeline of reforms. We think that the pace of execution and funding for projects could pick up going into the second half of the year. The revival of key projects, including East Coast Rail Link (ECRL) and Bandar Malaysia, is positive for markets. Also, the ECRL deal will help the government recover some funds.
"All in all, we think the fiscal deficit target of 3.4% of GDP is still achievable," she says.
Are there potential wildcards that could cause Malaysia to miss its fiscal deficit target then?
Brian Tan, a regional economist with Barclays Bank PLC in Singapore, opines that the risk to Malaysia's fiscal deficit target mainly stems from subsidy spending.
"This is especially if new measures are announced in the run-up to by-elections. That said, we think government revenues — which were likely estimated on the conservative side in the budget — can still accommodate this," he says.
Sunway University Business School professor of economics Dr Yeah Kim Leng says that achieving the fiscal deficit target will not be an issue if the economic growth momentum is sustained.
"Given that government spending goes into investments in infrastructure and social capital that can sustain growth, this will not be an issue. We have been having a fiscal deficit since 1998 [but] as long the government debt-to-gross domestic product ratio is capped at a sustainable level of 60% to 80% of GDP, we are not a tipping point of being overburdened by a debt level which is too high.
"Our total debt-to-GDP ratio, including all the government's liabilities, is at the high end of the optimal range of 80%. However, with the measures taken by the current government to spend prudently, we can expect good governance dividends in the form of gains in efficiency, gains in reduction of corruption and a better allocation of resources. These are the gains that will translate into higher economic growth because of a better administration of the country's finances. The international ratings agencies are hesitant to downgrade Malaysia because, in terms of public finances, whatever shortcomings and failings associated with the past administration have been corrected, with a restored trust in the integrity of the public sector," Yeah says.
There is no denying the uphill task the current administration is faced with: the need to balance the delivery of election promises, keeping debt and fiscal deficit levels in check while ensuring the economy continues to grow and Malaysia remains an attractive investment destination for local and foreign investors.
In his written rebuttal, Pua also addressed the "political paralysis" comment, noting that the new government "commands a comfortable majority in parliament, controlling 63% of seats in the lower house".
"The fact the Malaysian government has successfully renegotiated the cost of multiple large high-profile infrastructure projects down proves there is no paralysis and indeed, the government is pressing on with various institutional reforms it promised to the Malaysian electorate," he wrote.
"With the change in power, Malaysia has now received a fresh renewal impetus, with the government pushing hard for greater transparency, improved governance, reduced corruption and increased competition. These reforms are difficult, will create short-term headwinds and will take some time to demonstrate results. Nonetheless, the persistence of the new administration to carry out the reforms will certainly strengthen the country's fundamentals to create continued economic growth when the global economy recovers its steam."