This article first appeared in The Edge Malaysia Weekly, on July 16, 2018 - July 22, 2018.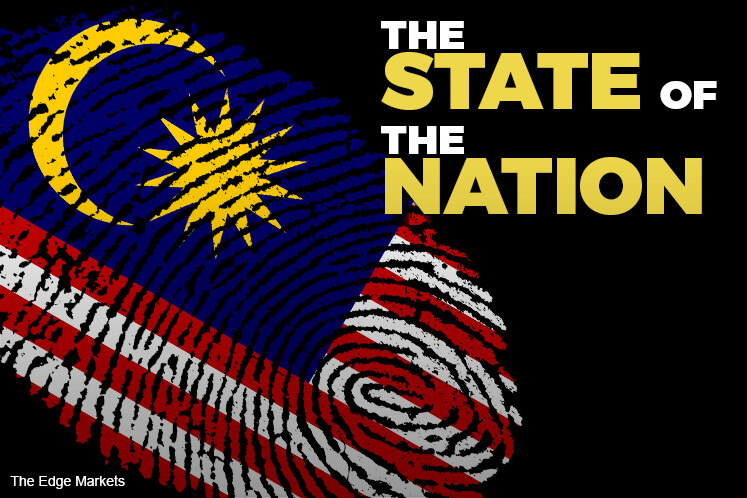 LAST week, Prime Minister Tun Dr Mahathir Mohamad announced that Cabinet ministers will have to declare their wealth, and that of their family members, and refuse expensive gifts. It was the latest move in the government's wave of proposed checks and balances to curb corruption, starting at the top.
Just days prior, the premier had said that corruption is so deeply entrenched in the civil service that clean public employees are difficult to find. So, does that mean that rooting them  out too aggressively may risk upending the civil service, necessitating a controlled pace?
Not really, says, Professor Terence Gomez, political economist at the University of Malaya. Clamping down on corruption was high on the agendas of the two prime ministers who took office after Mahathir stepped down in 2003.
"It's not like we have not done this before," he says, adding that it is also important to ensure that due process is observed.
That said, the acid test for this government's political will is whether it can push through sustainable reforms for the long term — which past governments have failed to achieve.
In the short term, the crucial starting points will be asset declaration and regulation of political financing, says Cynthia Gabriel, director of the Centre to Combat Cronyism and Corruption (C4).
Gabriel is also on the committee scrutinising the 1Malaysia Development Bhd scandal.
That is not to say that going after bad apples should not be a priority. But it should be done in tandem with structural reforms.
It is important to remember that not all civil servants are corrupt per se, says Gabriel, although she agrees that the rot runs deep.
But the system puts pressure on clean rank-and-file officials to eventually bend as they carry out orders from the top, she says. One problem is that the country has seen over 60 years of single-party rule, she adds.
"So, this is why we need to overhaul many things. Over the years, the quality of the public service has degraded quite significantly [because] there was no need to be accountable to the public, thanks to the Official Secrets Act, for example," says Gabriel.
That said, it is important to note that the scale of malfeasance has yet to be properly quantified, comments Gomez.
"It is big, but just how big? No one has attempted to tell us in a tangible manner what the scale is because the scale and scope may differ from ministry to ministry," he says.
The point is, that the activities that open the door to malfeasance — such as procurement, or via government-linked companies (GLCs), under different ministries — differ from ministry to ministry.
And that is in addition to the complexity of the subject of "corruption" itself, which manifests itself in many different forms, such as procurement practices, questionable processes to award contracts and abuse of power, to name a few.
And sometimes, these practices are made legal — though they are no less wrong from an ethical point of view — by the public policies of the day.
A particularly egregious example is the distribution of contracts for patronage purposes in the name of empowering specific ethnic groups, says Gomez.
With many layers to the overarching concept of corruption and many facets of its manifestation within the civil service, examining the issue requires care and a holistic perspective, the professor adds.
So, how do we ensure that we do not miss the forest for the trees?
"That is why structural reform is pretty essential. It might take longer, but that is what is needed to make sure that we never revert to the same methods that will set us off on the wrong path again," says Gabriel.
She adds that major reforms will benefit the country progressively by cutting wastage and leakages, among others, citing the annual Auditor-General's Report, which flags wastage of up to RM20 billion per year due to inefficiency and corruption.
Some of the obvious reforms have already been set in motion. For example, the Malaysian Anti-Corruption Commission and the attorney-general will report to parliament instead of the incumbent prime minister, as will the auditor-general.
This will grant greater autonomy to these institutions to prioritise the public interest without fear of repercussions.
"These institutions, as they are, seem to be doing their jobs and are fine. The problem previously [with these agencies] was selective prosecution? — the big fish were not arrested, for example," says Gomez.
Taking a broader perspective, however, it is a given that a complete overhaul of the current system and civil service will take a long time.
Gomez cites the example of the late Lee Kuan Yew, who pledged to clean up Singapore and tackle corruption when he came into power. While it was not an overnight process, Singapore eventually came to be known to be relatively clean, the professor adds.
"So it can be done, but you need the political will to do so. Lee did it by having zero tolerance [for corruption]," says Gomez.
That long road ahead adds urgency to spelling out a clear plan over 5 or 10 years at least, which would keep the momentum going regardless of future leadership and government changes.
It would be helpful to set out broad goals, by way of a destination, to avoid going off track on this journey. And there is no lack of suggestions.
For example, a coalition of civil society organisations called GIAT (Governance, Integrity, Accountability and Transparency) set out five demands to promote good governance.
Apart from C4, GIAT consists of the Institute for Democracy and Economic Affairs, the Sinar Project, Transparency International-Malaysia and Friends of Kota Damansara.
Among their demands are:
(i)     endorsement of legislation that safeguards the independence of institutions such as the MACC and Attorney-General's Chambers;
(ii)    enacting freedom of information laws and practising open data principles; and
(iii)     ensuring budget and expenditure transparency at all levels of government.
The demands include requiring all political parties to declare their incomes and expenses, as well as mandating that all Cabinet ministers and members of parliament declare their assets, which can be achieved faster and will also set the stage for further reform.
"It is encouraging that the prime minister has said that these will be a priority, but there is no timeline yet. And we are asking for the timeline," comments Gabriel.
Asset declaration should extend not only to the Cabinet ministers of the day, but also to their family members and other high-ranking civil servants such as the attorney-general, auditor-general and the MACC chief commissioner.
"All these have to declare their assets to ensure that they don't use their position to enrich themselves," says Gabriel.
Political financing also needs greater transparency and disclosure to avoid misuse of GLCs by politicians, who sometimes use them to fund political activities and even induce civil servants into impropriety.
Gomez concurs, adding that another dimension to that is political donations from private parties, about which "serious allegations" have arisen in the past.
"When there is private-sector funding of political parties, I would like to see more disclosure because the question is whether there is any quid pro quo involved," says Gomez.
Save by subscribing to us for your print and/or digital copy.
P/S: The Edge is also available on Apple's AppStore and Androids' Google Play.