This article first appeared in The Edge Malaysia Weekly, on April 23, 2018 - April 29, 2018.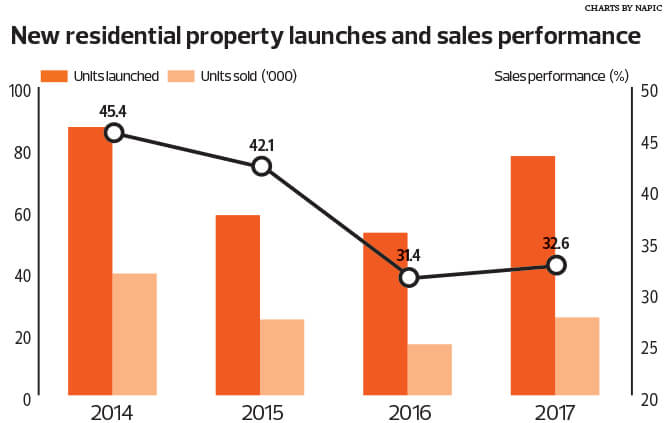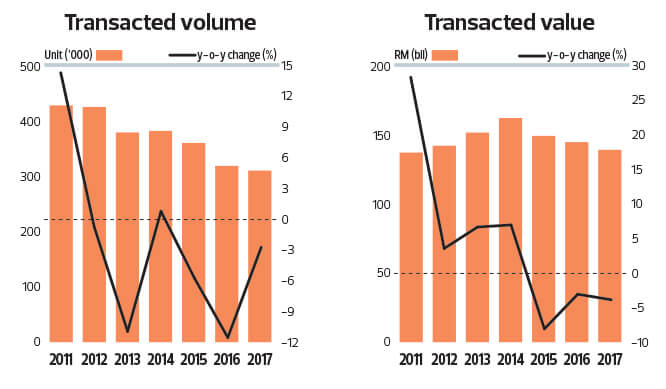 AFTER some tumultuous years, the Finance Ministry's report on the property market last year indicates that the bottom is, at the very least, in sight.
But signs of stress were also increasingly visible as property developers remained under heavy pressure to sell.
Overall property transactions fell for the third consecutive year in terms of volume and value. Volume, in particular, declined year on year for the fifth time in six years.
What caught the most attention is the spectacular increase in residential property overhang to an all-time high, amid a surge in new launches mostly in the second half of 2017.
"The increased number of new launches seemed to indicate an upside sentiment among developers. However, the buyers' sentiment did not move in tandem, as evidenced by the growing overhang," the ministry's report notes.
The overhang grew 67.2% to 24,738 units while value rose 82.8% to RM15.64 billion last year. Most of these properties were in Johor (17.7%), Penang (15.8%) and Kedah (15.3%).
Residential property overhang is defined as units unsold nine months after launch (excluding serviced apartments, small offices/home offices and similar properties).
To put the increase into perspective, in 2016, the residential property overhang grew sharply by 43.8% to 14,792 units and rose 70.7% in value to RM8.56 billion.
Last year, some 77,570 units were added as a result of new launches, far more than the 58,411 units in 2016 and 52,713 units in 2015.
From the new launches last year, 49,173 units or 63.39% came in the second half, according to data from the National Property Information Centre (NAPIC), a Finance Ministry unit.
"What I see here is that developers have held back and reviewed many of their launches," says Foo Gee Jen, managing director of consultancy CBRE | WTW, when contacted. "Now, the new launches are more towards affordable housing."
Despite the larger number of launches, the sales performance only improved marginally at 32.6%, compared with 31.4% in 2016.
Last year, the overall property market recorded 311,824 transactions worth RM139.84 billion, a year-on-year decline of 2.7% and 3.8% respectively, according to the ministry's Property Market Report 2017 released last week.
The residential property segment remains the mainstay of the market with a 62.4% share of transacted volume and 49% of transacted value.
Pressure to sell
The slower market decline and increased number of residential property launches could indicate that property players have come to grips with the new normal in the market.
However, it could also indicate that more developers are becoming desperate and forced to launch new projects to sustain sales and revenue.
"Selling inventory units is harder than selling new launches," one property analyst, requesting anonymity, tells The Edge. "It's still a cash flow game."
Findings from the latest twice-yearly survey conducted by the Real Estate and Housing Developers' Association reveals similar tell-tale signs. The Property Industry Survey 2H2017 and Market Outlook 2018 poll, released two weeks ago, notes that 55% of respondents plan to launch 27,583 units in total in 1H2018.
That is a sharp increase in launch volume compared with 9,089 units launched in 1H2017. In 2H2017, 15,082 units were launched, according to the survey's 200 respondents, who are located in Peninsular Malaysia.
Despite the big jump in planned launches in 1H2018, only 18% of the respondents expect to sell more than half of their units — an indication that market sentiment remains weak.
About 27% of respondents expect a sales performance of below 25% while the bulk or 65% expect a sales performance of between 25% and 50%.
The sales performance in 2H2017 was 45%, slightly lower than 1H2017's 48%, according to the survey.
Flat year seen
Still, the Finance Ministry's Valuation and Property Services Department (JPPH), which oversees NAPIC, sees a better 2018 for the broader market.
In his preface to the report, Second Finance Minister Datuk Seri Johari Abdul Ghani notes that despite the continued softening of the market, the rate of decline had improved from double-digit contractions seen in 2016.
The residential segment aside, other segments delivered a mixed performance last year. The transacted volume for the industrial, agriculture and development land segments showed marginal increases of 0.2% to 2.2% while commercial property transactions fell 6.7%.
As for transacted value, the commercial segment's tally dropped 29.2% y-o-y while the industrial and agriculture segments saw a 3.1% and 1.8% decline respectively.
"In terms of value, the development land [segment] recorded a higher 18.8% due to several major land deals, namely those in the Bandar Malaysia and TRX (Tun Razak Exchange) area, which [were] dated 2016 and 2015 respectively but concluded in 2017," the report says.
Nordin Daharom, the director-general of valuation and property services at JPPH, told reporters last week that while the property market remains soft, the situation is improving, as seen in the slower decline rate last year for both transaction volume and value.
"The take-up rate of new launches is improving [despite the overhang]. Therefore, the prospects for 2018 will be better than 2017," he said.
But how much better remains unclear. CBRE | WTW's Foo says the secondary market is now driving prices vis-à-vis new launches.
In some areas, home prices in the secondary market had fallen by as much as 6% over the past year, he says, and that "would impact the primary market".
"These days a developer would not give a top-grade finish all the way to cut costs and keep prices down. To me, this is driven by the secondary market.
"So, overall, I expect 2018 to be a flattish market — volume may pick up a little bit, driven by transactions of affordable housing and homes priced below RM500,000," he adds.
Save by subscribing to us for your print and/or digital copy.
P/S: The Edge is also available on Apple's AppStore and Androids' Google Play.