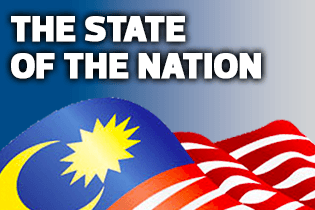 ONE cornerstone of the Malaysian economy has been its relatively robust unemployment rate that is able to weather economic down cycles. It lends support to the country's high household debt to gross domestic product (GDP) ratio of 87.9% as at end-2014, as well as private consumption, which has been a key driver of economic growth.
But the resilience of Malaysia's labour market relies heavily on the civil service, estimated to number 1.13 million. That works out to 4.7% of the population and approximately 8.3% of employment in the country.
Now, amid an already softening job market, the government has frozen hiring. The Public Service Commission (PSC) last week confirmed that the government is no longer recruiting with effect from April 22. In total, 15 agencies, including the police, army and education ministry, have been notified of the freeze.
The move in itself is not likely to exacerbate unemployment, which is expected to remain range-bound, but it will weigh on consumer confidence and private consumption.
Recall that the Malaysian Institute of Economic Research's Consumer Sentiments Index slumped to a six-year low of 72.6 points in the first quarter this year.
Although the freeze would help the government rein in its RM60 billion annual wage bill, it will have some ramifications for the Malaysian economy.
Firstly, it will add more pressure to an already soft job market. A recent survey by JobStreet.com of 950 human resources (HR) managers points to a decrease in hiring going ahead.
"The findings of the survey revealed that employers expect a downtrend in job growth. The majority of employers at 41% have made known that they will be hiring less for the second half of 2015, an alarming 27 percentage points increase compared with 14% in 2014," said the JobStreet.com report.
The JobStreet.com Employee Confidence Index (JECI) survey for April also showed a drop in confidence among candidates in securing a "decent" job in Malaysia, from 49 points last year to 43 points.
The fall in oil prices has already put pressure on one of the country's core sectors, oil and gas (O&G), which has begun to see retrenchment and wage cuts.
Last month, it was reported that Petronas Carigali had issued an internal memo asking its staff to take a 20% pay cut due to low oil prices. However, the report was denied by Petroliam Nasional Bhd (Petronas). "It is misreporting. There is no salary cut and retrenchment for Petronas staff," says chief executive Wan Zulkiflee Wan Ariffin.
However, sources say contract workers may have had to take a pay cut on renewal of their contracts. On top of that, contract workers in the industry say finding a job has become increasingly challenging.
Another company that is a good barometer of the country's labour market is Sime Darby Bhd since its core businesses include property, plantations and automotives. When asked if the group had put a hold on hiring, a Sime Darby spokesperson replied, "The group has not stopped recruitment this year despite the challenging operating environment. However, this is being done selectively based on the needs of our businesses while investments in ongoing talent development continue as it is an important part of our strategy."
"We are operating in a challenging environment currently. The cooling of the global economy and volatile commodity prices continue to impact our business. At the same time, we understand that we can only achieve our targets if we have the right people. Therefore, identifying, attracting and retaining the best talents that can bring value to our organisation continues to be an important part of our strategy," adds the spokesperson. The group employs 125,000 employees across 26 countries.
Elsewhere, large organisations, including Malaysian Airline System Bhd (MAS), are in the midst of trimming their headcount. MAS is cutting some 6,000 staff from its 20,000 strong workforce.
While MAS's layoffs were expected, it came as a surprise when Standard Chartered Bank earlier this year announced the shutdown of its equities business is Asia, resulting in 11% of its Malaysian workforce being laid off.
Against this backdrop, the unemployment rate has also been rising over the past four months, reaching 3.2% as of February. While this is the highest level in over a year, it is important to note that it is still considered full employment.
"We are facing the weakness in the employment market from a relatively sound footing in the sense that we are at a virtual full employment situation (defined as unemployment rate of around 3%) currently. Despite the prospects of a slowdown in recruitment envisaged, it is likely to be manageable. While it is not as robust as it used to be, we are still over-dependent on the imports of cheap foreign labour, where there is some degree of flexibility of policy if the need arises," says RHB Research Institute Sdn Bhd's executive-director cum chairman Lim Chee Sing.
Barring a sharp recession, several economists surveyed by The Edge say they expect the labour market to stay at full unemployment for the foreseeable future.
Full employment does not mean that there is no unemployment. Instead, it refers to a range of unemployment above zero that primarily results from frictional unemployment — people who are in between jobs.
According to the Department of Statistics, there were about 454,000 people who were actively looking for jobs as at February.
Notably, the job market can be roughly broken into three categories. Recent surveys conducted by recruitment experts like Hays and Robert Walters show that skilled professionals at the middle to top end of the job market should have little trouble securing jobs as there was still a big shortage for talent at that level.
On the low-income end of the spectrum, there is no shortage of employment either. A brisk walk around a few shopping malls show that there are still many vacancies to be filled, albeit ones that pay only minimum wage or slightly more.
The real problem lies somewhere in the middle to low end, involving entry-level jobs and semi-skilled work. Fresh graduates, in particular, might find it more challenging to get a job.
"Yes, I do see unemployment rising, particularly youth unemployment, given the mismatch of skills required and a general slowdown in the economy and the employment market," says Lim.
"Youth unemployment is always a concern in countries around the world, as it tends to be significantly higher than average unemployment rates. At present, youth unemploment in Malaysia is around 10.4%, three times higher than the average," notes Rajiv Biswas, Asia-Pacific chief economist for IHS.
That said, economists aren't concerned that the rising unemployment will weigh on the high levels of household debt and lead to an increase in bad loans.
"It doesn't worry me that much despite the high household debt as long as the country doesn't suffer a crisis of some sort or a significant economic downturn akin to a recession. As long as there is no massive retrenchment of labour, there should be continuous inflow of income streams to the households to service the debt," says Lim.
He points out that the high household debt and the slowdown in the employment market will affect the urban poor more significantly. Nonetheless, a significant segment of the middle income households incurring high debt levels is the civil servants whose jobs are relatively secured.
Perhaps the real threat from a softer job market is the impact it would have on already weak consumer confidence and slowing private consumption. When people are less confident that they can change jobs or find jobs, they tend to spend less. Weaker spending, in turn, puts pressure on businesses to scale back or to cut costs, which can affect hiring.
Keep in mind that private consumption makes up 48.8% or almost half of the nation's GDP.
"Overall, we do expect real private consumer spending growth to slow down to around 5.2% this year, from +7.1% recorded in 2014. This is on account of the fall in consumer sentiment, the weakness envisaged in the employment market, low commodity prices (crude palm oil and rubber) affecting rural household incomes, higher prices of goods and services from the implementation of the GST (Goods and Services Tax) as well as uncertainty and adjustment to the consumption pattern arising from the implementation of the GST," explains Lim.
However, Lim points out that consumer spending is still unlikely to "fall off the cliff" as long as the employment market remains stable.
"The relatively resilient consumer spending is partly supported by the young demographics of the population and the high national savings rate (30.9% of gross national income [GNI] in 2014, though envisaged to moderate to 29.8% of GNI in 2015)," he explains.
That said, economists are already forecasting slower growth in the economy this year, with consensus ranging from 4.5% to 5% this year while Bank Negara Malaysia estimates growth will range from 4.5% to 5.5%.
Nonetheless, Lim warns, "Growth could come in at the lower end of the range if consumers were to overreact post the implementation of the GST, dragging down business growth prospects."
In summary, it makes good fiscal sense for the government to manage its bloated civil service to reduce operational expenditure. However, the timing — with consumer sentiment plunging to a six-year low — may not be right.
This article first appeared in The Edge Malaysia Weekly, on May 11 - 17, 2015.