This article first appeared in The Edge Malaysia Weekly, on November 25, 2019 - December 01, 2019.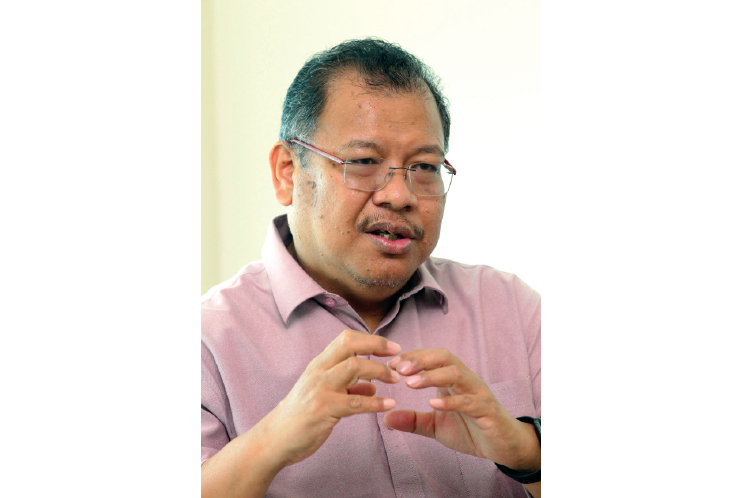 Azlan: If Malaysia wants to be developed and advanced, we have to demonstrate our ability to produce complex products. Photo by Kenny Yap/The Edge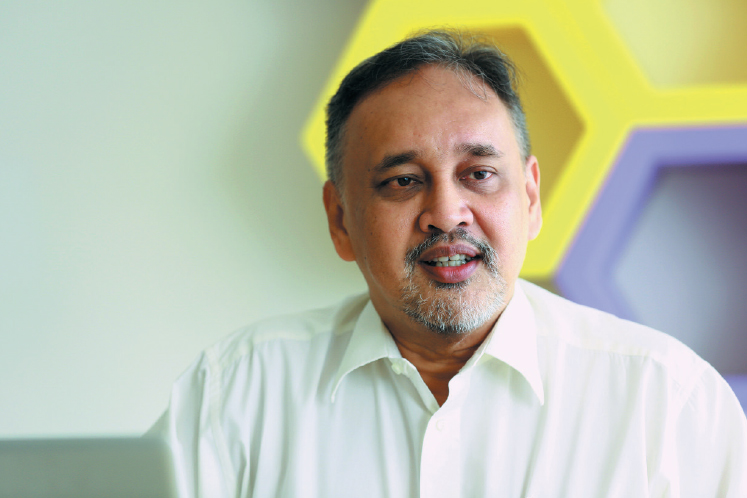 Huzaime: We have to stick to the fundamentals, that is, develop the nation and realise the importance of industrial sequencing. Photo by Sam Fong/The Edge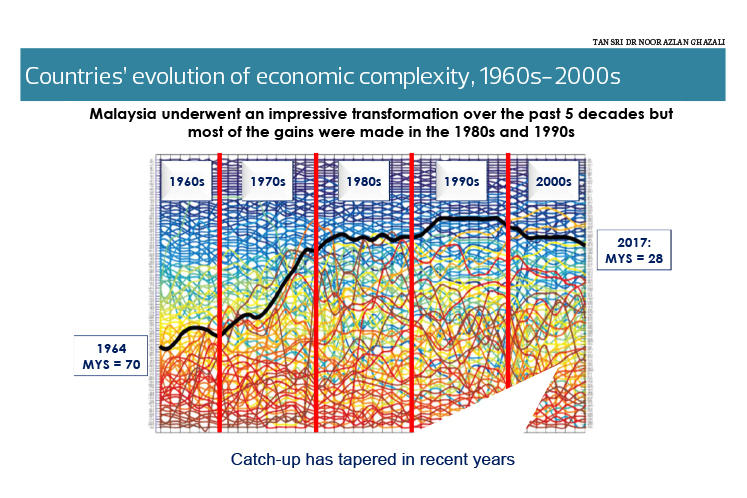 MALAYSIA's expected per capita income of RM47,155 — equivalent to US$11,301 (based on today's exchange rate) — by 2020 is still below the high-income threshold of US$12,375 as defined by the World Bank.
This is not new. Bank Negara Malaysia had said in a report in March last year that the country's level of economic complexity was "insufficient to propel the economy to sustainably achieve high-income status by 2020".
The report noted that Malaysia's economic complexity index (ECI) was +0.82 in 2016, the 29th-most complex economy in the world. It had improved from +0.39 in 1996, reflecting Malaysia's ability to produce more varied and complex goods over time.
However, the Atlas of Economic Complexity (AEC) says Malaysia's ECI ranking has worsened from a decade ago. The country's ECI of +0.95 in 2017 was ranked 28th compared with 26th in 2007 with a score of +0.96.
"Malaysia's worsening complexity has occurred in spite of the increasing diversification of its exports, as the country has diversified into lower complexity products. Moving forward, Malaysia is positioned to take advantage of many opportunities to diversify its production using its existing know-how," AEC says.
What is economic complexity?
The AEC explains that it is a measure of the knowledge in a society as expressed in the products it makes. This is calculated based on the diversity of exports a country produces and their ubiquity, or the number of countries able to produce them.
"Countries that are able to sustain a diverse range of productive know-how, including sophisticated, unique know-how, are found to be able to produce a wide diversity of goods, including complex products that few other countries can make," its website says.
The ECI was developed by Cesar A Hidalgo of the MIT Media Lab and Ricardo Hausmann of Harvard University's Kennedy School of Government. The AEC is part of Harvard's Growth Lab, which is led by Hausmann.
Both Hidalgo and Hausmann use the analogies of Lego bricks or monkeys to explain economic complexity.
A country's capabilities is represented by a bucket of Legos and the Lego model that it makes are the products it produces. Imagine that a child's ability to create a model is dependent on the bricks he has. The more variety he has in his bucket, the more diverse his models.
"What's hidden in the bucket are the capabilities. A country can do this because of all the blocks in the bucket. A country that can only produce one model has only a few blocks," says Universiti Kebangsaan Malaysia economics professor Tan Sri Dr Noor Azlan Ghazali, who studied under Housemann at Harvard.
"Housemann, Hidalgo and other scholars say that if we know what the country exports, we can tell what their capabilities and complexities are. That's the logic of complexity," he adds.
According to the scholars, a country's economic growth and income levels are related to the complexity of its economy. "Complexity is a very important variable in telling how far a country can go," Azlan says.
The concept of complexity also distinguishes a country's capability from its natural resources.
"The gamma knife … only three countries can produce it but also, only three countries can produce diamonds. They try to differentiate complexity from pure natural endowment or geographical position. That's not the complexity they are looking at," Azlan explains.
The scholars also showed that countries that are diversified are rare while poor countries that are not diversified are common and not unique.
Malaysia aspires to be a developed and advanced nation. The challenge is, do we have that complexity?
"We did a lot of catching up in the 1980s but we seem to be stagnant (see chart). Our complexity is relatively high but can we progress more? We declined a little, not drastically, but this is not a good sign. Maybe others caught up or we stopped innovating," says Azlan, adding that Malaysia understands the need to innovate but the challenge is in making it happen.
"Knowing is one thing but doing is another. If Malaysia wants to be developed and advanced, we have to demonstrate our ability to produce complex products," he says.
This is where the analogy of the monkeys come in. Hausmann referred to products as trees and firms as monkeys. Meanwhile, the forest they exist in comprise rich and poor sections. Are they able to move to the rich parts? Where the forest is dense, it is easier for the monkeys to jump.
"Imagine very fit monkeys, which can survive longer, or monkeys in the Amazon, all living in dense forests. Is Malaysia a dense forest? From the product space map (see box), Malaysia has yet to come to that dense forest. We need a strategy," Azlan says.
He points to the furniture sector in Johor as an example. Where furniture makers worry about the supply of wood, Azlan says they should instead focus on their capabilities in designing furniture.
"I won't be worried about no more wood coming in. I'll ask, what else can I design? This is the case for Finland, where there are no more trees. The question they asked, what else to be cut? They went into cutting metals, precision cutting … diamonds. These are capabilities-based. Your capability is not to look into raw materials. Yes, it does influence but it does not influence everything," he explains.
Another example is Switzerland, which is famous for watches, chocolates and banking, yet all three are not related.
"They don't even have cocoa but capabilities-wise, they are all [about] precision. From the product space logic, their capabilities are precision," says Azlan, adding that when Malaysia went into the automotive sector, many looked at a car as just a car. In fact, making a car opens up other avenues, such as production of parts.
"Product growth is not linear. Value add is linear. But this is a network or ring approach. It goes around you, because they are connected by capabilities. This is the interesting thing about economic complexity," Azlan explains.
He believes that ECI and the product space should be used as a guide to map a country's economic development map.
Referring to the analogy of the monkeys again, Azlan says the government plays a role in helping them to jump — that is, help firms to grow.
"The government should facilitate firms to evolve, it should not dictate [that] firms go into more complex, high-value products. The government in this era shouldn't dictate — you kill that spirit of innovation. You want the private sector to learn to make decisions and not to be dependent. The government [should] say, 'We want you to do more complex products', [and] let them explore," he explains.
In facilitating firms to develop complexity, the government — through the Ministry of International Trade and Industry, the Malaysian Investment Development Authority and other agencies — should provide the platform for companies to meet and connect, with the hope of establishing collaborations.
'Stick to fundamentals'
Huzaime Hamid, chairman & CEO of Ingenium Advisors Sdn Bhd, has a slightly different view. Countries should not dictate development according to an index (the ECI) and should stick to their fundamentals, he says. Nevertheless, he asserts that Malaysia got its industrialisation wrong.
"There's a lot of research showing that going into the global supply chain at best is a starter for a country to get into industrialisation but it cannot be the main thrust. There is extremely little ability for that part of the industrialisation base to move up the technology or value-added ladder — for technology transfer, for switching export markets to exploit opportunities and to create new final products," he says.
Huzaime points to the industrialisation journeys of Japan, South Korea, Germany, the US and China as examples to be emulated. China, which did not become the factory of the world by accident, adopted the proper sequence to develop its industries from developing to developed status.
China started its industrialisation with the iron smelters and blast furnaces as early as 200 BC. They were the first people to use steel for military purposes, when the world was using much-weaker bronze.
It failed many times in its industrialisation drives — for instance, during the Great Leap Forward — before it refocused on steel and heavy industries after the Cultural Revolution and then opened up its economy in the 1980s. It then focused on light industries to allow it to "catch up" while its heavy industries consolidated. After several years, it then shifted to heavy industries again and now controls the manufacture of various products. Then, it moved into the higher end of industrial manufacturing in the Made in China 2025 master plan that focuses on the very top end of products technology-wise, Huzaime explains.
"The emphasis at the end of the day is on a country's final products. This captures the entire value chain and sales fund research and development and innovation. Economic complexity, in as far as it was defined, is one of distribution of the products; if a country's products aren't competitive, how can it sell everywhere?" he adds.
"We have to stick to fundamentals, that is, develop the nation and realise the importance of industrial sequencing. If we don't, if we stay the way we are, [you will have the] middle-income trap, circling round and round and using up our resources until we can't do anything anymore," Huzaime says, citing Argentina.
At the end of World War 2, agriculture-based Argentina, though rich, failed to industrialise. When commodity prices fell after the war, it borrowed heavily to maintain living standards and government spending.
"The end result is a country trapped in a vicious destructive cycle," says Huzaime, who is also an exco member of the Malaysian Economic Association.
As to what should be done to direct the economy to the high-income path in the immediate term, he says, firstly, change the industrialisation focus to championing Malaysian final products and brands. Secondly, make it a government initiative, via government-linked companies, to support the products as buyers. Thirdly, offer financial aid to small companies and start-ups, and lastly, introduce government-led R&D.
For Azlan, the most important factor remains the people. "I think the bottom line is the people you have in the country. Knowledge is important but beyond knowledge, do the people have the entrepreneurial DNA or the DNA for trying new things? Is our society an innovative one? A society that takes risk? Are Malaysians risk-averse, are we easily complacent or always thirsty to try new things?"
Answering his own questions, he laments that Malaysians are risk-averse and schools do not encourage children to be innovative or try new things.
"It's above the education system. A country that's complex has these characteristics [innovative, risk taking, and so on]," he says.
Nevertheless, Azlan is hopeful that Malaysia will be able to become a high-income nation. "While Malaysia is not positioned at the high end of the scale in complexity, it remains in a class that, by logic, is equipped to achieve this aspiration."