This article first appeared in The Edge Malaysia Weekly, on April 5, 2021 - April 11, 2021.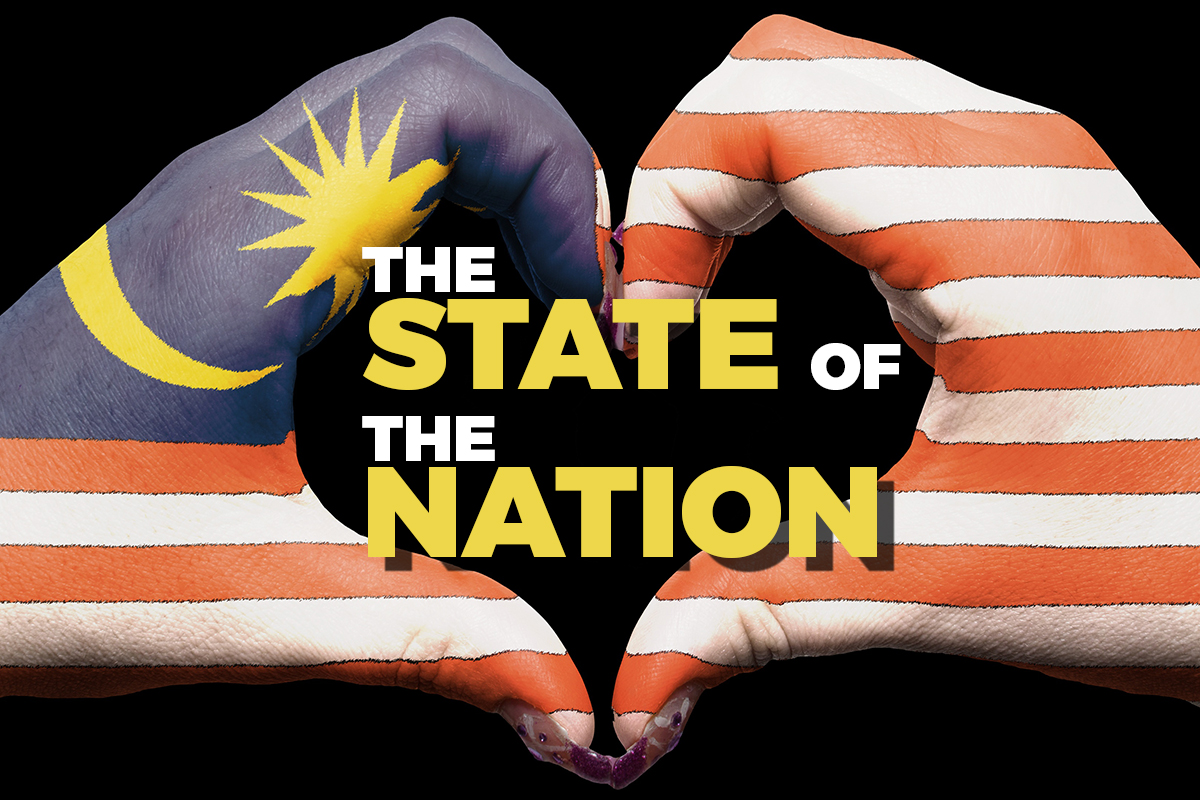 MALAYSIA's central bank anticipates the economy to improve significantly this year after gross domestic product contracted 5.6% last year, but governor Datuk Nor Shamsiah Mohd Yunus has cautioned that recovery will be gradual and uneven across economic sectors, and that speed bumps can be expected.
However, Bank Negara Malaysia's projected GDP growth of 6% to 7.5% for the year is more optimistic than that of most economists, who point to the pace of vaccination against the Covid-19 virus and political uncertainties at home as key factors that could affect the realisation of targets.
Shamsiah expects a pickup in demand for Malaysian exports and investment activity but does not expect the road ahead to be smooth. In Bank Negara's Economic and Monetary Review 2020 report, she says, "Of immediate concern is the unpredictable course of the pandemic globally and domestically. We cannot rule out the risk of Covid-19 becoming persistent and the country having to withstand the pandemic longer than expected. This is subject to how quickly Malaysia can achieve herd immunity and how the virus evolves."
Other downside risks to Bank Negara's growth forecasts include potential challenges affecting the rollout of the Covid-19 vaccines, both domestically and globally, further containment measures owing to rising Covid-19 cases, commodity supply shocks and greater financial market volatility.
Nevertheless, the central bank expects the economy to return to its 2019 pre-pandemic levels in the middle of the year, driven by a rebound in global growth and strong recovery for Malaysia's exports, particularly the electrical and electronics sector on the back of the technology upcycle.
"Other key drivers of growth are a gradual improvement in labour market conditions, which will provide support for private consumption, improving consumer sentiment from the vaccine rollout and continued policy support for vulnerable households.
"Investment activity is also expected to pick up following the lift in movement restrictions, as well as favourable external demand conditions, with progress anticipated in multi-year infrastructure projects such as the ECRL (East Coast Rail Link), MRT2, LRT3 and Pan Borneo Highway," says Shamsiah.
Economists contacted by The Edge are more cautious. The Socio-Economic Research Centre (SERC), the think tank of the Associated Chinese Chambers of Commerce and Industry of Malaysia, is maintaining its growth forecast of 4% to 6% this year, amid continued economic scarring from the movement restrictions and interstate travel ban.
"We will revisit our estimates after the release of 2021's 1Q GDP in May. The ongoing national immunisation programme holds the key to lift a sustained revival in consumer sentiment.
"Some travel- and tourism-related sub-services sectors would recover gradually and may take a longer while to fully restore their growth traction, depending on a complete lifting of inter[state] travel restrictions and the reopening of Malaysia's international borders to travellers and tourists," says SERC executive director Lee Heng Guie.
Bank Islam Malaysia Bhd chief economist Dr Mohd Afzanizam Abdul Rashid believes growth of 5% to 5.5% this year is more realistic at this juncture, as the situation remains highly fluid.
"In all honesty, the [level of] economic uncertainties remains fairly high and the nature of the shocks is also vastly different from the previous crises such as the Asian financial crisis and the global financial crisis. Hence, the recovery process may not necessarily follow the same patterns as in the past.
"This could be why the government has been quick to provide fiscal stimulus packages and, similarly, the central bank has been committed to ensuring that monetary policy remains accommodative to facilitate the recovery process," he observes.
To achieve the higher end of Bank Negara's forecast growth range, the virus risk will need to be reduced substantially in the second half of the year for pent-up consumer demand and business activities to be released and for unemployment, income and wage levels to reach pre-pandemic levels, says Sunway University Business School economics professor Dr Yeah Kim Leng.
"With political uncertainties likely to hold back private investment and herd immunity vaccination coverage to be achieved only towards the year-end, a 5% to 6% growth this year would be considered decent and commendable," he says.
Higher inflation will not trigger monetary policy response
Nevertheless, where monetary policy is concerned, economists are in agreement that Bank Negara is likely to remain pat on the overnight policy rate this year at 1.75%, despite higher headline inflation projections of 2.5% to 4% this year. This would be considerably higher than last year's headline inflation of -1.2%.
In a media conference in conjunction with the release of Bank Negara's 2020 annual report, Shamsiah says the forecast for higher inflation is a reflection of an increase in projected global oil prices, and the lapse in the effect of the tiered electricity tariff rebates that was introduced last year. "We do expect headline inflation to rise further in March and [it] will temporarily spike above 5% in the second quarter [owing to a lower base effect as a result of lower petrol prices last year]. This is of course contingent upon RON95 petrol prices remaining capped at RM2.05 per litre. The spike is temporary and headline inflation is expected to moderate thereafter.
"Whether this warrants a monetary policy response, I will reiterate it does not. As this increase reflects supply-driven inflation and as long as there are no second-round effects, our current assessments find that wage pressures are not excessive, longer-term inflation expectations are anchored and underlying inflation is subdued amid continued spare capacity in the economy."
Afzanizam says the central bank may want to keep the benchmark rate unchanged this year given its upbeat assessment on economic recovery.
"I agree with Bank Negara's assessment that the prevailing inflation rate is driven by fuel and not so much by demand factors. Therefore, raising the OPR to quell inflationary pressures may not be the right way to address the problem," he says.
Household debt-to-GDP ratio at new high of 93.3%
According to Bank Negara's report, Malaysia's household debt-to-GDP ratio surged to a new peak of 93.3% as at December 2020 from a previous high of 87.5% in June 2020.
The increase was mainly because, even though growth in the nation's household debt had normalised to pre-pandemic levels in the second half of 2020 (2H2020), GDP remained below pre-Covid-19 levels.
Bank Negara notes that concern over high household debt may lead to rapid deleveraging by households in the aftermath of a crisis, thus dampening or derailing economic recovery.
While aggregate household debt is at an elevated level, the majority of households have the capacity to service their debts, according to Bank Negara deputy governor Datuk Abdul Rasheed Ghaffour.
"In fact, many had already started to do [so] towards the end of last year, with more than 90% resuming payments. In fact, this is why we took measures well before the pandemic crisis, about 10 years ago, to enforce responsible lending standards.
"Because of these standards, there are fewer households with debts that they cannot afford. The overall median debt service ratio for outstanding and newly approved loans was 35% and 43% respectively, which is within prudent limits," he said at the media conference.
Sunway's Yeah is not as comfortable with the rising indebtedness as he believes the current level of household debt raises a red flag on the increased vulnerability of households to future economic shocks such as another Covid-19-like downturn or a hike in interest rate or unemployment.
"The bulk of the household indebtedness is contributed by mortgage and vehicle loans, which are reflective of rising population and income as well as the increase in working age population. Moreover, the bulk of private consumption is driven by the T20 and M40 income groups, thereby reducing the risk of private consumption being derailed by a high debt level.
"Nonetheless, debt-driven consumption is not sustainable. We need spending to be driven by rising income and not borrowings or drawdown on savings such as the EPF (Employees Provident Fund) funds," he says.
Unemployment and labour market reforms
Unemployment hit a 30-year high of 4.5% in 2020 and Shamsiah says the labour market remains an area that the central bank continues to monitor very carefully. "The pandemic has left a very real and negative impact on people's jobs and incomes. We expect a temporary weakening of labour market conditions in the first quarter due to the restrictions imposed following MCO (Movement Control Order) 2.0.
"Nevertheless, we project a gradual labour market recovery from 2H2021, in line with the improvement in economic activity. While both unemployment and underemployment are expected to increase marginally in the first quarter of this year, they will gradually decline towards the end of the year," she says.
An active labour market policy will need to be front and centre as the economy recovers, says SERC's Lee. "Policymakers will need [to focus on] getting unemployed workers, or [those] whose jobs have become permanently unviable, not only re-employed but also to be placed in the right jobs.
"At the same time, priority should be given to reskilling and upskilling efforts as well as the improvement of productivity through skill sets and vocational training. Other priorities include improving labour efficiency, enhancing access to quality education and training and fostering stronger industry-academia ties."
The right mix
On the whole, Bank Negara says the right mix of monetary, financial and fiscal policies is needed to ensure overall effectiveness in securing sustainable economic recovery.
"This includes the use of more targeted and sector-specific measures. The [central] bank will continue to utilise all its policy levers, as deemed necessary, to foster enabling conditions for the purpose of ensuring continued financial intermediation.
"Coherent structural policies will also be crucial to enable Malaysia to emerge stronger from the pandemic with an innovation-led growth, a resilient workforce, as well as an enhanced social protection framework for those in need," says Bank Negara.