This article first appeared in The Edge Malaysia Weekly, on February 4, 2019 - February 10, 2019.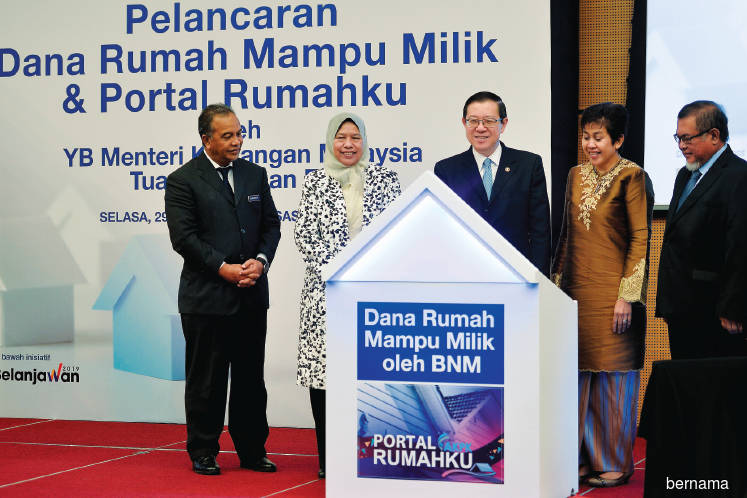 Data is essential to avoid mismatch between supply and demand says housing ministry
FOR many aspiring homeowners, last year may have felt like 2013 all over again. There was a general election, homes were (and still are) relatively unaffordable, and the government promised to build one million affordable houses.
The plan — officially affirmed by the National Housing Policy 2018-2025 (DRN) — was launched on Jan 28, and the one million target set out by the National Affordable Housing Council (or MPMMN) in early January.
To be fair, there are some differences. For example, the previous government set an ambitious five-year deadline to deliver all those homes while the current government has set a 10-year timeline.
But the key challenges in the way of a successful delivery remain the same. And the emerging risk is that the new plan may stumble in much the same way as its predecessor did.
To illustrate, the previous government's affordable housing initiatives such as the 1Malaysia People's Housing Programme (PR1MA) and Federal Territories' Affordable Housing Project (Rumawip) largely failed because take-up rates were low.
When asked the question, Housing and Local Government Minister Zuraida Kamaruddin said the hurdles in delivering one million homes are currently being identified and researched. She also indicated that data would be key to a successful delivery.
In a brief email response, she said Malaysia lacks a complete database with granular household information, such as income levels by location and other data, that is relevant to housing supply and demand.
Such data, she said, is essential to understand the demand and supply by area "to avoid a mismatch between supply and demand".
"Therefore, the ministry has established a Housing Integrated Data System, which will help the ministry identify the demand for and supply of affordable housing nationwide," said Zuraida, adding that the MPMMN had agreed to the proposal.
However, the ministry was vague when asked which execution model it plans to adopt. For example, PR1MA partnered private developers to build homes targeting the middle-income segment.
Zuraida simply says that her ministry proposes to set up a committee to monitor affordable housing initiatives. The committee will involve the federal housing ministry and the federal government as well as private developers.
"These periodic coordination meetings, involving the federal ministry, federal government and private developers, will coordinate comprehensive and transparent data collection to formulate policies and plans for public and affordable housing development and help identify the number of home units that can be built annually for the next 10 years to meet the needs of the B40 and M40 target groups," Zuraida said.
 
Execution is key
Getting the execution model right will likely make or break the drive to build one million affordable homes, observers said. It is unclear whether the figure incorporates units already being built under the previous government's initiatives.
Looking at past experience, the risk of getting it wrong is worsening the glut of unaffordable houses in the property market.
From that perspective, it may be wiser to leave supply to market forces, said economist Dr Carmelo Ferlito, who is senior fellow at the Institute for Democracy and Economic Affairs (Ideas).
"Even entrepreneurs [developers] can make mistakes, what more central planners," Ferlito said by telephone, adding that if the government proceeds, the figure of one million should not be a hard target.
"Current data does not tell you anything about the future", so, making room for adjustments as new data unfolds is important, he adds.
Looking at official data, it is clear that the supply-demand mismatch has remained over the past three to four years, despite a visible supply shift towards the affordable segment.
That mismatch led to the residential property overhang — defined as units unsold nine months after launch — surging 67.2% year on year to 24,738. The total value of overhang homes jumped 82.8% to RM15.64 billion, according to official statistics from the National Property Information Centre (Napic), a unit of the Ministry of Finance.
A substantial chunk of those units would likely be from government affordable housing projects that failed to gain significant buying traction.
PR1MA is an oft-cited example. Its mandate was to build 500,000 affordable homes in five years since its establishment in 2013, or half the total promised by the government at the time.
PR1MA defines affordable homes as those priced from RM100,000 to RM400,000 and targets Malaysian households earning RM2,500 to RM15,000 per month.
However, PR1MA struggled to get cheap land as it was not given government land to work with. That meant prices were generally confined to the higher end of the range, pricing out much of the targeted demographic.
As at March 31 last year, PR1MA had approved 268,537 homes for development with 138,734 units at various stages of construction, it says on its website.
However, only 16,000 units had been sold as at that date. That represents an 11.5% take-up rate.
Similarly, Rumawip sold relatively poorly, data indicates. Napic's 2017 report says high-rise homes from Rumawip projects and the 1Malaysia Civil Servant Housing Scheme (PPA1M) accounted for nearly all of Kuala Lumpur's 22,112 new home launches that year.
For perspective, that amounted to 28.36% of new home launches nationwide. According to Napic, 25.9% of the 22,112 homes were priced between RM250,000 and RM300,000 while another 26% were priced from RM400,000 to RM500,000.
Despite the pricing, Napic observed only one in five new homes in Kuala Lumpur were sold in 2017.
As such, if it is poorly implemented, any affordable housing initiative will only make things worse for the property sector.
 
Location, pricing critical
So, what went wrong previously? One issue was poor location, said CBRE | WTW managing director Foo Gee Jen, who added that some project locations were unattractive to aspiring homeowners.
"There was no systematic assessment as to the viability and the suitability of the site," Foo told The Edge, adding that to get this aspect right "there should not be any (political) interference".
It would likely be a critical challenge for the federal government as land matters fall under the state government's jurisdiction.
The federal government has said that the one million affordable homes target will include utilisation of wakaf land. However, it is unclear what sort of locations would be available.
When asked, the housing ministry simply tells The Edge that it will rely on proper mechanisms and procedures to offset the location problem among aspiring homebuyers.
"Coordination will be done to ensure the development of affordable housing on wakaf land in the strategic locations," Zuraida said via email, without elaborating.
Another problem is likely to be pricing, which feeds back into the problem of land and location — given that construction costs would not vary too much between locations, land costs would be a major variable.
According to Bank Negara Malaysia, affordable homes should not be priced higher than RM282,000, based on the housing cost burden approach — generally, housing costs should not exceed 30% of household income.
"Houses in the price range of RM300,000 to RM500,000 are beyond what is affordable to households earning the median income in Malaysia," Bank Negara said last year.
It is worth noting that many private-sector developers had complained that it is difficult to reduce their prices significantly from the RM300,000 to RM500,000 range.
The key reasons, according to developers The Edge spoke to, remain expensive land cost in desirable areas as well as high compliance costs, such as having to build infrastructure for utility companies in their projects without being compensated.
In addition, a developer notes that among younger Malaysians, there is a social stigma in purchasing in designated "affordable housing" projects such as PR1MA and Rumawip, which deters a chunk of the targeted demographic.
 
Setting tight criteria
With these hurdles in mind, it makes sense that the current government has set several criteria for affordable homes to ensure that they are accessible to the target demographic.
Among others, the DRN aims to set 900 sq ft as the minimum size for affordable homes, while prices are set to be RM90,000 to RM300,000, depending on location.
However, these criteria also add financial pressure on the viability of any planned projects because of land cost, among others.
A case in point is the Rumawip, which is being rebranded as Residensi Wilayah by the federal territories ministry.
Last week, FT Minister Khalid Abdul Samad said prices of the rebranded Residensi Wilayah would be capped at RM300,000 and density lowered from 1,200 occupants per acre to 800 to 1,000 occupants per acre.
"If a Rumawip project previously had about 400 apartments, a Residensi Wilayah project would have only about 250 units," Khalid said. "However, the price would remain capped at RM300,000 to retain the affordable homes concept.
"We will work with private developers and offer them incentives to build Residensi Wilayah homes, such as lower premium rates and lower development charges. We are targeting to launch 10,000 units by this year, although they will only be completed around 2021," Khalid was reported as saying.
Such manoeuvring may be possible — though difficult — for projects that are still in the planning phase. However, it is important to note that aside from figuring out how to deliver affordable homes, the government also has a problem with unsold properties.
That may be the reason why the housing ministry is organising its first three-day Home Ownership Expo from March 1, with 20,000 homes worth RM22.5 billion on offer from 180 developers.
Zuraida had said that a quarter of the homes being showcased are priced at RM400,000 and below.
The move is seen as an effort to help reduce the overhang stock in the market. Participating developers are being asked to give discounts of at least 10% on the properties being showcased.
That said, some market veterans question whether such discounts would significantly bridge the affordability gap as many developers are already offering rebates starting from 10% due to slow sales.
Another dimension to the problem is the purported "affordable" units from government initiatives that have proven to be unaffordable.
This represents a new dilemma. For example, the 122,000 PR1MA homes that are being constructed but remain unsold would have incurred fixed costs by now, which means there is little room to adjust their prices.
Clearing this stock will likely become a key issue for the government, even as it plans a fresh approach to the affordable housing quandary.
 
Save by subscribing to us for your print and/or digital copy.
P/S: The Edge is also available on Apple's AppStore and Androids' Google Play.