This article first appeared in The Edge Malaysia Weekly, on October 14, 2019 - October 20, 2019.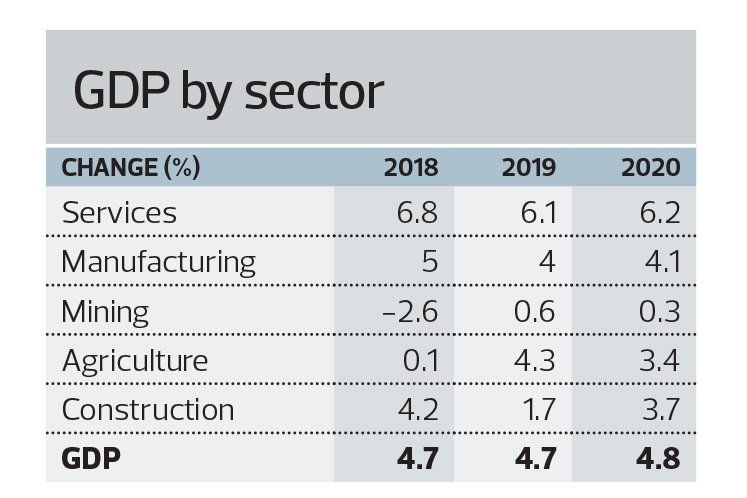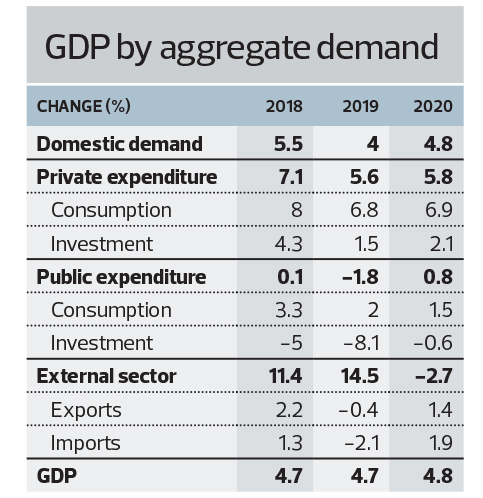 THE global outlook for next year is not rosy. In acknowledging this, the government says the balance of risks is tilted to the downside as Malaysia is a highly open economy.
The Economic Outlook 2020 report (EOR 2020) says Malaysia's growth momentum is expected to be affected in the near term by factors such as the prolonged trade war between China and the US, geopolitical tensions, slowdown in the electronics sector and volatility in the global financial and commodity markets.
That said, Malaysia's gross domestic product (GDP) is still anticipated to grow faster at 4.8% in 2020, from a projected 4.7% this year.
Looking at the GDP by demand, private consumption, which makes up 58% of the GDP share, will continue to drive GDP growth in 2020 as it is expected to grow 6.9% year on year from 6.8% in 2019. This will be supported by a stable labour market and income growth trend in line with sustained economic activities.
Furthermore, EOR 2020 says significant events such as the Visit Malaysia 2020 campaign, Asia-Pacific Economic Cooperation meetings and World Congress on Information Technology 2020 are expected to lend more support to private consumption activities.
The government anticipates private investment activities to trend higher in 2020 as well. It is expected to grow 2.1% from 1.5% this year. This comes on the back of further improvement in investor sentiment, especially with the resumption of strategic projects and higher exports, particularly in the electrical and electronics (E&E) sector.
"The payment of tax refunds is also anticipated to provide impetus to private-sector activities," says the report.
Nevertheless, the biggest year-on-year improvement in 2020 is expected to come from public investment, which is projected to see only a mild contraction of 0.6% compared with the 8.1% contraction this year. Public corporations' capital spending, which accounts for 70% of public investment, is expected to improve next year.
"Development of new projects in oil and gas industries such as the Kasawari Gas Development, coupled with ongoing projects like Floating LNG2, is projected to buoy the public investment activities," says the report.
It adds that the MRT2, LRT3, LRT line extension and East Coast Rail Link as well as the Tekai hydroelectric and Pasir Gudang combined-cycle gas turbine power plant projects will continue to underpin the capital spending in the transport and utility segments.
Public consumption growth is expected to slow in 2020 to 1.5% from 2% in 2019 as the government undertakes a rigorous expenditure optimisation exercise, emphasising minimising leakages and wastage.
Gross exports are expected to expand 1% in 2020 — quicker than the 0.1% growth estimated for 2019. This is largely on the back of a forecast improvement in global trade activities and an uptick in the E&E cycle.
Gross imports, on the other hand, are estimated to turn around — increasing by 2.7% in 2020, compared with a contraction of 2.5% in 2019, in line with higher imports of intermediate, capital and consumption goods.
On the supply side, the services sector is projected to continue expanding at 6.2% in 2020, against 6.1% in 2019, on account of household spending, the expansion of the digital economy and the launch of Visit Malaysia 2020, says the report.
The services sector is the largest contributor to GDP at 57%, followed by manufacturing (22%). Manufacturing is forecast to grow 4.1% in 2020, compared with 4% in 2019.
"The manufacturing sector is expected to perform moderately in subsequent quarters before gaining momentum in the second half of 2020, in line with the anticipated upturn in global electronics demand," the report says.
The construction sector — despite having the smallest share of GDP at 4.7% — is projected to see the largest year-on-year growth in 2020, at 3.7%, owing to the revival of mega projects and the building of affordable homes.
Other sectors like agriculture and mining will see slower growth in 2020, at 0.3% (2019: 0.6%) and 3.4% (2019: 4.3%) respectively.
The agriculture sector's growth in 2020 will be supported by higher output of plantations, livestock and other agriculture subsectors while the mining sector will be held up by stable gas production on account of rising demand from the petrochemical industry and increasing exports of liquefied natural gas to China, Japan and South Korea.
In conclusion, the EOR 2020 highlights that the government will be undertaking various measures to sustain the growth momentum.
This includes the revival of strategic projects and moving up the value chain through 5G technology and Industrial Revolution 4.0. There will also be efforts to promote industries that have a comparative advantage such as tourism and commodity-related downstream activities, which can support growth in the near term.