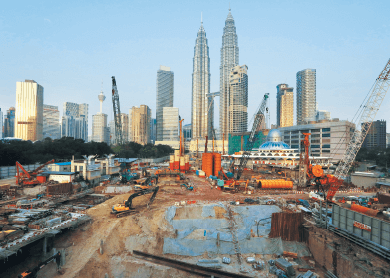 THE 11th Malaysia Plan, which was unveiled last week, stands out from previous development plans in that it is the final thrust before 2020, when the government will be judged on whether it succeeded in turning Malaysia into a high-income nation.
A high-income nation is defined as one with a national per capita income of at least US$15,000. As at end-2014, Malaysia's national per capita income stood at US$10,796.
Certainly, the country has come a long way. In the 1970s, Malaysia was identified as a low-income economy with per capita income of US$402. It took the country slightly more than two decades to reach high middle-income status in 1992.
Interestingly, even after achieving a national per capita income of US$15,690 in 2020, we would be lagging behind countries like South Korea (US$25,920 as at 2013), which started off on the same footing as Malaysia.
The emphasis this time around, under 11MP, is on raising income and creating wealth for the bottom 40% (B40) households so that they can move up to middle-class status. In the 11MP report, it was highlighted that there are currently 2.7 million households in B40 earning an average monthly income of RM2,537.
"Allowing the B40 households to remain in their current socioeconomic status will create social costs for all Malaysians as it reduces the number of skilled workers needed to grow national output, perpetuates urban inequality and limits the growth potential of rural and suburban areas," says the report.
It is noteworthy that economic "inclusiveness" — a priority in 11MP — has been around since the New Economic Policy was introduced in 1971, whose aim was to eradicate poverty regardless of ethnicity and eliminate identification of ethnicity by economic function.
Subsequent development policies all strived to achieve the same objective, that is, to ensure that all Malaysians prospered together as the country's economic wealth expanded.
With the 2020 target now nearer than before, government strategies to assist B40 households and lift them to middle class include addressing the escalating cost of living, empowering communities for increased economic participation, transforming rural areas for the benefit of rural communities, enhancing bumiputera economic opportunities and accelerating regional growth.
According to 11MP, the country would have succeeded in its aim to elevate the B40 group when the middle class grows to 45% of the population by 2020 from 40% now. Another way success in this area can be quantified is when the average monthly income of B40 households doubles to RM5,270 in 2020 from RM2,537 as at end-2014 while the income share of B40 to national household income rises to 20% in 2020 from 16.5% in 2014.
From a broader perspective, the government aims to achieve average household income of RM10,540 by 2020 from RM6,141 as at end-2014. This implies that average household income has to grow more than 10% each year. Between 1970 and 2014, average monthly household income grew 20 times from RM264 to RM6,141.
It cannot be denied that to achieve higher average household income by 2020, wages must grow. The government aims to increase the compensation of employees (CE) from 32.5% of gross domestic product (GDP) now to 40% by 2020. Interestingly, Malaysia's CE-to-GDP ratio is lower than that of countries like South Africa (45.9%) and South Korea (43.2%).
Alliance Research points out in a report that it is pertinent for workers to have the right environment to improve their skills and increase productivity so that it may translate into higher wages and higher household income.
"The income projections to take note of are a gross national income per capita of RM54,100 (US$15,690) and average monthly household income of RM10,540 by 2020. The current growth trajectory suggests both targets are very possible but this is without considering the possibility of an unforeseen economic downturn interrupting the upward rise of wages and merely 'extending the line', so to speak," says Kenanga Research in a report.
It should be noted that the median monthly income in 2014 stood at only RM4,585.
According to Dr Oh Ei Sun, a senior fellow at S. Rajaratnam School of International Studies in Singapore's Nanyang Technological University, a more important issue to address is the wealth gap between the rich and the poor.
While it is true that the Gini coefficient, which measures income inequality, narrowed to 0.401 in 2014 from 0.441 in 2009, it does not reflect the rising cost of living that society is facing today.
"Yes, the Gini coefficient has shown an improvement but the man on the street is not feeling the effects. This could be due to the fact that the rising cost of living has caused the low to middle-income group to feel the pinch. I think the Gini coefficient should be complemented by the Cost of Living Perception Index," opines Oh.
This article first appeared in The Edge Malaysia Weekly, on May 25 - 31, 2015.