This article first appeared in The Edge Malaysia Weekly, on January 6, 2020 - January 12, 2020.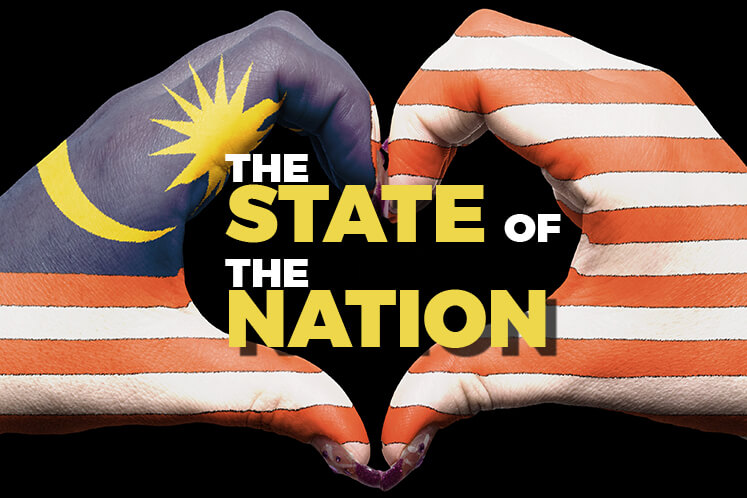 THE last decade was full of surprises with events such as the election of Donald Trump as president of the US and the subsequent uprising of populism around the world; the commercialisation of shale gas and precipitous fall of crude oil prices; as well as the advent of the gig economy, just to name a few.
These curveballs have paved the way for an interesting decade ahead as global economic growth is expected to meander along going forward.
As an open economy, Malaysia will feel the impact of external headwinds, although many believe they are subsiding, as well as its own domestic issues.
With this in mind, consider the 10 main factors to look out for in 2020 and beyond.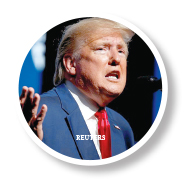 1    Trump's re-election and the trade war
This year is an important one for the US because of the presidential election on Nov 3 — an election that will be closely watched by the global community as it could determine the fate of the US-China trade war.
Some believe that Trump's re-election as US president for a second term could result in a prolonged trade war with China, even though both countries have agreed to the so-called Phase 1 trade deal. Trump is expected to continue with his agenda of "Making America Great Again" if he is re-elected.
At present, the US has cancelled a further 15% tariff on US$150 billion (RM615 billion) worth of imports from China that was supposed to take effect in December and has taken steps to cut tariffs imposed since September 2019 on US$120 billion worth of goods from 15% to 7.5%.
China, on the other hand, according to US Trade Representative Robert Lighthizer, has pledged to purchase an additional US$16 billion in agriculture goods over the next two years.
As things stand, however, Trump will first have to survive an impeachment trial in the Senate for abuse of power and obstruction of Congress. He is the third president in US history to be charged with committing high crimes and misdemeanors, but his popularity ratings have not been hit by the impeachment.
The latest polls tracked by FiveThirtyEight show his approval rating at 42.6%, representing the upper end of the range since he took office in January 2017.
2     Geopolitical risk continues to brew
Despite a pause in the trade war, geopolitical risk remains at a high. The political situation in the US aside, European politics are also calling out for attention.
With Brexit set to happen after a three-year deadlock, the UK and the European Union will soon negotiate the terms of their divorce. Will there be an amicable resolution? Already many fear the UK economy could suffer a deeper-than-expected shock during the transition process.
Conflict in the Middle East is another worry as the region has been mired in war and strife for many years.
"We see flashpoints in the fragile Middle East, including fallout from attacks on Saudi oil facilities, Turkey's incursion into Syria and protests around the region," BlackRock Investment Institute observes in a report.
In Southeast Asia, CGS-CIMB Research notes that political dynamics remain fluid in Malaysia and Thailand with the present ruling coalitions governing on thin majorities. Meanwhile, Singapore is expected to call for an early election this year.
3    Populist movement on the rise
In the last decade, the populist movement has been on an undeniable rise, starting from Trump's triumphant presidential win that set in motion similar upsets around the globe, including in Turkey, Hungary, Italy and the Philippines. The outcome of the Brexit referendum was yet another instance of the populace moving to the right.
The disillusionment with capitalism and rising inequality has contributed to a large extent to the rise in populism as established leaders are increasingly perceived to be unable to address the changes happening in the global economy.
Chile, one of the latest to be snared in the populist movement, has been in unrest for several months after protesters took to the streets because of an increase in subway fares. But commentators say the unrest is underscored by years of inequality and the high cost of living.
As with the US, the populist movement has led to protectionism, anti-immigration policies and other policies that are viewed as anti-globalisation — in turn, seen as detrimental for economies globally as trade and immigation form an important part of sustainable long-term growth.
The years ahead will continue to put populist leaders and their governance on the centre stage. Time will reveal if their policies and strategies can appease the masses without compromising economic growth.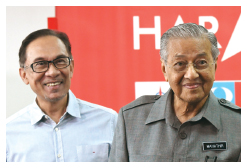 4    Malaysia's political brouhaha
Observers say the political situation in Malaysia is a wild card, a key issue being the leadership post-Prime Minister Tun Dr Mahathir Mohamad.
During the 14th general election in 2018, it was agreed that Datuk Seri Anwar Ibrahim would succeed him after two years in office, but there seems to be less clarity on the matter now as Mahathir has been vague on the handover date.
The thorny matter aside, sentiment on the ground also suggests that the people are dissatisfied with the performance of the coalition government, which has been beset by constant infighting to the dismay of voters who had pinned their hopes on a "New Malaysia".
Voter dissatisfaction was demonstrated in the recent Tanjung Piai by-election where Pakatan Harapan received less than 30% of votes cast, giving Barisan Nasional a landslide win.
2020 is all the more significant for Malaysia as the two-year mark for Mahathir's being in office draws near. Will he hand over the reins of power to Anwar as agreed, or will a new contender emerge?
Sadly, many foresee more infighting within the coalition this year.
This does not bode well for Malaysia economically as foreign investors will shy away from a country deemed to have unstable politics and unclear policies.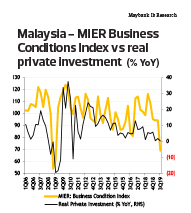 5    Pace of economic growth
The trade war was one of the biggest wild cards in 2019. It is expected to continue to be one factor that could either ease or aggravate uncertainties and the economic growth of nations in 2020 and beyond.
Currently, the jury is out on whether global growth in 2020 will be better or worse than in 2019. The International Monetary Fund projects a mild recovery from 2019, and for global growth to touch 3.4% — a downward adjustment of 0.1% to the IMF's initial October forecast.
The Organisation for Economic Co-operation and Development (OECD) and the World Bank are more bearish, the former projecting a dip in 2020 to 2.9% and the latter 2.7%.
OCBC Bank economist Howie Lee says in a report that he does not see any suitable growth catalyst that could return global growth to the Great Moderation period — the time before the 2008 global financial crisis.
That said, a bright spot appears to be the abating of the risk of a global recession.
On the local front, the Ministry of Finance (MOF) has pegged gross domestic product (GDP) growth at 4.8%, in contrast with more subdued expectations.
In a report, AllianceDBS Research notes that business and consumer sentiments are not only uninspiring but extremely dismal. "This does not bode well for the future given the critical role of private consumption and investment as a key growth driver.
"Critically, business sentiment has dropped to a depressed level that was never seen over the past 20 years, indicating the poor appetite among business owners for more investment in the near term," explains the research house, whose GDP forecast is 4.5%.
Will the government's efforts to boost economic activity through Budget 2020 help?
6    Lower interest rates
An escalation in trade tensions last year and slower growth momentum prompted the US Federal Reserve to pause its rate hikes. Instead, it chose to cut rates and extend its purchase of short-term Treasury bills.
The rate cut by the Fed sparked a series of cuts globally. Malaysia reduced interest rates by 25 basis points (bps) in May 2019 to 3%, ahead of the US rate cut, in a bid to stimulate the economy.
Will there be more rate reductions in the coming months since many believe 2020 will be even more challenging notwithstanding MOF's forecast of a slight improvement in GDP growth?
Whether or not Bank Negara Malaysia (BNM) moves to trim interest rates will depend on the economic data to come. It is worth noting that the central bank had already reduced the statutory reserve requirement to 3% from 3.5% in November, a move that is expected to boost liquidity in the system.
Nevertheless, many see room for further interest rate cuts this year. CGS-CIMB Research notes in a report that the cautious global outlook and the "hairline cracks" in domestic resilience call for further monetary loosening. It expects two 25bps cuts in the next 12 months.
While monetary policy is not the only measure to stimulate economic growth, is there wiggle room in Malaysia's coffers to unleash other forms of stimulus?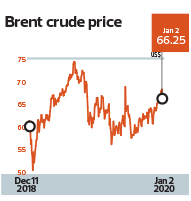 7    Uplift for commodity prices
Brent crude oil prices have been pretty stable, hovering around US$60 per barrel in 2019.
In 2020, the US Energy Information Administration (EIA) expects Brent crude price to average US$61 per barrel, while national petroleum company Petroliam Nasional Bhd puts it in the high US$50s.
According to Maybank Investment Bank Research, crude oil is expected to continue to remain stable at US$60 to US$65 per barrel this year — a level seen palatable to everyone and sufficient to keep capital expenditure going.
Maybank has forecast US$369 billion in offshore exploration and production (E&P) investments globally over a three-year period from 2019 to 2021 — slightly more than double the US$155 billion in the previous three years (2016 to 2018).
In a recent December meeting, the Organization of the Petroleum Exporting Countries and its allies (OPEC+) agreed to cut oil production by another 500,000 barrels per day for the first quarter of 2020, bringing total production to 1.7 million barrels per day.
The move to cut oil production globally should help to further support oil prices, but the persistent worry is that the supply of crude oil will outstrip demand as growth wavers.
A bright spot is the price recovery of crude palm oil (CPO) — another important local commodity.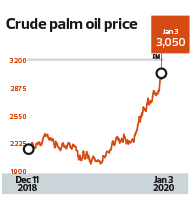 As at Jan 2, CPO prices settled at RM3,049.50 per tonne — the highest since February 2017 — thanks to India's recent move to cut import tax on Southeast Asian palm oil.
Kenanga Research outlines three factors that are expected to drive the recovery of CPO — the laggard impact of the dry weather thus reducing output in 2020, China's increase in palm oil consumption on the back of the swine flu outbreak, and higher consumption in Indonesia and Malaysia owing to the increase in percentage of CPO in biofuel policies.
8    Cost-of-living woes and shared prosperity vision
The high cost of living is still affecting almost all segments of society despite Pakatan Harapan's (PH) attempts to bring down prices.
Among its initiatives were the abolishment of the goods and services tax (GST), which was replaced with the sales and services tax (SST), continuing the Bantuan Sara Hidup for the B40 group and ongoing plans to implement targeted fuel subsidies.
Over the current decade, PH's Shared Prosperity Vision 2030 will be of interest to many as its goal is for Malaysia to achieve sustainable, equitable, inclusive and balanced economic growth.
Targets include raising the B40 monthly household income to RM5,800 by 2030 from RM3,000 presently, increasing the employee compensation to nominal GDP ratio to 48% from 35.7%, and raising the small and medium enterprise and micro businesses' share of GDP to 50%.
This year, the 12th Malaysia Plan will also be unveiled. The development blueprint, which will set the tone for the nation's economic direction and policies moving forward, has the potential to contribute to the nation's prosperity.
How these targets will be achieved will depend largely on the way the 12th Malaysia Plan is executed and implemented.
9    Gig economy continues to grow
Having manifested in various forms over the last decade, the gig economy is here to stay and is sure to morph in the decade to come.
Data connectivity and social media have been two of the largest enablers of the gig economy.
Randstad Malaysia explains the gig economy as consisting of companies that engage contract workers for a temporary period or project-based jobs, instead of hiring them for permanent positions.
World Bank data shows that about 25.3% of the Malaysian workforce are freelancers — participants of the gig economy — and expects this number to grow further.
OCBC economist Lee says the gig economy has enabled less-skilled workers to earn a meaningful income by completing a "plethora of jobs" instead of relying on a single employer.
"This decade might be too soon to call for an end to 9-to-5 jobs, but the trend looks to be leaning in that direction as institutions offload the risk of employment from the organisations to the individuals," notes Lee.
It has been recognised as a new source of economic growth by the government, with Mahathir reportedly saying that it will be made part of the 12th Malaysia Plan.
Regulation of the gig economy could benefit both participants and the nation as the rights of participants will be protected while there would be a new source of revenue for the nation.
10    Job displacements
Although technology has provided opportunities for people to earn more, it also has an ugly side if not well-managed.
These days, technological advancements have allowed robots to work faster than any human on an assembly line — with almost zero errors, thereby increasing productivity. In more recent cases, artificial intelligence technologies have made breakthroughs, allowing predictive analysis.
This decade could possibly see a larger number of job displacements as technology replaces more routine and less-skilled jobs.
Among countries in Southeast Asia, Singapore's labour market is said to be the one that will face the largest degree of job displacements in this decade. It is only a matter of time before it hits Malaysian shores as well.
Human Resource Minister M Kula Segaran has urged Malaysians to upskill so they can move up the value chain and to be flexible enough to adapt to new ideas, innovations and technologies.
He has stressed the urgency to ensure there are highly skilled workers who will be able to drive innovation and support economic growth in the future.
Perhaps this decade will be one where people take calls to upskill themselves more seriously as the threat of displacement becomes more real.