This article first appeared in Enterprise, The Edge Malaysia Weekly, on March 12, 2018 - March 18, 2018.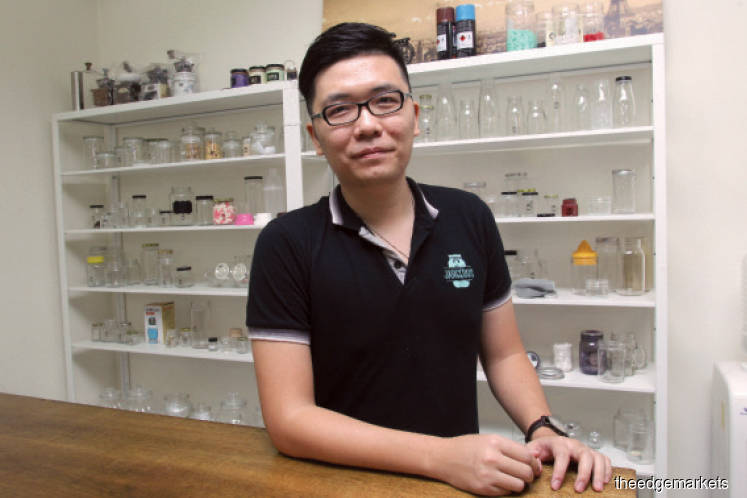 Having grown tired of the nine-to-five grind, Andrian See Joen and his wife Angeline Ho Shin Ni decided to venture out on their own. To begin with, they wanted to take advantage of the latest fashion fad — leggings — and the growing momentum of e-commerce.
But they had reckoned without their stars. By choosing to capitalise on a fad, the duo found themselves in an overcrowded marketplace with too many competitors. In a bid to differentiate themselves, they put the leggings in a variety of jars — at least until they sold off their existing stock.
"We started by bringing in different-sized plastic containers. As we still had plenty of stock to get through, we relabelled the product Jar with Leggings," See laughs.
The approach turned out to be nothing short of inspired. Their product was finally attracting attention. But it was because customers were more intrigued by the containers than the product itself.
See and Ho were inundated with requests for the jars and a light bulb went off in their heads. This was clearly an opportunity worth pursuing. "Customers just wanted the containers. So, we decided to try our hands at this business instead," he says.
They sought out an overseas supplier and bought the containers — both glass and plastic — which started moving a lot more rapidly than the leggings. See, who is a self-taught graphic designer, then set up a website called Jar in Malaysia and included a paywall system to facilitate the checkout process. The site has since been renamed the catchier 'Jargeous'.
At first, See couldn't understand the heightened interest. Later, he discovered that people liked the convenience of purchasing such products online as most businesses selling such jars are traditional bricks-and-mortar stores.
Many customers also operate a multitude of home-based businesses and the availability of these jars online makes it one less thing to worry about. "There are many stores that sell jars and containers, but they don't do it online. We found that by introducing this service, people do not have to travel to a shop or queue to get sufficient stock. And if they buy more than they can carry, they have to hire transport," says See.
"With Jargeous, all this is sorted out up front. We have all the required information in detail on the website — the measurements, materials, shape and whether the containers are airtight, leak-proof and food safe. We also make sure that the images of the products are as close to the original as possible and list all the cap options available."
See says the company's transactions take place almost entirely online, except when customers want to come and inspect the jars for themselves. "For that, they need to make an appointment."
Today, the company carries more than 300 types of glass and plastic containers, ranging from canning jars to milk bottles. There are also aluminium tins and accessories such as paraffin and soy wax, wicks, white beeswax, coffee grinders and bottle sleeves. "We sell both local and foreign brands and we sell them in single pieces as well as in cartons," says See.
Their services have expanded to making customised labels and door gifts. "In the beginning, we were not doing very well. But after a rebranding exercise and a better website, we began to see better sales. Also, people continued to send requests via social media," he says.
"We have partnered WeddingsMalaysia.com — a one-stop centre for wedding-related things — which is a lot like a directory. They invited us to participate as a platform to get wedding door gifts and decorations."
Since the beginning of last year, Jargeous has seen a steady income stream of about RM30,000 a month. "Since we offer retail and bulk purchases, we have one-off purchases and bulk orders from a number of big clients such as the Sheraton group of hotels, BnBC Advertising Sdn Bhd (which services clients such as Qatar Airways) and The Lion Group. But most of our bulk orders come from local cafés," says See.
The ubiquitous mason jars and their variants are among the most popular containers on the website, he adds. "What was once a symbol of thrift is now considered hip for its functionality and nostalgia."
Similarly, there has been a strong demand for amber-tinted glass bottles that are reminiscent of vintage apothecary bottles.
As for shipping, Jargeous charges a flat fee of RM6 (Peninsular Malaysia) and RM20 (Sabah and Sarawak). For wholesale purchases, the fee is RM10 (Peninsular Malaysia) and RM20 (Sabah and Sarawak) per carton.
See says the company is looking to expand regionally as queries have flooded in from Brunei, Singapore and Thailand. However, as it is dealing with fragile products, there is no viable solution in sight at the moment.
"Even with local deliveries, we have a lot of problems with breakage. We provide store credit to replace the products that break during transit," he says.
"For the time being, we advise those buying from Singapore to send their purchases to an address in Johor. Otherwise, if they are making a bulk purchase, we send the orders in a pallet."
According to See, about 5% of the recurring customers are from Singapore. Those from Brunei are advised to have their shipments sent to Miri, Sarawak, which serves as a border town.
For now, Jargeous is looking to team up with local cafés to display the jars at their establishments. "This way, people can check out the products at a physical location and make a purchase directly, or opt to buy the jars they have shortlisted online," says See.