This article first appeared in Enterprise, The Edge Malaysia Weekly, on September 10, 2018 - September 16, 2018.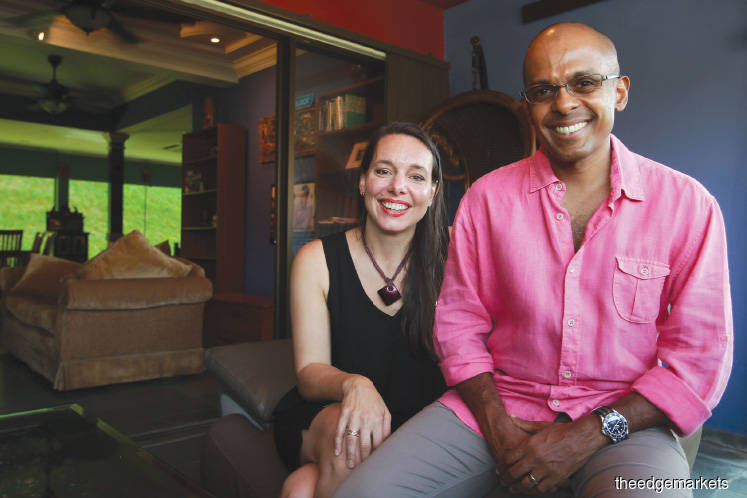 When Dr Lindy Ledohowski and Dr Rueban Balasubramaniam were professors at Carleton University in
Ottawa, Canada, they used to meet students who could not write good essays despite having good ideas, concepts and information. They came up with different ways to help their students, but none were really workable.
In 2013, they visited a good friend, Chris Hillier, who was running a new but already highly successful scaffolding company, Dscaff Group. The trip to the scaffolding factory was life changing as it inspired the duo to develop an educational technology (edutech) product that could help students write essays.
"Why couldn't we build scaffolding for essay writing? We brainstormed and thought of developing a platform that could help students pre-structure their essays. We did not want to give them content and we were not going to help them cheat," says Ledohowski.
"In writing, there are the standard connecting bits and there are places where you expect certain pieces to be. So, we help students decode these."
As seasoned educators, Ledohowski and Rueban believed they had what it took to fill a gap in the market. She had extensive experience in teaching critical thinking and writing while he had been writing about legal frameworks since 1996. In the second quarter of 2014, with the help of a few local coders, they had their minimal viable product.
"We showed it to Chris and he said we should find out whether someone would pay for it. We went to the International School of Kuala Lumpur, got three classes to use the basic product and did a survey. Not only did 98% of the students like it and say they would recommend it, the teachers also gave us a good response," says Ledohowski.
"At that point, we knew we had the basis to build a business. But we also needed to give it credibility because in the education business, the first thing people look for is a product's legitimacy. So, we took some time to strengthen that part of the business."
In the meantime, they moved back to Canada to resume their jobs as professors. But they did closed product testing from time to time at different universities to figure out the best way to introduce the product to the market. One day, they decided to either go big or go home.
"Our friend — a very successful entrepreneur who owned an energy company — told us that if we want ed this to be a successful business, we needed a combination of arrogance and ignorance. Luckily, we had a bit of both," says Rueban.
"To gain legitimacy, we went to London and showed the basic product to the head office of the British Council. We knew that there could be no better validation for a product that helps with writing. Thankfully, we managed to pull off that meeting. The British Council is now one of our partners and we have started a global pilot with it."
In 2015, the duo officially launched the beta version of the edutech product, called EssayJack. The interactive web platform pre-structures student essays, reduces writing anxiety and allows educators to provide customisation and feedback.
The following year, it became a revenue-generating company, says Ledohowski. "EssayJack was even a finalist at the British Council and Cambridge English's 2016 ELTon Awards in the digital innovation category. The judges commented that it was one of the most comprehensive structured writing tools they had ever seen. We have not looked back since."
Getting the right investment
EssayJack Inc did not get any outside investments until 2016. The duo put in RM1 million and ran the business for three years without receiving a salary as they wanted to retain as much ownership as possible in the early stages.
"For early-stage entrepreneurs, any money is good money. There is a lot of money being thrown around too, especially for tech companies. However, we have to be cautious because in the early stages, the value of the company is not that high — we may end up giving away half our equity for very little," says Rueban.
By end-2016, the company managed to establish a distribution partnership with Nelson — Canada's leading educational publisher — to sell EssayJack to its existing customers. Rueban says this really gave them enough confidence to scale the business and open themselves up to investments.
The company has always been attractive to investors, having been founded by two individuals with multiple academic degrees and of an appropriate age — not too young and inexperienced and not too old to see the business come to fruition, says Ledohowski. The only downside to investors is that they are a married couple.
"That, to them, is always a red flag. They wonder how long our marriage will last. Meanwhile, from our perspective, our guiding principle for investments is that we want someone who wants to come along for the journey and share our vision," says Ledohowski.
Last year, the company finally participated in a small investment round, strictly for family and friends, and raised C$500,000 (RM1.55 million). Interestingly, only two of the initial investors were Canadian, says Ledohowski. Of the other investors, one is American and the others are either Malaysian or based in Malaysia.
The company was now ready to scale. It was at this time that Ledohowski managed to get an appointment with the executive director of the Telfer School of Management's Executive Master of Business Administration programme, who suggested that they work with the school's MBA students.
"We got six of them to work on our market research and strategies, completely free from January to April last year. They organised a lot of meetings for us — we had back-to-back meetings with potential stakeholders, partners, schools and universities," says Ledohowski.
"Afterwards, we became confident that Asia would be a really good market for us. So, we went back to Canada, packed our things, moved out of our house and made our base in Malaysia. We had the remaining tranche of the initial investment open, so one of our friends — who runs a professional investment firm — invested a small amount of money with her other connections."
Rueban says with these investors on board, there is more pressure to continue developing the product. He points out that by now, the company was attracting real investment, not just from friends and family, because of its credibility and ability to scale.
Right now, the investors are minority shareholders. But Rueban and Ledohowski were on the lookout for someone to be a potential board member. And not too long ago, they found him.
"I went to school with Datuk Michael Tang, founder of Metthiz Capital, but I had not seen him in 20 years. That day, I was having a conference meeting with people from Google who were trying to persuade us to integrate with its systems. When I got out of that meeting, I bumped into this old friend," says Rueban.
"I told him all about our business and he was interested in becoming an angel investor. We are looking at close to a US$1.5 million seed investment round with him. Hopefully, this will help us take the company to the next level and prepare us for series A."
Not an easy business
When they first started out, the couple had a few misconceptions about running a business, especially in terms of dollars and cents. For starters, they under-anticipated how much it would take to develop, market and distribute EssayJack.
"Marketing is very expensive. That is why we have not spent a single cent on it yet. For example, a three-month Google ad campaign costs US$40,000. We also need to think about product distribution. It is not as easy as a simple business-to-consumer (B2C) enterprise, where we would only need to put it out to the market and people would buy it," says Rueban.
Some technology companies offer their products for free to avoid paying for customer acquisition, but there is no guarantee that these companies can scale. For others like EssayJack, it is even trickier as people do not use it on a daily basis like social media platforms, says Rueban.
Ledohowski concurs. She says edutech is a special beast in itself because businesses have to face slow sales cycles. "We have to deal with a long budgeting and decision-making process. It is a lot more complex than the normal B2C sales cycle," she adds.
"Recently, we closed a sale with Alice Smith School for a one-year licence. That sale was effectively nine months of work on our part — and that is fast. In education sales, it can be anywhere from 9 to 36 months. So, we need strong cash flow to sustain ourselves during the cycle. The flipside is that once we get them to adopt the technology, they are quite slow to get rid of it."
It has been a long and difficult learning process for the co-founders, but Ledohowski says she is happy with where the company is now. "We have a product with proven demand, we have strong investors who believe in us and we are still married. So, it is exciting. Hopefully, we are successful in our journey to expand the business across Asia, with Malaysia as our base."