This article first appeared in Enterprise, The Edge Malaysia Weekly, on April 8, 2019 - April 14, 2019.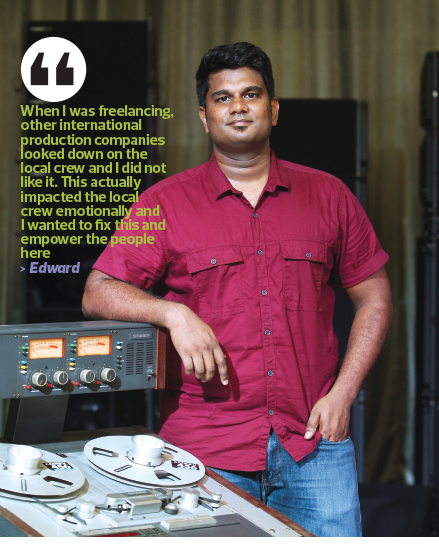 Augustine Edward has been fascinated with sound for most of his life. He has dabbled in it since he was a child, when he helped out his brother who owned a sound equipment company. He eventually started an audio engineering company, AES Technical Consulting Sdn Bhd, when he was just 23.
Edward was 12 when his brother showed him a simple sound system and played a song on it. He had never experienced music like that before, feeling the vibrations in his body. This aroused his curiosity about the nature of sound and how the system worked.
At the time, his brother was running a sound equipment rental business and Edward helped him out whenever he could by doing simple tasks such as coiling the cables. "I even thought about it in school and actually had more audiobooks than textbooks in my backpack," he says.
Thankfully, his parents and teachers recognised his passion and did nothing to discourage him. He met people from the industry, such as sound equipment manufacturers from Canada, Germany and the UK, when he was still in his teens. By the time he was 17, he was rubbing shoulders with some of the bigger players and made the most of the opportunity to ask them about their systems.
Edward's enthusiasm and connections opened a lot of doors for him, with companies such as Adamson Speakers, DiGiCo and TW Audio taking him on as a freelancer to handle technical support in Southeast Asia when he was 18 and 19. From there, he was given the opportunity to set up live concert stages in the region for global acts such as Stevie Wonder, Linkin Park and Paramore.
As a freelancer, Edward worked out of his bedroom at odd hours of the night due to the time difference between the manufacturer's country and his own. The only time he left his room was to set up a gig or teach buyers how to use the products. Over time, he realised that it probably was not conducive to sleep and work in the same place. So, in 2013, he found an office space in Kota Damansara and set up his company using his savings of RM20,000.
As he was only 23 at the time, he did not know how to run a company and was cheated many times. Although he felt severely discouraged, he did not give up. "It came to a point where it hit me hard because there were bills to pay and I did not have enough money," says Edward.
That was when he realised that inexperience was no excuse. If he continued on in this way, he would eventually need to quit. And considering how passionate he was about this field, it was not an acceptable solution.
A year before he set up his company, Edward had freelanced for a German audio company, TW Audio. The company was run by two brothers and the three of them formed an instant connection and worked very well together.
In 2013, the company officially engaged Edward to supply products and provide support for its customers in Asia and Europe. He set up TW Audio Asia specifically to manage the company's products, which are also the mainstay of his audio engineering business.
Business in this country, however, was not that great. The three aviation tragedies in 2014 — the disappearance of flight MH370, the shooting down of flight MH17 over Ukraine and the crash of flight QZ8501 into the Java Sea off Borneo shortly after take-off — spooked international artists and they were reluctant to perform in Malaysia.
The drug-related deaths at the Future Music Festival Asia did not help. The authorities became a lot stricter on who could perform in Malaysia and most artists felt that it was just too much trouble, opting for Singapore and other countries in the region instead.
"A couple of companies actually closed down because there was less work for audio technicians. We survived because I did not get the bulk of my income from business in Malaysia," says Edward.
A love of TEACHing
A proud graduate of the school of hard knocks, Edward does not have formal education in audio engineering. He picked up the trade through extensive reading and his habit of asking questions. As a result, he not only managed to venture into the industry but also started teaching other people what he knew.
By the time he was 20, he was teaching sound engineering to people who were twice his age in Southeast Asia. But the local industry was not impressed.
"People here operate based on information passed down through the generations, but it is not the right way. When I shared the physics behind the sound and the system, they thought I was a joke, even though I told them that if they knew the science behind the systems, it would not matter what product they used," says Edward.
This is how sound engineers in Europe and the US operate, he adds. "The more I was exposed to audio engineering and the deeper I went into it, the more I realised there was a lot we had been doing wrong over here. But the problem was the attitude."
Edward was set on teaching the fundamentals of engineering, especially to those in the local industry because he believed that Malaysian sound engineers had a lot of potential even though they tend not to be highly regarded in international settings.
"One of the problems I faced when teaching people how to use the tools was that they did not understand so many basic things. It was truly frustrating," he says.
"I wanted Malaysians who shared a passion for learning as much as they could about the field. When I was freelancing, other international production companies looked down on the local crew and I did not like it. This actually impacted the local crew emotionally and I wanted to fix this and empower the people here."
The dream was to open an academy to teach the basics of sound engineering because this knowledge is essential for anyone who wants to specialise in other branches of the industry. Edward was also willing to share his network of connections and anything else he learnt from manufacturers outside Malaysia.
In August 2017, the dream came true and AES Academy was born. He put together his money, resources and contacts from years of working in the local and international audio industry to get the school going.
"When I started teaching technicians how to use TW Audio products in 2013, I saw their eyes open wide. It was like they finally understood the science of sound and this was what pushed me to start an academy," says Edward.
"What we do here is systems engineering — how a loudspeaker works, the physics of a loudspeaker, the electronics, that sort of thing. Memorising a definition is not enough. You need to understand what it does, how it is created and so on."
The academy mostly offers short courses, the longest taking three months. It also offers week-long intensive courses. "So far, it is not just the locals who have shown interest but others in Southeast Asia as well, especially Indonesia," says Edward.
Right now, all the profits from his other companies are being ploughed back to build up the academy because he is convinced of its importance to the industry. "When you understand things, everything falls into place. The money will come automatically if you know what you are doing," he says.
FUTURE PLANS
Recently, Edward was offered an unexpected job — upgrading the audio systems of the iconic Harley-Davidson. This came about because a friend of his, who owned a Harley, complained that the sound system was not clear or loud enough and asked whether he could help upgrade the system. Edward did some research, then he designed and installed a much better sound system.
"The products I chose were not from the motorcycle audio industry, but it turned out great. Next thing I knew, word got around and more hogs (Harley Owner's Group) were coming by to get their sound systems upgraded," says Edward.
With an annual gross income of RM800,000, he plans to invest in building up his team as well as getting the necessary accreditations for the academy to allow him to go regional. He is also in the midst of applying to be an approved training provider under the Human Resources Development Fund so that participants can claim from the fund.
The next step is to get the academy registered with the National Vocational Training Council (NVTC) so that its certificates are recognised. "We are actually in talks with people in Vietnam and Cambodia to set up an academy there and they are waiting for us to do it. The staff, location and team are ready, but we need to be approved as an NVTC Accredited Centre here before we can bring it over there," says Edward.