This article first appeared in Enterprise, The Edge Malaysia Weekly, on May 13, 2019 - May 19, 2019.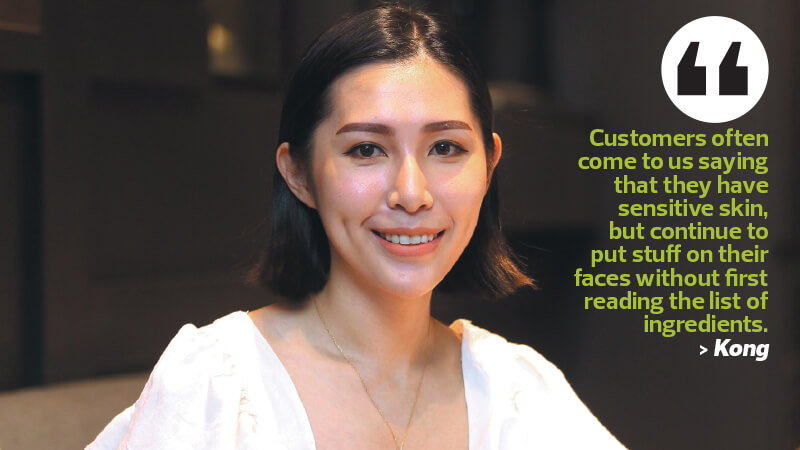 The demand for natural cosmetics and skincare products has been growing steadily in the last few years as scepticism towards conventional make-up and skincare products increases globally.
Thanks to social media marketing, this trend has caused radical upheavals in the cosmetics industry, where customers are not only adopting products that are deemed safer but also looking at homegrown labels that offer highly personable services and unique benefits.
One local brand vying to make its mark is Daisy Sky Malaysia Sdn Bhd — founded by 33-year-old Tawau-born Kong Wan Lin — which eschews dyes, artificial fragrances, parabens, silicones, alcohol and preservatives.
Kong's story is one that many first-time mothers can relate to. When she was pregnant with her first child in 2016, hormonal imbalances caused erratic changes to her skin as well as hair loss.
At first, her skin was acne-ridden. But when that cleared up, she had to contend with dry and oily skin. She was convinced that slathering her skin with products steeped in chemicals, parabens and silicones was doing more harm than good.
"The market is flooded with products that contain some sort of chemical ingredient or other. I was carrying my first child, so I was wary of everything I was using. Everyday skincare products contained perfume, which is one of the many ingredients that can be harmful to the baby," says Kong.
That was when a friend suggested that she try an organic-certified beauty product sold by a boutique firm in China. The skincare brand was founded by four siblings — one of whom is a doctor — who had been inspired by France and the quality of beauty products and cosmetics made in the country.
They had launched their own range of products as well as conducted research and supplied high-end cosmetics and skincare brands with premium ingredients sourced from around the world.
Kong tried out the products and found that they complemented her lifestyle. When she started using them, she noticed a drastic improvement in her problematic skin condition.
Family and friends, who had observed the changes, wanted to know what she was using. In fact, the interest was marked enough for Kong to realise that she was on to something and this was an opportunity for her to develop her own line of products.
Kong worked as a professional photographer throughout her pregnancy. Once she gave birth, she approached the Chinese company to establish a business relationship and tailor-make products suitable for different skin types, taking into account Malaysia's tropical climate.
"I wanted to create products that are suitable for Malaysian skin and weather. Their own formula is based on the climate in China, which is drier and subject to the four seasons. It took some experimenting, but we eventually got it right," says Kong.
Despite having used the products herself, she was aware of the stigma associated with the "made in China" label and how this could impact the products that she was planning to introduce. "That was the reason I made it a point to visit the factory and ensure that their processes were kosher and uncompromising in terms of quality. We went through their manufacturing practices and ensured that they had all the right certifications," says Kong.  
Daisy Sky's line of skincare products are made using raw materials from countries such as Bulgaria, Chile, France, Greece, India, Japan, Madagascar, Morocco, Sri Lanka, Thailand, Turkey and the US. The products are then bottled in Guangzhou, China.
The brand's Bulgarian Rose Alba Hydrosol — the aromatic water that remains after steam-distilling or hydro-distilling flowers or herbs — was one of first products Kong introduced in Malaysia. Marketed as a potent hydrator and antioxidant, the product has a food-grade certification.
The other hydrosols include derivatives of aromatics such as helichrysum from the island of Corsica, frankincense from Somalia as well as chamomile and lavender from Bulgaria. Apart from the different toners, her line of products comprises a range of cleansers, moisturisers, serums and masks.
To offer a complete skincare regiment, Kong introduced a collagen peptide supplement made from the extract of a deep-sea fish in the Atlantic Ocean. According to her, the A grade protein supplement is produced in compliance with the regulations set by the US Food and Drug Administration and the EU.
That is why Daisy Sky's products are priced much higher than off-the-counter skincare merchandise. "After our customers try our products, they are willing to pay for it. We have a travel set as an introductory set for those keen to try out the products before making a commitment," says Kong.
"Daisy Sky's line of products cater for all skin types and are particularly effective for those with sensitive skin. But the target consumers are working adults, especially those in their mid-30s to 45 years of age, because products such as frankincense are really good for rejuvenation of skin and overall general health."
She had spent close to a year working on the right formula before introducing it in Malaysia in 2016.  When she rolled out the products, however, the response was subdued as Daisy Sky's products were priced at a premium. She also realised that she was not targeting the right demographics.
"The products did not do very well at first and I even thought of giving up at one point. But I knew that the products were really good because I received a lot of positive feedback from those tried them," says Kong.
"I was the only person running the business. By then, I had two young boys to take care of as well. I had spent the bulk of my savings, as well as my husband's, on R&D, importing the products and getting approvals and licences … there was very little left to spend on marketing and public relations."
But she is not one to be easily fazed. She took it as a challenge and gave herself a year to get the word out and increase sales.
"We did not have enough capital to build an e-commerce site. So, we started by developing a website and uploading details of the products. We also wrote articles on the types of products customers should consider for their different needs," says Kong.
Seeing that social media marketing was really picking up, she began leveraging social media influencer marketing to promote her products. Integrating online payment channels also made things more convenient.
After a tumultuous 18 months, the business finally picked up pace last year as engagements with social media influencers started bringing in web traffic. "We gifted some influencers with our star products and they have become quite loyal customers," says Kong.
The experience also helped her become a social media influencer herself. She uses her private platform to review other personal care and lifestyle products and provides candid observations on parenting and life of the working mom.
One of her biggest challenges is spreading awareness of the goodness of natural products and quality skincare. "Customers often come to us saying that they have sensitive skin, but continue to put stuff on their faces without first reading the list of ingredients. They tend to go for anything that works in a short period of time because they do not know the goodness of natural skincare," says Kong.
"That is why I wanted to bring these skincare products to Malaysia — because many people do not realise that they are using products laden with chemicals."