This article first appeared in Enterprise, The Edge Malaysia Weekly, on March 22, 2019 - March 28, 2019.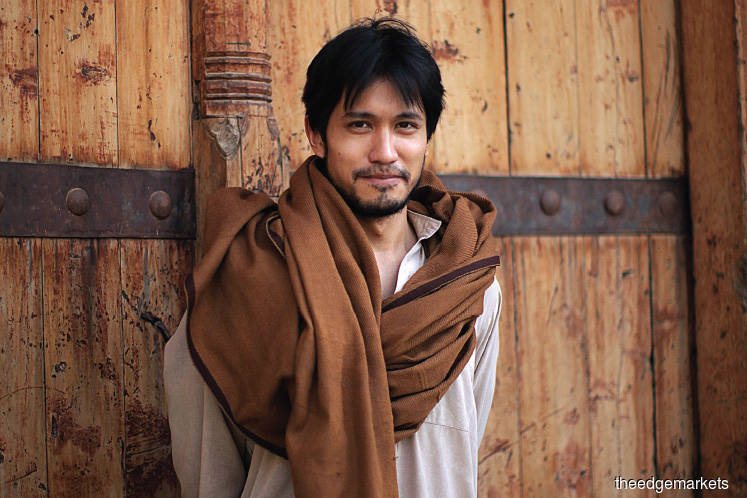 Faisal Ariff, founder and CEO of BorderPass, is pretty laidback considering that his multi-award-winning start-up could be closed any day now. He combines self-deprecating humour with a certain Zen equanimity, which he may have learnt in the trenches when he was volunteering for Mercy Malaysia in Afghanistan, where he also grew a beard and dressed in old clothing so as not to attract undue attention to himself.
Or when he was sent to the Philippines in the aftermath of the horrific Typhoon Haiyan, where he saw bodies lined up side by side for what is easily the distance between Kuala Lumpur and Melaka. Without this composure, he would not be sitting here and chatting so casually after the government suddenly pulled the plug on his project after four years of development.
Faisal has tried to restart the project, but to no avail. He seems to have gone everywhere and done everything. But since he does not believe in the politics of patronage and wants to be judged on merit, he remains unconnected and nothing is moving.
BorderPass is an opt-in service that expedites travellers through airports by replacing immigration forms with online profiles sent ahead to the destination country. Faisal had thrashed out the idea and built an early prototype when he was at Singularity University (SU) in Silicon Valley in 2014.
Interesting story. Faisal was one of only three Malaysians chosen to participate in SU's Global Impact Competition. Participants had to submit their ideas for the national competition and they needed to pitch the idea in person if they were picked.
Faisal's idea for what was then called Passport 2.0 was selected. The problem was that he could not pitch the idea in person because he happened to be in Antarctica at the time with Sir Robert Swan, the first man to walk to both the North and South Poles, to witness the effects of climate change for himself.
"This was another competition. Prudential wanted to send three Malaysians to Antarctica to walk with Sir Robert and I got picked," he says.
Faisal was always getting picked for stuff, or so it seems. For instance, he was chosen to intern at the United Nations headquarters and assigned to the Department of Disarmament Affairs, an experience he described as "fun".
But now, he was in a quandary. "I asked Sir Robert whether I could leave a day early. I had done some reading and I knew there was a little airstrip in Bellingshausen (a station at Collins Harbour on King George Island of the South Shetland Islands). From there, I could get flights all the way back to Malaysia," he says.
But Swan said no. First, because it would cost Faisal US$10,000 to get the necessary flights. And even if he did, there was a Category 4 storm coming, which meant that a boat all the way from Antarctica would arrive in Malaysia before he did.
Swan suggested that Faisal shoot a video and send that instead. "I am trying to tell this guy, 'Look, we are in the middle of nowhere right now. How do we get on the internet and how do we send such a big file?' And he said, 'No, no, no, none of that, none of that. We will just shoot a video and send it one way or another.'
"So we went out on the ice and did a video. He very helpfully did a cameo at the start and end of it. There was someone on the crew who knew how to compress a video. So, he managed to turn a huge file of a few hundred megabytes into just 4MB. Then, they used a satellite connection on the boat to send it home.
"When the video got back, it was garbled and not very well put together. It looked very authentic though. Later, the judges told me that they could not really hear what I was going on about in the video but were fascinated by the penguins in the background. So I say thank you very much, penguins!"
So, off he went to the famous SU, which is described as a "global learning and innovation community using exponential technologies to tackle the world's biggest challenges and build a better future for all". It was a two-month programme that kicked off by first showcasing some of the most cutting-edge technologies from around the world and the global grand challenges. Participants had to get together and decide which problem they wanted to focus on and what technology they would like to apply to the problem.
"So, we split into teams and I managed to convince my group to work on what I wanted to build, which was BorderPass. If you think about it, when people come through the border, the immigration officer has about 2½ minutes to vet them. Instead of doing that at the last minute, why not do that ahead of time?" says Faisal.
But isn't that what a visa is supposed to do? "Yes, but there is also a large group of passengers who are visa-free because they are considered low risk. But low risk does not mean no risk," he points out.
"Immigration is one of the last areas that have not been immensely touched by technology. You fill in paper forms. The whole idea was to make it easy for people. But boy, we did not know the sort of trouble we would get ourselves into."
Its first prototype was made of wood. "It was quite embarrassing, but it actually worked. We managed to get a bunch of components from some Silicon Valley companies," says Faisal.
"It was really weird. We could just call them up and say, 'Hey, I need to borrow this and that' and they would go, 'Okay, come and pick it up.' That was how we got a bunch of things together — a passport reader, fingerprint reader, facial recognition device … things like that.
"We hammered out a prototype in about two weeks or something crazy like that and it worked. For less than half a day, it was at the Computer History Museum next to the Google self-driving car."
Before Faisal left for the US, he had managed to give a presentation to the Immigration Department. "I told them about the concept and they agreed that it was interesting. But they also told me I would need to go to the Ministry of Home Affairs because it was the ministry that put together policies for things like BorderPass," he says.
So, when Faisal completed his stint at SU, he came back to Malaysia to start BorderPass. He began by cold-calling people at the Ministry of Home Affairs.
"Some people from Genovasi (Malaysia) helped out. We called this person and that person. It was very messy and slow. But eventually, we managed to meet people from the ministry as well as those from the Ministry of Tourism, Arts and Culture, who had an interest in making it easier for people to come in and out of Malaysia," says Faisal.
"Then we managed to get some funding from Cradle Fund (RM150,000) and Unit Peneraju Agenda Bumiputera (Teraju; RM500,000). PlaTCOM Ventures Sdn Bhd and Malaysian Technology Development Corp Sdn Bhd came in as well. Those are the folks that helped us and we managed to get on a Malaysian Global Innovation & Creativity Centre programme as well. So, that helped too."
Each award was competitive and was never a sure thing. "In fact, Cradle rejected us four or five times. So, it was very hard to get through the whole process," he says.
"In fact, they once invited us to an Asean entrepreneurship event and said, 'Hey, why don't you show your gate over there.' I said, 'Okay, all right.' I thought we would definitely get the award. So, I applied again and they rejected us.
"It is funny stuff like that. You keep banging your head against the wall until it finally falls over or you break your head."
In 2016, the company built prototypes. By the end of the year, it installed its autogate at the arrival hall of klia2. "We finally got through the approvals and things like that. To my knowledge, it was the first in Asean to have both facial recognition and contactless fingerprint reader," says Faisal.
In 2017, the autogate went through a series of IT and security tests with the Immigration Department. "We had to do a systems integration test, user acceptance test and final acceptance test. And coincidentally that year, there was a Public Accounts Committee urging the Immigration Department to put in more stringent measures when doing tests with vendors. We had to bear the brunt of this," he says.
"We failed a few tests and had to redo them. But we eventually passed. So, that was pretty much the whole of 2017. Last year, we refined the enrolment process, trying to make it smoother. There were a lot of teething problems but by the middle of 2018, we started a live public test with real travellers."
Between June and October last year, nearly 2,000 people from 25 countries registered with BorderPass. When asked about the relatively low number, Faisal raises his eyebrows. "Well, we only spent RM774 on marketing.
"We did not want to get overwhelmed with requests as we were testing out the system. We only advertised on buntings at the arrival hall at immigration. So, when people queue up for immigration, they would see it. And if they come here very often, it makes sense to try it out as it would mean they could get through a lot faster."
Basically, the team wanted to find out whether they were doing it right. "We wanted to see whether it was easy for people to get on it and what problems would come up. Had we gone nuts and spent money on this and many people signed up at once, it would have been overwhelming. So, we wanted to try with a small group first. But we were surprised that we even got that many people, to be honest. I think that in terms of return on investment, it was pretty decent."
The team successfully negotiated a series of setbacks until October last year. "Let me tell you what happened. I think it was a Monday. I got an email from the Immigration Department saying, 'Look, we want to shut down your gate and you have 48 hours to comply,'" he says.
"According to them, the Ministry of Home Affairs had not renewed our proof-of-concept letter. We were not being paid by the Immigration Department or Ministry of Home Affairs. We were just running the autogate on whatever money we had and whatever funding we could get here and there for R&D and things."
Faisal was keenly aware that his company's proof-of-concept letter had not been renewed since June. "We had been writing in, calling, texting, saying, 'Guys, the letter is going to expire', but to no avail," he says.
Things had been chugging along gamely until the general election. With the change in government, everything went quiet. "I don't think anyone was sure what was going on. They were trying to feel their way in the dark and then, yeah, they basically told us to shut it down," says Faisal.
"We then had to write to all of our users, keeping it as general as possible, telling them that the Immigration Department is reviewing everything and has asked us to suspend what we were doing for an indeterminate period of time."
For the past few months, his full-time job has been "writing annoying letters to politicians to sort of irritate them into submission as a strategy, but I don't think it is working", he laughs.
It is interesting that despite the dire straits that the company is in, Faisal can still joke about things. Also, he seems to have a distinct lack of hubris or sense of entitlement. "My dad is a surgeon, but I am a nobody. We have achieved what we have done so far by not paying a single sen in bribes. To be fair, nobody has ever asked us to do that because they know we do not have any money."
Over the past five years, BorderPass has won seven international awards — the award for SU's Global Impact Competition, the first prize at the Asian Entrepreneurship Award in Tokyo in 2016, the Amadeus Next Startup of the Year 2016, Hello Tomorrow, the top 500 Global Deep Tech Startups in Paris in 2017, a special innovation prize for the MIST competition assisted by the ADB-Australian Aid in Mekong, Digital Travel APAC 2018 (biggest impact on the industry going forward) and Best New Startup 2018 at the JetBlue Technology Ventures & FTE Asia awards.
How big is BorderPass? "Huge," Faisal says wryly. "About five of us. There is the chief technology officer, a guy from Delhi, a girl from Ipoh and a millennial who does not act like one but works like crazy. I am the dumbest person in the company and everyone reminds me of that. They do all the high IQ stuff while I do the PowerPoint slides."
While he did forget which month the general election was held last year and what comes after July, he did read law at Cambridge University and do his Masters of Law at Columbia University. He was also a Fulbright scholar.
However, Faisal would rather not talk about all that, especially about going to the actual Cambridge University. "I would appreciate it if that is not included in the article because I have heard that a Parti Bersatu member wants to throw Cambridge graduates into the river."